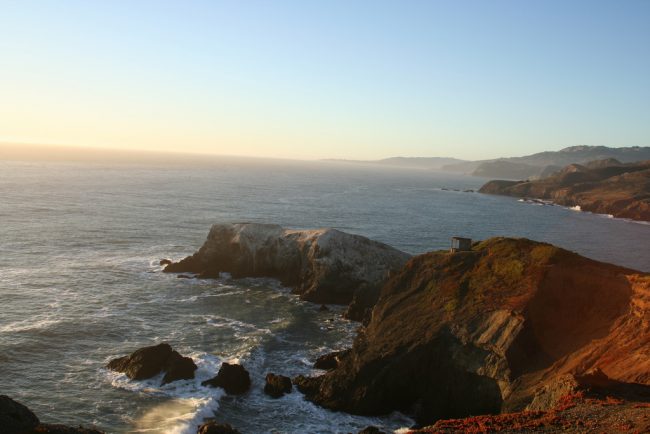 If you're visiting San Francisco, there's no better respite from the electric and eclectic vibe of the City by the Bay than the neighboring North Bay of Marin County. Marin County, California is home to more than a dozen towns, ranging from packed and posh Mill Valley to urban and hipster San Rafael and laid-back Stinson Beach.
Travel in Marin County
Many travelers come to visit the beach in Marin Country, but if that's all you saw, you would be missing out. Here are my suggestions for the top things to do and see in Marin County:
Marin County Farmers Market
For me, this is the ultimate agritourism dream. This is the 3rd largest farmers market in California. It attracts chefs from San Fran, the local Marin crowd and even the hipster Napa and Sonoma County restaurants.
This place has it all, year round. I even encountered a vegetable I could not quite identify at the market (I think it's was called a Buddha's Hand). Smells of fresh food from food trucks waft through the air as you peruse the best in the region. I even happened to run into a chef from Glenn Ellen Star and another chef from a notorious San Fran eatery while perusing the fresh flowers and niche products. They also do tours and are known for their farm audit program, as well as their Chef's Program on Thursday.
Corte Madera Farmers' Market
Corte Madera Town Center, Corte Madera
Thursdays 8 am – 1 pm
marincounty.org/depts/ag/farmers-markets
Side Note: I am a huge Frank Lloyd Wright fan since I grew up on the North shore of Chicago near his studios and home. The Marin County Civic Center has a stunning masterpiece of Lloyd's work. From the outside gardens and fountains to the groovy cafeteria, this is an easy stop after the Farmers Market and worth the extra few minutes.
San Rafael for Sammies and Strolling
San Rafael is the county seat and largest town in the county. It's almost a throwback as you walk down Main Street. It's charming; there are quirky businesses, bookstores, cafes and a general hipster vibe to the area.
I actually popped by San Rafael twice in one day. Our first jaunt was the Puerto Rican restaurant Sol Food. The décor, atmosphere, crowd and noise all signaled that this was going to be really good food, and they delivered on that assumption.
I opted for the Bistec Encebollado — thinly sliced steak sautéed with onions and served with rice, beans, organic salad and fried plantain, enough for two, I'd say. Afterwards, we stopped next door to check out their take-out store and prep kitchen, which were impressive.
My second jaunt in San Rafael was for cocktails at Phil Lesh's Terrapin Crossroads. We met a few friends for a remarkably warm November happy hour. We sat outside, noshed and enjoyed lovely cocktails and wine. From the patio, we had views of the beach and a small marina.
After drinks, we slipped inside to dine on salads, seafood and savor the ambiance. The seafood selection is spectacular and the farm-to-table element is never lost in any of the dishes from apps to desserts. Yes, Phil Lesh happened to be playing that evening with his band. So, yes, this place is THAT cool.
Continued on next page
Senior editor Janna Graber has been covering travel for more than a decade. She has traveled to 38 countries -- and counting.
Latest posts by Janna Graber (see all)