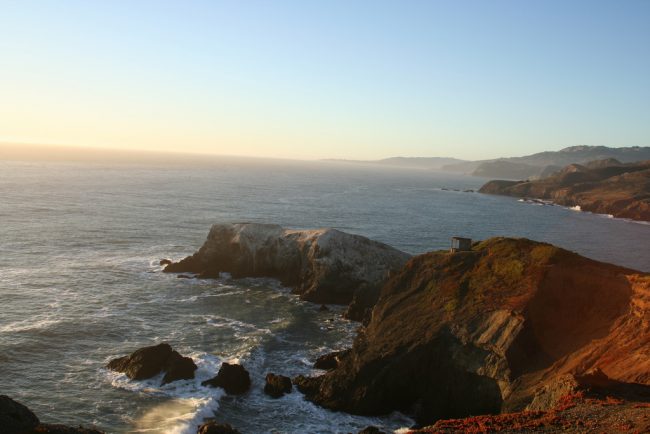 If you're visiting San Francisco, there's no better respite from the electric and eclectic vibe of the City by the Bay than the neighboring North Bay of Marin County.
Marin County, California is home to more than a dozen towns, ranging from packed and posh Mill Valley to urban and hipster San Rafael and laid-back Stinson Beach.
Travel in Marin County
Many travelers come to visit the beach in Marin County, but if that's all you saw, you would be missing out. Here are my suggestions for the top things to do and see in Marin County:
Marin County Farmers Market
For me, this is the ultimate agritourism dream. This is the 3rd largest farmers market in California. It attracts chefs from San Fran, the local Marin crowd and even the hipster Napa and Sonoma County restaurants.
This place has it all, year round. I even encountered a vegetable I could not quite identify at the market (I think it's was called a Buddha's Hand).
Smells of fresh food from food trucks waft through the air as you peruse the best in the region. I even happened to run into a chef from Glenn Ellen Star and another chef from a notorious San Fran eatery while perusing the fresh flowers and niche products.
They also do tours and are known for their farm audit program, as well as their Chef's Program on Thursday.
Corte Madera Farmers' Market
Corte Madera Town Center, Corte Madera
Thursdays 8 am – 1 pm
marincounty.org/depts/ag/farmers-markets
Side Note: I am a huge Frank Lloyd Wright fan since I grew up on the North shore of Chicago near his studios and home. The Marin County Civic Center has a stunning masterpiece of Lloyd's work.
From the outside gardens and fountains to the groovy cafeteria, this is an easy stop after the Farmers Market and worth the extra few minutes.
San Rafael for Sammies and Strolling
San Rafael is the county seat and largest town in the county. It's almost a throwback as you walk down Main Street. It's charming; there are quirky businesses, bookstores, cafes and a general hipster vibe to the area.
I actually popped by San Rafael twice in one day. Our first jaunt was the Puerto Rican restaurant Sol Food.
The décor, atmosphere, crowd and noise all signaled that this was going to be really good food, and they delivered on that assumption.
I opted for the Bistec Encebollado — thinly sliced steak sautéed with onions and served with rice, beans, organic salad and fried plantain, enough for two, I'd say.
Afterwards, we stopped next door to check out their take-out store and prep kitchen, which were impressive.
My second jaunt in San Rafael was for cocktails at Phil Lesh's Terrapin Crossroads. We met a few friends for a remarkably warm November happy hour.
We sat outside, noshed and enjoyed lovely cocktails and wine. From the patio, we had views of the beach and a small marina.
After drinks, we slipped inside to dine on salads, seafood and savor the ambiance. The seafood selection is spectacular and the farm-to-table element is never lost in any of the dishes from apps to desserts.
Yes, Phil Lesh happened to be playing that evening with his band. So, yes, this place is THAT cool.
Stinson Beach for Sun and Hikes
My husband's family has rented the same incredible 5-bedroom home on the beach two summers in a row. That's what you do in Stinson, you head to the beach.
The public beach is enormous with access to food and spirits. The water never gets too warm, but there are always people up and down enjoying the sand and enjoying the calm waves.
You'll find active sea life and water sport activity, but, again, you come to cruise up and down the beach, by foot preferably. I spent hours picking up sea glass, sand dollars and an assortment of gorgeous rocks and shells.
Once your feet are coated in sand, you can head to the hills and bluffs overlooking the Pacific Ocean.
The hiking around Stinson is accessible, of varying degrees of difficulty, and almost all with views that clear the mind and remind you why you came to Northern California.
The most popular hike is Dipsea that goes from Stinson Beach up to Mount Tamapolis. Make time for Point Reyes Station and the surrounding hikes and nature center.
Marshall for Tony's Seafood Restaurant
I had my first BBQ oyster at Tony's Seafood Restaurant in Marshall back in 2005. It was a game changer.
We stopped at this ocean-worn restaurant, beaten away by years of salt winds and emulating the most incredible seafood smell I can ever remember.
This oyster shack, operating since 1948, and open weekends throughout the year, is the official best BBQ oyster shack in the world, well, according to me.
The large Washington oysters are shucked and then a delicious composition of butter and garlic and their house sauce is added and they are grilled to something beyond words of perfection.
No one else has EVER prepared a BBQ oyster better. The shack is small, the fries and beer keep you at bay between your plates of heaven.
Mill Valley for Milling Around
This place is adorable. It's a utopia of boutique stores that sell $50 candles, $200 scarves and $100 dinners. The town is charming, with restaurants and bars tucked into alleys and the side streets are brick cobbled.
I was able to procure a couple goodies from the adorable Sprout child's store that were actually on sale and cheaper than on the web, so I felt accomplished.
The tiny florist on the corner might be the most delightful part of the town. We walked around for a couple hours before venturing off for dinner.
Side note: We used Waze to get from Mill Valley to San Rafael and the side streets and hills the route led us through were lovely. This was by far one of the most exciting drives to view homes and architecture.
If You Go to Marin County