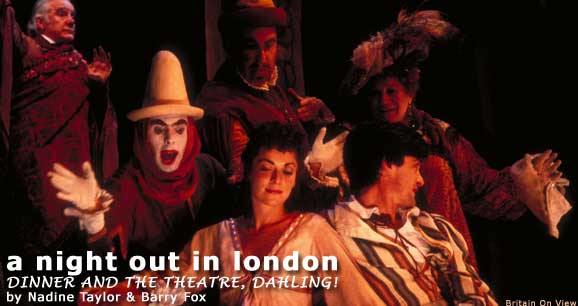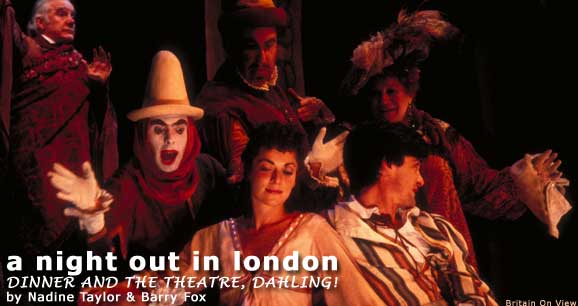 London is home to some of the finest theatrical productions in the world, and going to see a play in the West End, the theatre district, is truly an event. But that event can be made even more special when it's paired with a like-minded dining experience.They say that dinner and the theatre go together like fish and chips, steak and ale, or tea and crumpets. And in London, you've got the crown jewels of both plays and restaurants to choose from. The hardest part will be deciding which to pick! Thinking in terms of theme for the evening may help.
For example, if you're off to see Mousetrap (St Martin's Theatre, West Street, 020 7836 1443), the classic Agatha Christie murder mystery that's been playing nonstop in London for half a century, how about an equally classic supper beforehand? Try The Ivy (1-5 West Street; 020 7836 4751), conveniently situated right across the street from the theatre, where you might start off with a delicious watercress soup flavored with peppered salmon and horseradish and a nice bottle of wine. Then move on to something elegant like wild halibut with béarnaise sauce and buttered green beans with shallots, finishing up in the traditional way with a classic British cheeseboard.
Or, if you're more into traditional British fare with a casual bent, check out The Cambridge (93 Charing Cross Road; 020 7494 0338), where you can get fish and chips, steak and ale pie, sausage and mash, or a hale and hardy Aberdeen Angus burger — all of which go great with a pint of Guinness ale.
The kids will love Mary Poppins (Prince Edward Theatre, 28 Old Compton Street, 020 7447 5459), that is, unless their tummies are rumbling. Fill them up beforehand at Ed's Easy Diner (12 Moor Street; 020 7439 1955) on burgers, fries and thick malt shakes. The very daring might want to try the Atomic American fries (fries served with chili, salsa, nacho cheese, sour cream and guacamole dips), while those who like lighter meals might go for Ed's big chicken salad. If you're looking for classic British sweets after the show, try the Bramley apple pie with vanilla ice cream or sticky toffee pudding with dates and vanilla ice cream at The Spice of Life (37-39 Romilly Street; 020 7419 4696 or 7).
For a more adult night on the town, check out The Rat Pack (Savoy Theatre, The Strand, Aldwych; 020 7836 8888), celebrating the singing talents of Frank Sinatra, Dean Martin and Sammy Davis Jr. Then, after the show do something fun and hip like going to the Pizza Express Jazz Club (10 Dean Street; 020 7439 8722) where you can enjoy gourmet pizza, great wine, and a terrific assortment of jazz artists downstairs. Start with the spicy mozzarella and double tomato salad, followed by Gambero classic pizza, a fun mix of crayfish tails, red pepper, red onions, fresh parsley and spicy Tabasco sauce. Or, partake of the Parmesan pizza, which is topped with asparagus, Parmesan cheese and a free range egg.
Another strictly adult choice is The Vagina Monologues (Wyndhams Theatre, Charing Cross Road; 0870 060 6633), a cornucopia of funny, touching, disturbing and amusing stories about the female sex organ. This play simply begs for something sweet and sensual to top off the evening. How about a trip to the Balans Café (60 Old Compton Street; 020 7437 521260) for some passionfruit and raspberry cheesecake, or to Maison Touaregue (20 Old Compton Street; 020 7439 1063) for the Taste of Morocco pancakes flavored with lemon, honey, rosewater and almond? Or, consider The Mantra (48 Dean Street; 020 7439 6868), where you can order Galab Jambu — hot milk semolina balls with a light honeycomb center, soaked in a sweet syrup and served with vanilla ice cream.
The Victorian thriller, The Woman in White (Palace Theatre, Shaftesbury Avenue; 0870 895 5505), is a tale of a mysterious figure dressed in white who is desperate to share a chilling secret, and is set to music by Andrew Lloyd Webber. If you're in the mood for an after-theatre dessert that's equally mysterious and thrilling, head for the Tuk Tuk Thai Noodle Bar (59 Charing Cross Road; 020 7734 595159), for coconut pancakes, stuffed with shredded coconut and palm sugar and served with coconut ice cream. Or try the mango pudding with fresh cream, accompanied by a cup of fragrant, steaming jasmine tea.
One of the hottest tickets in the West End is Fame — The Musical (Aldwych Theatre, Aldwych, 020 7379 3367), the super high-energy singing and dancing tale of kids from New York's legendary School of Performing Arts as they chase the elusive siren call of — what else? — fame! By the time you leave the theatre, you're sure to be way too pumped up to just go home. Pop into the high-energy Sound Café Bar (Leicester Street and Swiss Court Leicester Street on Leicester Square, 020 7864 13000) and keep the good vibes rollin'. For starters, try the Jalapeño Poppers — hot chilis stuffed with cream cheese and served with a sweet coriander dipping sauce. Then try one of the famous Sound Pizzas made on a thin tortilla base. If the Jalapeño Poppers didn't burn up all your taste buds, check out the Cajun chicken pizza, with Cajun-spiced chicken, mushrooms, roasted bell peppers and Monterey jack cheese on a salsa base. If spicy foods aren't your thing, try smoked haddock and spring onion fish cakes served on wilted spinach with lemon and caper sauce. Plus fries, of course!
The king of all musicals is The Lion King(Lyceum Theatre, 21 Wellington Street; 020 7420 8112), an epic adventure that deserves to be paired with an equally adventurous meal. How about delving into some authentic Malaysian, Thai and Singapore cuisine before the show, as served up by C & R Restaurant (3-4 Rupert Court; 020 7434 1128)? Try Pinang Asam Laksa soup, spicy and sour rice noodles served in the chef's special lemongrass broth with sardine fish flakes and cucumber.
Then move on to Sambal Udang, prawns cooked with homemade sambal chili sauce (hot, but delicious). For dessert, try the chef's specialty: Boo Boo Cha Cha, a mix of yam and sweet potato cooked in coconut milk, served with shaved ice. The super adventurous might also try the seaweed Soya drink, while the rest of us might opt for good old green tea.
Billy Elliot (Victoria Palace Theatre, 8 Victoria Street; 020 7834 1317) combines the blue-collar life with the high-minded artistry of the traditional dance world. Food-wise, you can find this same combination of working-class traditional food with an elegant twist at The Imperial (5 Leicester Street; 020 7437 6573). Try the baked Camembert cheese with bread for starters. Next, sample the spicy bean Shepherd's pie or try Coriander Chicken in curry sauce with saffron rice. Doughballs with garlic butter make a tasty but filling side dish, and thenaan bread, a flat leavened Indian white flour bread, is sensational.
What could be more elegant than The Phantom of the Opera (Her Majesty's Theatre, Haymarket; 0870 895 5505), the tragic gothic tale of a disfigured composer living beneath the Paris opera house who is hopelessly in love with a beautiful opera singer? Celebrate love, opera and all things beautiful with an elegant dinner at Manzi's (1-2 Leicester Street; 020 7734 0224) after the show. In the 1800s, this beautiful building was the Hotel du Commerce and Austrian composer Johann Strauss once lodged here. Perhaps you'll hear the distant strains of one of his famous waltzes as you sample Manzi's grilled monkfish "Americaine" served with lobster and cognac sauce, sorrel, wild mushrooms and cherry tomatoes over basmati and wild rice. Accompany this with fresh asparagus and Hollandaise sauce and a nice bottle of Pinot Grigio and you're set for a lovely and lofty dining experience. To make it even more perfect, top off your meal with a pear and almond tart with pistachio ice cream.
But no matter which play or restaurant you choose, one thing is certain — you're in for a real treat. Get ready for a wonderful night in London town!
If You Go
British Tourist Authority
www.visitbritain.org
London Theatre Direct
https://londontheatredirect.com
Curtain Up London
www.curtainup.com/londontheaters.html
Latest posts by Janna Graber
(see all)