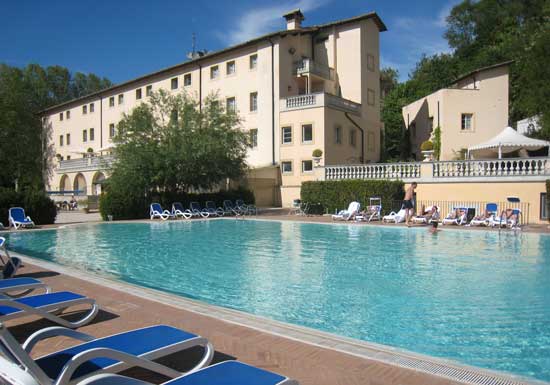 Lying under the Italian sunshine, I soaked up Vitamin D like a thirsty sponge while staring peacefully at the glittering blue pool and rolling green countryside before me.
This was, after all, a trip of indulgence and relaxation. My friends and I were on a spa vacation in Italy. Our goal was to sample the spas in Lazio.
Lazio is one of 20 regions in Italy, located in the central region along the west coast.
The most famous city in the Lazio region is Rome, where an estimated 10 million tourists per year flock to see the Vatican, Sistine Chapel, Coliseum, the Spanish Steps, St. Peter's Basilica, the Trevi Fountain and more.
But my trip did not include Rome's historic attractions.
Thermal Spas of Lazio
I wanted to see what Lazio had to offer outside of its Roman star power – specifically, its thermal spas.
Unlike traditional spas in North America, spas in Italy offer a long list of services, but are prescribed by a doctor.
While I expected steamy saunas and bubbling hot tubs, I did not expect a doctor taking my blood pressure and dictating prescribed amounts of time in the sweating grotto.
I learned the medical history of Italian spas dates back hundreds of years. The thermal springs in Italy constitute much more than a source of relaxation.
The Roman troops cleansed at the thermal springs after battle before returning victorious to their city. In fact, they sometimes spent over a month soaking up its healing qualities in order to purify the body and quarantine any potential illnesses gathered during battle.
Michelangelo sought respite in Italy's healing thermal waters to treat kidney stones, and sketched the spas during his stay.
Dante referenced to the springs in his works, discussing them alongside the lower rings of hell. Unsurprisingly, this made people wary of jumping into the "hellacious" bubbling springs and decreased their popularity for many years.
The sulfuric spring waters are revered for their healing qualities. According to referenced information, there is little they can't do.
According to local lore, thermal springs can help with mucus regulation, circulation, psoriasis, eczema, acne, arthritis, detoxification, and yes, even gynecological irritation and hemorrhoids. As if you needed additional selling points, thermal springs can also soothe sore muscles and quell aching joints.
To be perfectly honest, these medicinal benefits left me quite stunned.
My expectations had included only pleasure and relaxation. I had no idea an Italian "dottore" in a white lab coat would be taking assessing my medical fitness.
But this is the Italian way. The spas are visited by thousands seeking to allay their ailments. Doctor visits result in prescribed healing treatments, which are priced fairly and expire within two weeks of a visit.
Of course, not all treatments require the prescription of a physician.
Visitors are invited to splash in swimming pools and thermal pools alike, as well as experiment in the saunas, Turkish baths, hydromassage (in the form of jets, large faucets or small waterfalls). Massage, mud therapy, aromatherapy, yoga and beauty treatments are also available to enhance your spa experience.
If you're looking for alternative a bit out there, give chromotherapy a try. As you rest in soothing spring waters, bursts of color adorned on the walls in the form of lights and colored tile aims to heal the body and mind.
Here are some of the Italian spas we sampled: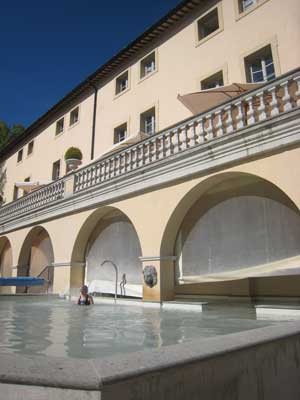 Assessment:  A romantic getaway with everything you will need for a night of bliss.
This spa is housed in a hotel and nestled in the Italian countryside. Grounds are lush and vibrant, and large enough for a casual evening walk amongst beautiful scenery and flourishing plant life.
There is one road leading to the hotel and nothing but vast fields surrounding the hotel. Terme di Stigliano is a non-optional one-stop-shop. There are two large pools as well as smaller thermal pools to entice.
My favorite part of the spa was a steam cave located 25 feet underground. After my blood pressure was taken, I was prescribed 10 blissful minutes.
Descending the steps, I watched the surrounding walls shift from cool sterile white to dark, craggy and hot. Once you enter you, it feels as if you're tickling the bowels of the earth.
The temperature is hot but manageable, with heat similar to a bikram yoga class accompanied by heavy, wet air rising off the steaming hot springs.
Dim lights offered a guide to a small bridge over bubbling springs, with the main entrance offering a 20 foot trough of hot water and a ledge to sit upon.
Assessment: A relaxing day stop for fun in the sun and a delicious, authentic meal.
This popular Italian spa was the only spa I visited that was not part of a hotel. The front lobby had a similar feel as a cozier hospital emergency room, fully equipped with white chairs and lit sign displaying the waiting patient's number.
As a public facility, the focus was more on the health services provided, with less of an emphasis on common spa relaxation services. By far the biggest selling point of Terme dei Papi was its 2000 square meter, lively swimming pool brimming with the smiling faces of adults and children alike.
The thermal pool is open year-round. The delicious lunch served in the on-premise restaurant was one of the best meals I had all week. Freshly grilled eggplant, tomatoes, cheese, thinly sliced prosciutto, and melon accompanied by fresh pasta, mouth-watering Italian cookies, cakes and pastry creations, and the famed pope-approved Est! Est! Est! wine (remember, we are at the Terme dei Papi, or Pope).
Assessment: Perfect for a party large or small to experience a luxurious spa while experiencing local history and dining.
All of the spas I visited had pools, but the Victoria Terme Hotel has the distinction of offering the biggest thermal swimming pool facility in all of Europe, comprising four sulfuric spring pools amassing over 5,000 meters.
Quite simply, the quantity of pool offerings were staggering. Unfortunately, the pools were not yet filled for the year at the time of my visit, so I was not able to experience their expansive depths.
Luckily, I was able to experience the benefits of thermal springs in another way – during a fangoterapia, known in English as mud therapy. The spring waters are combined with clay and heated, then sent down a ceiling tube onto the treatment bed.
After your arms and back are slathered with mud, you are wrapped in plastic and left to relax. After being hosed down with warm water in a shower, you are deposited into a personal Jacuzzi with massaging jets. I'm not certain my body was healed or changed in the slightest, but it was certainly a relaxing experience.
Villa Adriana
If you want to try something outside of spa life during your stay, the historic and intriguing Villa Adriana spanning over 30 buildings and 250 acres is a must-see. With the right tour guide, the story of Roman Emperor Hadrian's hidden controversial trysts with male lover Antinous while married to wife Vibia Sabina are infused with the elaborate structures during your tour.
The Antiche Terme di Diana restaurant is in town just minutes from Victoria Terme hotel. A small restaurant of five tables for many years, the owner finally decided to tear down a wall that had a crack exuding a pesky breeze – and found the ruins of an ancient Roman bath.
If you'd lucky you can dine in the cardinal room, which is located underneath St. Andrew's, the church next door. Nosh on porcini-filled green lasagna, veal rolls, mushrooms in a truffle sauce, wild berry tiramisu and an endless selection of delicious antipasti.
Assessment: One of the more luxurious spa and hotel experiences in the Lazio region, and a nice overnight getaway for couples.
Out of all of our visits, this was the most luxurious hotel and spa on the list. The spa includes two swimming pools, a hot tub, two saunas, two Turkish baths, and showers with seven jets.
I alternated from one spa feature to the next until I had removed every grain of stress in my body. Classified as one of the "leading hotels of the world," you will be immersed in the luxury of massive beds, dining rooms with ornate ceilings, and balconies with beautiful vistas.
Meals include creative dishes such as steamed courgette flowers stuffed with sheep ricotta, creamed risotto with grapefruit and basil, and medallions of suckling pig with juniper seed in a sweet red wine.
While you may not go specifically to the Lazio region just to visit the spas, if you find yourself in Rome and grow tired of the crowds and tourists, head to a healing spa for a day or afternoon.
The thermal springs may or may not cure your ailments, but they will certainly take your mind off your troubles.