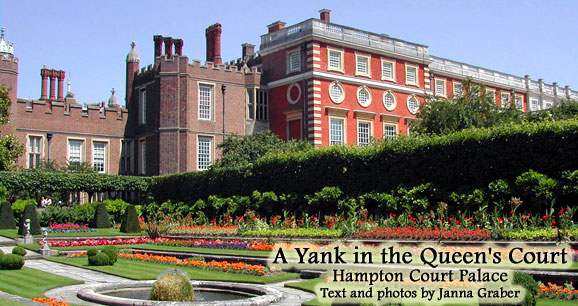 Hampton Court Palace
I asked for an insider's look at life in a castle, but this is ridiculous! I'm on my hands and knees with three other gardeners, carefully pulling tiny weeds from a bed of flowers in front of Hampton Court Palace. There are 60 acres (.24 km²) of royal gardens, and right now they seem to go on forever.
It's not easy running a 16th century palace, especially one as large and historically significant as Hampton Court in the United Kingdom. Just 30 minutes from London, Hampton Court was once home to Britain's most famous kings and queens. Its most infamous resident was Henry VIII (1491–1547), the English king who had a penchant for killing off his wives.
Today the castle is cared for by Historic Royal Palaces. Although the nonprofit charity takes its job as caretaker of British heritage seriously, the staff certainly has fun doing it.
When I asked for an inside scoop on what it takes to run a palace, I was handed a shovel and a gardening hat. Now here I am, a Yank in the queen's gardens, trying to distinguish between weeds and blooms.
The horticulturist to my right doesn't notice my hesitation. He expertly trims and pulls, explaining how England's most-visited garden is cared for. Last year, the gardening team of 38 planted 200,000 flower bulbs, grew 140,000 plants in the greenhouses and maintained more than 8,000 trees.
"Many aspects of the gardens are 500 years old," says Terry Gough, the gardens and estate manager who has stopped by to oversee my work. "We have to be sensitive to those features, as well as cope with the wear and tear of one million visitors a year."
Mercifully, Gough hands my hoe to another gardener (is that relief on his face?) and takes me off to view the Maze, a tricky arrangement of shrubbery planted for William of Orange in 1690.
While children love wandering through the Maze, I'm more interested in the Great Vine. The plant is five feet wide and 234 years old.
"That's even older than America," Gough quips. Every year the trusty vine produces a crop of "Black Hamburg" grapes that are sold in palace shops.
Having seen the gardens, it's time to head inside. We enter through Base Court, a vast square of dark-green grass surrounded by high brick walls. A light mist covers the ground and the smell of damp earth fills the air.
The massive courtyard is purposefully intimidating, for the royals wanted their enemies to feel humbled by their strength. While the first structures were built in 1236, it wasn't until the 1550s that Henry VIII turned the palace into the colossal behemoth that it is today, boasting more than a thousand rooms (80 of which are open to visitors).
Helen Smith is one of the conservation housekeepers in charge of caring for all those rooms. When Gough turns me over to her care, she hands me a pair of white gloves, worn to protect the priceless tapestries, furnishings and other artwork that we're going to "conserve."
I follow Helen down several dark hallways to the King's State Apartments, which were built for William of Orange, also known as William III (1650–1702). The enormous rooms are filled with centuries-old furnishings and priceless works of art. As she works on one of the drapes, Helen talks about William III, the king who married his cousin, Mary. Together they ruled as true partners.
From Helen's entertaining account (which is more interesting than any history class I ever took), it seems that William III was a likeable chap. However, I'm beginning to despise that awful Henry VIII. Here, surrounded by the beauty he built at Hampton Court, I am constantly reminded of the terror and pain he caused.
But Helen has no time to wallow in the past. She pulls out a special vacuum and works on the tapestries. "Our goal is to preserve what we've got, whilst keeping it stable," she says, showing me her careful technique.
"Dust is a huge issue," Helen says. In fact, the palace takes it so seriously that they have developed new techniques for monitoring and recording levels of dust. Hampton Court is also home to the world-renowned Textile Studio, lauded for its cutting-edge conservation techniques.
But I am not cut out to be a conservationist, so after a pat on the back for good work, I'm sent off on my own to explore the palace. I follow one of the castle's costumed guides through the Tudor Kitchens, and then wander through the Haunted Gallery, where Catherine Howard, the fifth wife of Henry VIII, pleaded for her life but lost, and was executed in 1542.
The young queen was accused of infidelity, and arrested and charged with treason. Knowing that a deadly fate awaited her, Catherine broke away from her guards and ran toward her husband's rooms, hoping to plead for mercy.
But before she could reach the king, guards dragged her, kicking and screaming, through the Haunted Gallery. Terrifying shrieks are still heard occasionally today, and it is said that her apparition appears along the gallery.
Anne Boleyn (1507–1536) was another of Henry VIII's hapless wives. "Anne was done up for treasonous adultery," the guide explains, "including an incestuous relationship with her brother."
While some have questioned those charges, the penalty for such an accusation was beheading. Many have reported seeing Boleyn as a ghostly lady in blue or black. "She's a versatile ghost," the guide says. "She's said to haunt about 15 properties."
Jane Seymour (1509–1537), the third (and only beloved) wife of Henry VIII, died giving birth to the future Edward VI. She has been seen in the Silver Stick Gallery on the anniversary of Edward's birth.
Our tour through Hampton Court has been fascinating, and I feel that I could spend days listening to all its history. Unfortunately, it's growing dark, and most visitors are leaving. Yet my next adventure is about to begin.
To get a real taste of the royal life, two friends and I have decided to spend the night in Hampton Court. Yes, you really can spend the night in the castle, provided you can afford the nightly fee.
Our British host, Jacque, shows us to our rooms at Fish Court, a lovely part of the palace that has been renovated as two small apartments. The classic furnishings are simple and tasteful. While I relax in the overstuffed chair in the corner, it's easy to forget that the 16th century is just outside.
From my window, I look over the courtyard, imagining life here hundreds of years ago. I watch as the castle is closed up for the night. The palace is eerily silent, centuries of history surrounding me in the walls.
Around midnight, I awake to strange sounds, bumping and thumping outside the window. The day's ghost stories jump into my mind, and suddenly I'm alert.
"There's no such thing as ghosts," I tell myself, falling back into an uneasy sleep.
Morning finally comes, and we all compare notes on the night's strange sounds. "It was just the wind," one of my friends says, laughing nervously.
The sun is just shining its first rays of light as we gather our suitcases and clumsily pull them across the ancient cobblestone courtyard in Fish Court. Then we stop.
"How do we get out of here?" one of my friends asks. In the darkness of last night, we hadn't noticed how we had gotten there. A vast array of closed doors confronts us on all four sides of the courtyard. There is no one around.
"Let's try this one," I suggest, pushing against a massive wooden door. It is locked, as are the other six doors we try.
"This one is open," my friend calls, and we happily wheel our luggage through the door — which promptly locks behind us. Now we are stuck in Base Court.
It is deserted, and a low mist is rising from the flagstone and grass. Fog covers the red brick walls across the way. There is a strong musty smell.
"Great!" my friend calls, a note of panic in her voice. "Now how do we get out?"
For a few minutes, we wander around the yard, our luggage wheels clicking loudly in the otherwise-silent area. All of the doors are locked, so we give up and sit down. We can already envision the headlines: "Three Yanks lost at Hampton Court."
Then, out of the gray morning fog, an old man appears out of nowhere. He looks at us with amusement.
"Could you please show us the way out?" I ask. Lifting his finger, he points to an outer gate, which we find is now unlocked. We thank the man, but he simply nods and walks away.
Later that morning, our hosts at Hampton Court ask about our stay there. "We were completely locked in and lost," I admit, "until this older gentleman came by and showed us the way out."
"What did he look like?" asks Jacque, the woman who had shown us to Fish Court the night before. I describe the fellow, and then watch as shock comes over her face.
"That guy died over seven years ago!" she says.
I am taken aback, but then, as I consider her answer, I notice Jacque trying to hide a smile.
"Ah, these Brits," I laugh. "They're always trying to pull one over on a hapless Yank."
Then again, I think they are joking.
If You Go to Hampton Court
Historic Royal Palaces
www.historicroyalpalaces.org
Overnight at Hampton Court Landmark Trust
www.landmarktrust.org.uk
Helpful Travel & Shopping Information
Allianz Travel Insurance – Travel The World Knowing You'll Be Taken Care Of. Affordable Plans As Low As $17.
Need Luggage? eBags offers Free Shipping over $49 + Easy Returns
Author Bio: Janna Graber has covered travel in more than 40 countries. She is the editor of three travel anthologies, including A Pink Suitcase: 22 Tales of Women's Travel, and is the managing editor of Go World Travel Magazine.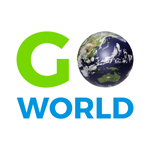 Latest posts by Go World Travel Magazine
(see all)