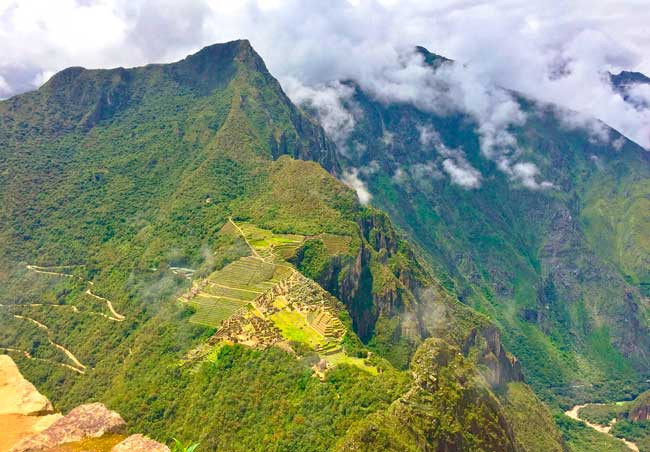 Machu Picchu is one of the most visited ancient sites in South America with thousands of visitors each year. The mystery of Machu Picchu remains with scientists and archaeologists, who are still exploring why it was built and why it was abandoned so quickly. Most people who visit South America want to visit Machu Picchu and you should too on your next trip.
When to Visit Machu Picchu
When should you go? The ruin itself is opened all year round. It's most crowed in the dry season, which is May to September, with long lines to get into the ruin and to get the bus to and from Machu Picchu. The weather in the dry season is sunny with lovely blue skies, but the mornings can be cold. So dress in layers and you will not have any problems.
If you choose to come in the wet season, which starts in October and finishes in April, Machu Picchu will be less crowded, but you may get a little wet, so bring your wet weather gear and enjoy.
Of all the days to visit Machu Picchu, try to avoid Sundays. The reason being that the local people are permitted to visit the site for free, which means there are thousands of people from Cusco visiting.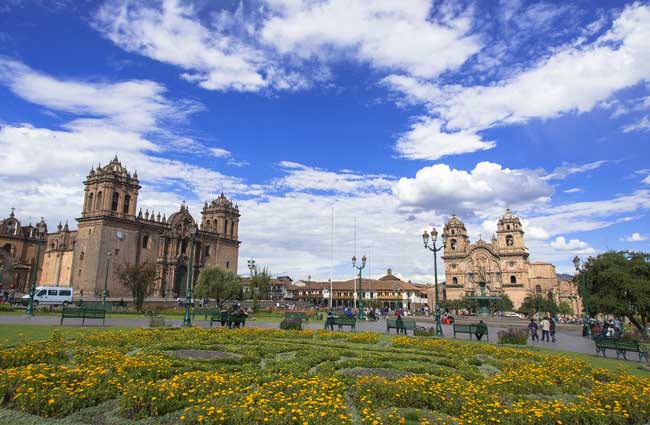 Visit Machu Picchu and Cusco
These days, it's popular to travel to Machu Picchu before you visit Cusco, as it is around 3,000 feet lower than Cusco. This is a great way to acclimatize and is easier on your body.
We recommend staying in Aguas Calientes a day before you travel to Machu Picchu to enjoy your experience to the maximum. After your Machu Picchu experience, you can travel back to Cusco with no problems and without the shortness of breath, the headaches, and the nausea. Try to avoid over eating and alcohol your first days in altitude and you should be fine.
How to Get from Cusco to Machu Picchu
One of the most important questions is how to get from Cusco to Machu Picchu. There are several alternatives, but the easiest way is to take the train from Cusco to Aguas Calientes. From Cusco city or Poroy, the train ride takes around three and a half hours, a scenic journey that passes through the picture perfect Sacred Valley.
Alternatively, if you are already in the Sacred Valley, you can travel from Ollantaytambo which only takes around one and a half hours to reach Aguas Calientes. There are different companies to choose from featuring budget to luxury trains that would excite even to non-train enthusiasts. It's a good idea to book your train tickets in advance as some of the trains sell out in advance and you do not want to miss out.
Another way to reach the Inca Citadel is to hike. Machu Travel Peru offers different hikes, but the most famous and the most popular is the Inca Trail hike. This 4-day hike requires camping and a certain level of fitness. The going is hard with lots of walks up to high passes and back down again. The Inca Trail is a wonderful way to arrive at Machu Picchu and you will do so on the 4th day. Be sure to book your Inca Trail in advance. In high season, you may even need to book around one year ahead.
If you don't like the crowds, there are alternative treks to the Inca Trail. Try the Salcantay Trek to Machu Picchu. This again is a trek for those with reasonable fitness. For those of you who like ruins, try the Choquequirao Trek, which features many fascinating sites along the way before arriving into Aguas Calientes.
Where to Stay in Aguas Calientes
There are many hotels in Aguas Calientes for all different budgets. For the luxury 5-star properties, the best place to stay in Machu Picchu is the Machu Picchu Sanctuary Hotel, located at the gate of Machu Picchu. This is the ultimate in luxury.
Down in Aguas Calientes, stay at the Machu Picchu Pueblo Hotel, which has one of the prettiest gardens in Peru. For those who don't have a big budget, try El Mapi, which has a younger, more casual feel.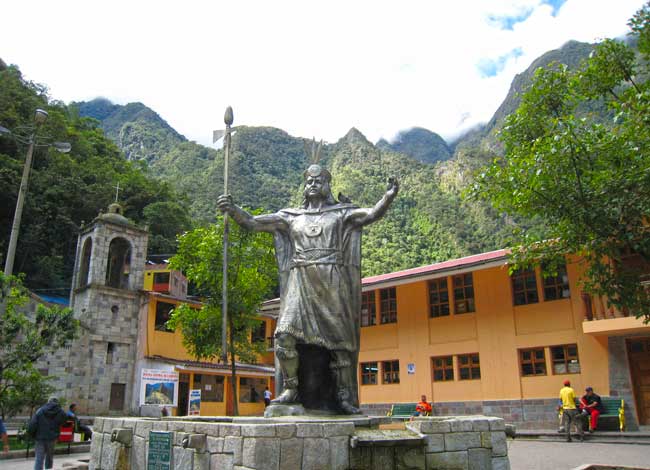 There are plenty of places to eat in Aguas Calientes on your overnight stay. Walk down Pachacutec Ave, which is filled with nice restaurants to try. Many restaurants feature local boutique beers that are gaining popularity and are worth a try.
In Machu Pueblo Hotel, you'll find two restaurants to try, both offering a a tasty meal. While in Machu Picchu, try the buffet at the Machu Picchu Sanctuary for a delicious lunch before or after your tour.
What to Do in Aguas Calientes
What is there to do in Aguas Calientes? Being a small town, there is not much on offer. People generally come here to go to Machu Picchu. However, here you will find some hot springs that you should take the time to visit. The warm pools will soak away the aches from touring and you will enjoy the scenery.
Tips on Traveling to Machu Picchu
If you plan to travel independently without a guide than here are few things you should know:
For the entrances, there are ticket offices in Cusco and in Aguas Calientes. The cost of the ticket is US$46 per person; children are half the price.
You can either walk up from Aguas Calientes or take the bus. The bus will cost US$24 round trip, and the lines can be long especially in the high season.
There is no better time to enter Machu Picchu; the site is usually crowded all day. In the afternoon, there are less people as the day-trippers have gone back to Cusco.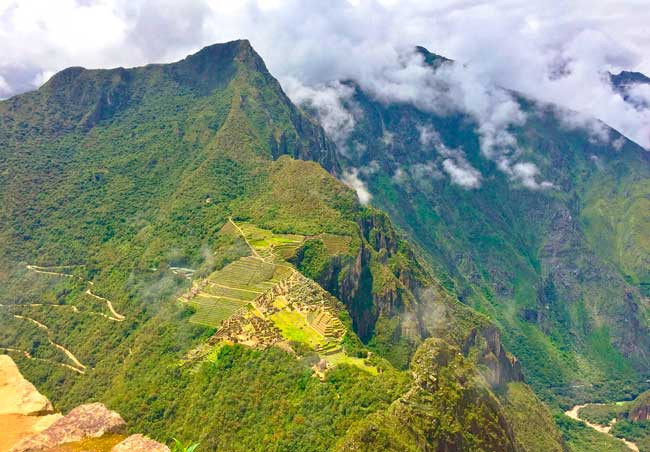 If you want to climb Huayna Picchu, this is not included in the ticket. The cost is an extra US$20 per person and Huayna Picchu needs to be booked well in advance.
If you miss Huayna Picchu, try Machu Picchu Mountain, which is equally as nice. The views are the same and it less crowed. The cost is also US$20 per person.
There are free hikes to enjoy at Machu Picchu. Walk to the Sun Gate. It will take around 2 hours roundtrip and it is a nice walk with great views, especially on a nice day. In addition, there is the Inca Bridge, which is worth the short hike to discover.
The site is worth entering with a guide. You'll learn the history of Machu Picchu, and guides can be hired in Aguas Calientes. It is well worth the money spent.
Do your research on your trip to Machu Picchu. You'll experience more if you are organized. A trip to Machu Picchu will be a once in a lifetime experience.
Author Bio: Deslie Henderson has spent the last 20 years living and working in Peru in the travel industry. See her travel blog on the Machu Travel Peru website, with insights into travel in Peru. Deslie currently lives in the Inka city of Cusco with her three children.
Latest posts by Janna Graber
(see all)