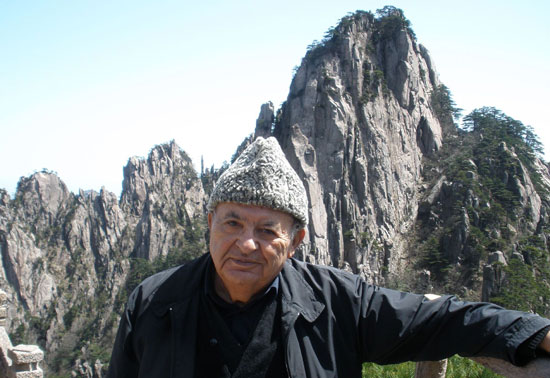 When we traveled to Huangshan, like most tourists, the first thing on our agenda was Huangshan Mountain, also known as the Yellow Mountain, a UNESCO Heritage site.
The most famous of China's mountains, it is much sought after by painters, photographers and poets. With six large scenic areas filled with beautiful panoramas, it is a wonder of nature on the travel map for all those who come to Shanghai and the surrounding area.
As I stepped off the cable car at the uppermost cable lift station, at the top of a downward spiralling walkway, I looked around. Within 154 sq km (60 sq mi) were 72 mountain mist-shrouded peaks that dominated the landscape. As it is often described, it truly appeared to be the 'home of clouds and fog.'
I then looked below me and peered upon man-made steps stretched under a crystalline blue sky as far as the eye could see. I thought to myself, "It's a good thing that we are going down, I would never be able to climb them back."
Turning to the guide, I asked "Are we going to return on the same path?"
"No!" he replied as he ran downward, leading his flock. I had just turned 86 years old, and I feared that I would not be able to return upward. As I followed the flock I could only to some degree enjoy the fabulous scenery. I had to concentrate on not missing a step and tumbling into oblivion.
The mountain landscape, through which we were passing, is world famous for its enchanting-fantastically shaped granite peaks, the highest 1,800 m (5,904ft), emerging from a sea of clouds, fine hot springs, grotesque rocks, and strange pine trees. It is also significant in Chinese art, culture and literature – especially in regards to China's traditional religions. Many of these peaks carry their names from ancient Chinese stories regarding immortals.
Immortalized in ancient and modern Chinese art, this area, about 450 km (280 mi) southwest of Shanghai, of hanging mists and steep rising ledges is of outstanding beauty and is considered by most Chinese as one of the greatest tourist destinations. It is an ideal location to travel to any time of the year. In Spring, the colourful flowers cover the slopes and fill the valleys with their fragrance; in Summer, it is a joy to see the foliage clad peaks rising one upon the other and hear the whispers of gurgling springs in the distance; in Autumn, the whole landscape is immersed in colour and life; and in Winter, a world of magical frost and ice is created from the mountain.
The Yellow Mountain can be compared to a large botanical garden with some 1,500 species of plants, shrubs and trees. Here too are found at least 300 medicinal herbs – a huge natural pharmacy. The mountain is also the habitat for a wide variety of wild animals and rare birds, such as the oriole and the silver pheasant.
Seeing that I was having trouble in my descent and feeling sorry for me, a young lady in our group took my hand and helped to steer me down the steps. It then became easier to look around and admire the seducing mountain vistas, while the cool breezes caressed my now tired body.
Dodging tour groups as we moved along was, at times, dangerous. The steps were manmade and offered sure footing, but the twists and turns made our descent somewhat precarious. The feeling of apprehension did indeed take over me, at every turn.
After about an hour, our group stopped to rest near the mountainside and was engulfed by the cool mountain breezes. Now, feeling worried about the return journey, I again asked the guide about the route of return, "Is the return route steep? Are there steep steps to climb?"
He nonchalantly answered, "Of course! More than those you have descended. If you think you cannot make it, we will arrange for a chair to carry you back. It will only cost you 500 yuan (about $75). In the meantime, you can just rest in this mountain paradise hotel until we finish our journey and return.
"It's a deal," I said, as I breathed a sigh of relief.
There are no roads that lead to the lodge. Everything, starting from when the hotel was being built to everything used in the lodge at present, is brought up by porters – according to our guide, to give the unemployed work. Items from cement blocks to furniture, and from drinks to all types of foods are all delivered in this manner. Porters carry up everything needed to operate the hotel.
I sat on the balcony of the hotel, enjoying the cool, invigorating, soft winds, until about two hours later, when our group returned. At the same time, my chair with two porters appeared. Climbing into the chair carried by the two men, I sat above the heads of the crowd, which had gathered around. Cameras began to click and I felt like the ancient emperors of China must have felt when they were carried above the masses.
Shouts could be heard from many in our group and numerous others, "Doesn't he look like an emperor! Look! He's acting his role! Down with the emperor! We want equality!"
Men and women cheered the porters on as they made their way up the steps between the clicking cameras of the climbers. I was somewhat ashamed to be carried by other men, but relieved that I did not need to do any more climbing.
I felt sorry for the porters as they huffed and puffed climbing the steep mountainside, tamed by the steps built by man. However, the men carrying me, being used as beasts of burden, moved my very soul.
The last part of the walkway upward, consisting of some 500 steps or more, was the most difficult for the porters. They would stop every few minutes to rest. Still breathing heavily, they set me down by the cable car's uppermost cable lift station. Strangely, they were smiling as I tipped them and we said farewell – a happy ending to my extraordinary mountain adventure. I would not forget the Yellow Mountain called the loveliest mountain in China, for years to come.
If You Go to China
1) Foreigners traveling to China must apply to a local Chinese embassy or consulate for tourist visas.
2) The currency of China, the RMB or Yuan, is currently valued at about 6.4 to the U.S. dollar; and the same for the Canadian dollar. Conversion of foreign currency can be done in banks or hotels. China is one of the few countries in the world where hotels give the same rates as the banks. The exchange rate for traveller cheques is more favorable than that for cash. Also, most credit cards are accepted.
3) Taxi fares in China are always clearly marked on the taxi window. Most taxi drivers do not understand much English. Hence, visitors should have their destinations written down by a hotel clerk in Chinese and show the written destination to the cab driver.
4) Only some tap water in China is potable. However, bottled mineral water is on sale everywhere.
5) The temperature in the Huangshan Mountain is agreeable year-round.
For Further Information, Contact:
China National Tourist Office, Toronto, 480 University Avenue, Suite 806 Toronto, Ontario, M5G 1V2, Canada, Tel: 416-599-6636, 1-866-599-6636, Fax: 416-599-6382, E-mail: [email protected]; China National Tourist Office, New York, 370 Lexington Ave. #912, New York, NY 10017 USA, Toll Free: 1-888-760-8218, Tel: 1-212-760-8218, Fax: 1-212-760-8809 Email: [email protected]
Author Bio: Habeeb Salloum is freelance writer and author who has travelled extensively to most parts of the world. A resident of Canada, he writes on tourism and the cuisines of the countries he visits. He is the author of seven books.