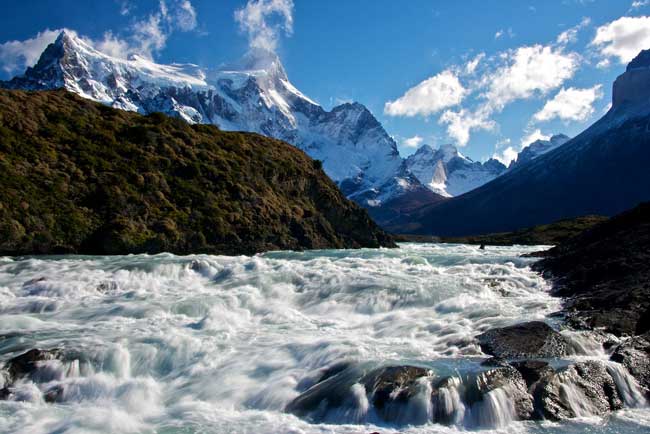 When friends asked, "Why Patagonia?" my reply was much the same as Lady Florence Dixon, who ventured to this beautiful part of southern Chile on horseback in 1880.
"Scenes of infinite beauty and grandeur might be lying hidden in the silent solitude of the mountains bound by the barren plains of the Pampas," she wrote.
Travel to Patagonia
I had no real notion of the wonders that would present themselves on the journey to the southern tip of Chile.
When I set my sights on Patagonia, yet when I began to research, images of the sun-flamed tower of Torres del Paine fired my imagination.
I would surely find Puerto Varas nestled in the ring of fire on the banks of Lake Llanquihue (pronounced yan key way) in the middle of the Andes range spectacular.
Chiloe, the largest island in an archipelago off the coast of Chile that had evolved in isolation from the strife of the mainland, home to very cute penguins, delightful.
There would be Punta Arenas, the gateway to southern Patagonia on the Straits of Magellan, steeped in the history of explorers tucked into calm waters to avoid the ferocious storms rising where the Pacific and Atlantic Ocean collide.
Grandeur, history, beauty, cuteness—Why not Patagonia?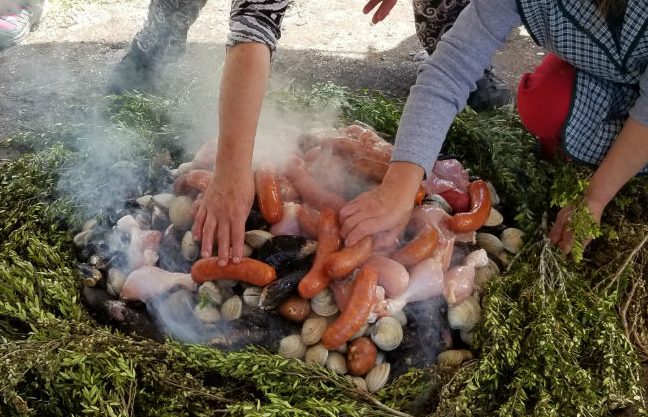 From Argentina to Chile
Oversea Adventure Travel orchestrated my journey from Argentina across the snow-tipped Andes and delivered our group to the border of Chile where the forest thickens and ferns the size of elephant ears fan the two-lane highway.
As we dipped down toward the coast, the landscape turned pastoral with dairy cows in meadows powdered yellow with asters.
We stopped at one of the farms for a traditional meal called a curanto (translated "hot rocks").
Glowing coals in a pit are covered with a bed of rocks upon which mussels, clams, chicken, and sausages are placed. Next was a layer of potato patties (a staple in the Chilean diet) followed by a final layer of ferns.
The mixture is left to steam for about an hour. This repast was served with fresh fruits, greens, and pico de gallo.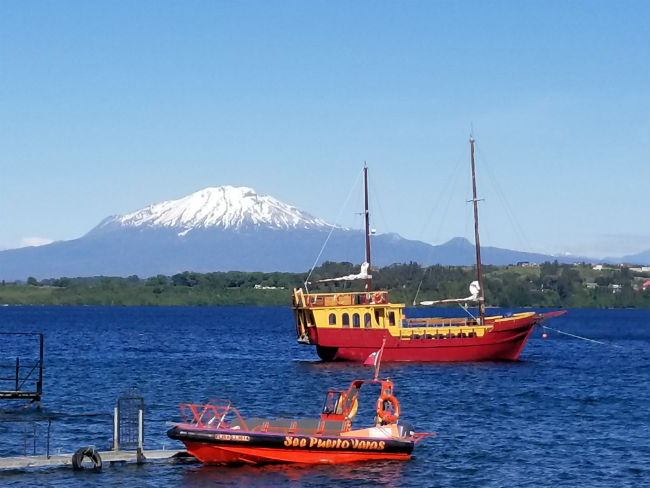 Puerto Varas
We spent the night in Puerto Varas, a charming village on the banks of the largest lake in Chile, from which we could see both Osorno and Calbuco volcanoes resting on the horizon.
Our mission the next day was to hike the flank of Orsorno.
We drove around the ocean-blue lake beneath puffy white clouds framed in the glistening snow-frosted peaks of the Andes.
A narrow track up switchbacks lined with mounds of cheery yellow Scotch Broom and spikes of magenta foxglove took us to a ski hut and the trailhead.
The footpath of crumbled lava was slippery and required focus and sure-footedness through a lunar landscape that lead to a head-spinning vista.
With two snow-capped volcanoes behind me, a green, glacier-carved valley with a silver river snaking through it below, and the dazzling blue eye of Llanquihue dead ahead, I felt I was as close to God as I ever would be.
Island of Chiloe
A 30-minute ferry ride landed us on the island of Chiloe, a soggy affair that gets 300 days of rain each year.
Our welcoming committee was a pair of black necked swans with a trio of cygnets trailing behind.
In Castro, the largest city on the island, the San Francisco church is a UNESCO World Heritage site built entirely of wood and painted bright yellow to offset the gloom of rainy days.
Carvings inside the church show how the mythology of the island's people was integrated into the teachings of the Jesuits.
The Brujo was a handy hit man called upon to kill an enemy anonymously. Trauco was a deformed dwarf who lived in the forest that women found irresistible.
Inconvenient pregnancies were easily explained away by an encounter with Trauco.
Punihuil Wildlife Sanctuary
After a lunch of delicious seafood soup with all manner of shellfish laced with seaweed we were off to see the penguins.
Our driver careened through lush emerald pastureland to the Punihuil Wildlife Sanctuary on the Pacific side of the island where Magellanic and Humboldt penguins, sea otters, sea lions, and sea birds reside.
We boarded a skiff and circled the sea stacks where hundreds of the flightless birds breed and find shelter from predators like sea lions who attack the chicks and gulls who steal their eggs.
Chiloe's catch-phrase is "No rain – No rainbow." We were blessed with both on this spectacular day of bird watching.
Vast tracks of undeveloped lands and waterways lie between Chiloe and Punta Arenas. In May 2017, the country voted to add 11 million acres to the national parks.
The movement was spearheaded by Douglas Tomkins and is wife Kristine who donated 1 million privately owned acres in Parque Pumalin to the Chilean government.
The plan is underway with its goal to create a "Route of Parks" modeled after the National parks in the U.S. with good roads that follow natural curves in the land and many viewing pullouts.
Presently, private outfitters take adventurers into the park for river rafting, horseback riding, and fishing expeditions.
Punta Arenas, Chile
We flew over this region festooned with dozens of waterfalls, thick forests, and scattered frontier outposts on our way to Punta Arenas, capital of Chile's southernmost Patagonia region.
The first stop there is the outdoor maritime museum where one can climb aboard a full-sized replica of the ship that brought Magellan here in 1543.
He sailed from Spain with five vessels, but only one survived the perilous journey around the cape where 600-800 ships have been lost at sea.
A replica of the HMS Beagle captained by Fitz Roy with Darwin on board as the resident scientist is also here to explore.
Prior to the opening of the Panama Canal, Punta Arenas was a bustling hub of commerce. It is still surprisingly cosmopolitan with remnants of elaborate homes of the wealthy Europeans who made their fortunes here.
Today it is the gateway to outdoor adventures in Torres del Paine National Park and cruises into Tierra del Fuego and Antarctica with high-end hotels, good restaurants, and trendy shops.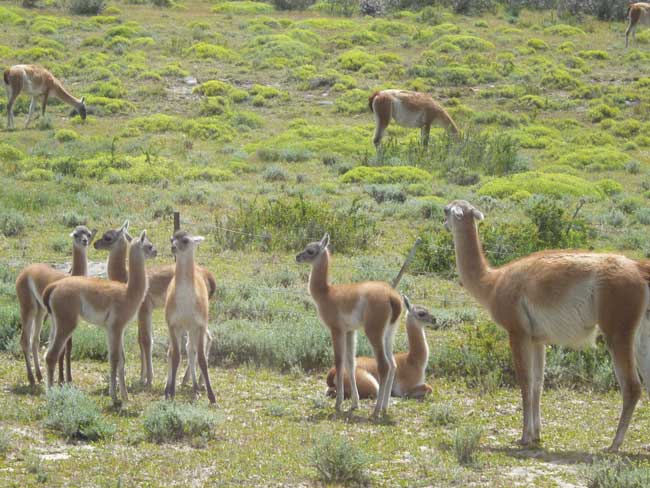 Torres del Paine
The drive from Punta Arenas across the pampas (flat, grassy plains) to Torre del Paine garnered sightings of lesser rhea, a relative of the ostrich; herds of doe-eyed guanaco, ancestors of the llama; upland geese; caracara, a black headed buzzard; and the mighty condor with its 9-foot wing span.
Condors are goofy looking on land. They need the ubiquitous wind of the region to lift their heavy bodies and carry them as they glide on thermals high overhead.
Torres del Paine did not disappoint. The grandeur and awful power of Nature's handiwork is head-spinning, but Southern Patagonia is all about the wind. It drives everything.
It is so powerful that one can lean into it and experience a feeling of flying. It shapes forests of gnarled and leaning trees and sculpts granite peaks into jagged fingers poking through sedentary rock into to azure blue skies.
It spreads fast-moving clouds into lenticular shapes resembling flying saucers.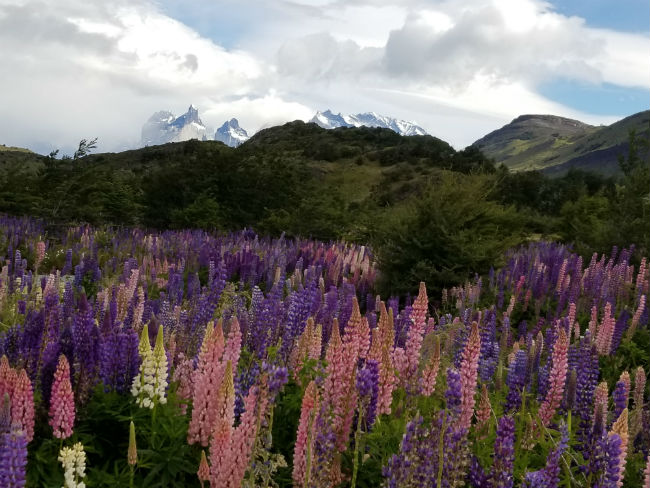 Hiking in Southern Patagonia
The challenge on hikes in Southern Patagonia becomes learning how to read the wind. It can be spotted creating a cloud of white spray across moonstone-colored water stippled with white caps.
Gusts reaching 70-mph are common. When this happens, it is best to put your back to the wind and brace yourself with one foot forward.
The wind is ceaseless, so seeking protected valleys and forest walks where the tree canopy whips furiously overhead is understandably desirable.
I asked local guide Kris who leads international trekkers on the 5-10-day park circuits if she ever tires of the wind.
She said she finds freedom in the mountains where there are no snakes, no mosquitoes, and no dangerous animals beyond the puma, a big cat, who has plenty of guanaco to eat.
In winter, she especially likes when the wind stops and there is nothing but the sound of solitude. She knows how to anticipate the weather shifts and is always dressed in layers with rain pants in her pack.
I tried to absorb her calm, steady manner as I marched beside her on the way to Salto Grande, a gushing turquoise waterfall set between Lago Nordenskjold and Lago Pehoe.
I wasn't fit enough to hike eight hours to see the famed Towers up close, but I did get to the base of Cuernos del Paine, aka The Horns, that rise more than 8,000 ft. straight up from Lago Nordenskjold.
I wished I had time to horseback ride like Lady Dixon in the low-lying meadows choked with wildflowers and into the protected valleys where about 500 trekkers from around the globe hike every day from October through April.
Still, I was thrilled to have stayed at the Hotel Lago Grey overlooking a glacier-fed lake guarded by the snow streaked Paine Massif, the 10,000-foot giant of the park.
A rainbow arced over the scene as I sipped my morning cup of coffee in silence and cherished my time in the wild land at the end of the earth and everything in between.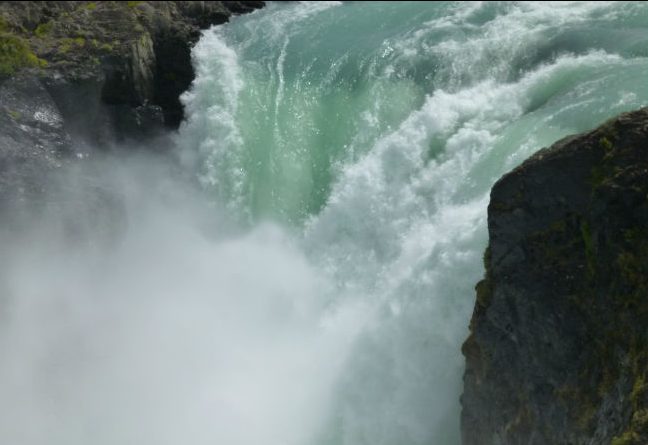 If You Travel in Patagonia:
Overseas Adventure Travel arranged my trip.
Chile Tourist Information: https://chile.travel/en/
Puerto Varas Tourist Information: https://www.visitchile.com/en/tourist-guides/puerto-varas/
Torres Del Paine: https://torresdelpaine.com/en/
Local outfitters are available in all the regions and cities mentioned in the piece.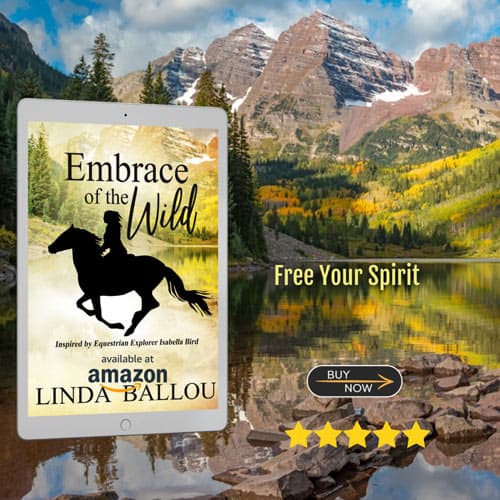 Author's Bio: Adventure-travel writer, Linda Ballou's mission is to get to as many beautiful places as she can before they are gone! She shares a host of travel articles and information about her memoir Lost Angel Walkabout-One Traveler's Tales and her guide book Lost Angel in Paradise at LostAngelAdvenures.com. Embrace of the Wild inspired the life of Isabella Bird is available on Amazon along with her other books.
Join her on Facebook