It wasn't a pretty sight. Outside, there's a cozy bay full of sloops, schooners and brigantines, all anchored under Jolly Rogers flapping in the gentle breezes. Ashore, their crews – better than a thousand of the era's bloodiest scofflaws – are drowning themselves in booze, punching each other around and otherwise forgetting about the pirate business in dozens of sleazy taverns lining the bay of Nassau.
"We had here a rare opportunity, a chance to take something base and shape it into a government… But in two years we pissed it away," lamented Benjamin Hornigold, who with Edward Teach (aka Blackbeard) helped found the "Pirate Republic" in 1715 on this spot some 180 miles east of Miami.
It was a golden opportunity. There being no government here to speak of, Nassau for years had been a lawless, pirate-friendly port, attracting lots of settlers of the Jolly Roger persuasion. More and more marauders opted to bunk down here including such colorful brigands as William Kidd, Anne Bonny, "Black Sam" Bellamy, "Calico Jack" Rackham and Mary Reed. By the time 1715 rolled around, there were 10 buccaneers moseying about the port – mostly whooping it up in the taverns – for every one of the local folks.
Founders of the Pirate Republic envisioned a Utopian-like community with a formal "Code of Conduct" featuring democratically elected ships' captains, equal sharing of plunder and the like. It all looked good on paper, but when you put 1,000 mostly slimy cutthroats together – another notorious rogue, Charles Vane, called the Republic "a confederation of drunkards and dunces" – it's hard to see how anything Utopian could come out of this.
It couldn't, and in 1718, with the Republic turned into a Margaritaville for marauders, it didn't take much for King George I to restore English control of the island.
Fast-forward 300 years, and Nassau, once the capital of the rogues' Republic, is now the capital of the 700 islands of the Commonwealth of the Bahamas. And like Nassau's homies were once outnumbered by pirates, today's quarter-million locals are far outnumbered by tourists pouring off planes, private boats and cruise ships. Travel in the Bahamas is big business, and it has become a popular destination for family trips, honeymoons and beach vacations.
Overnight visitors wondering where to stay in the Bahamas have a choice of some two dozen tourist-class hotels on the 21-mile-long island, a good number of which are all-inclusives, meaning a flat rate covers your room plus all the food you can eat and all the drinks you can down. (Check the asterisks, though, and you might find extra charges for lobster and other premium dishes, and for high-end liquors such as scotch).
Guests Go Tipless
Among hotel-resorts dotting the powdery white sands of Cable Beach a little outside town is the 400-room Breezes Resort & Spa, billed as "super-inclusive." Here, the flat rate covers all the premium stuff, too, including top scotch and vodka labels and gourmet dinners in Italian, Mediterranean and Asian restaurants along with just about everything else you'd like to eat, drink and do. Even tips are covered.
Weddings are comped at Breezes Resort & Spa too. Free packages include everything from the services of a wedding planner, the license and the wedding official to the bridal bouquet, the wedding cake, champagne and even "Just Married" T-shirts. (Bahamian law requires a local residency of just 72 hours before the ceremony.)
Need tips on what to do and see around nearby Nassau and elsewhere on the island? No problem, drop by the concierge desk in the Breezes Resort & Spa lobby. (You guessed it, you won't need to tip for tips.)
Public buses run every few minutes from the resorts along Cable Beach to downtown Nassau, where hundreds of wall-to-wall duty-free shops await bargain-seekers from the hotels as well as thousands of day-visitors from as many as eight big cruise liners at a time. The bus fare is a good deal, too – just US$1.25 each way.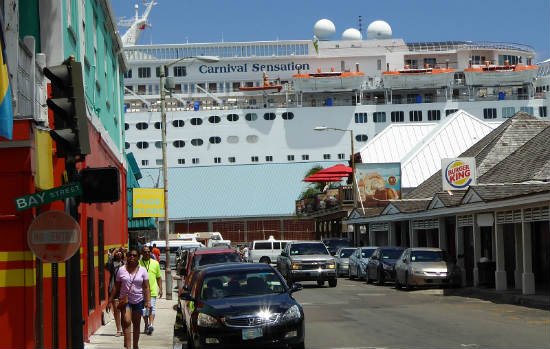 Tours of the island feature stops at three 18th century forts atop hills around the harbor and at several museums, among them the Pompey Museum of Slavery and Emancipation. A popular attraction in the downtown area is the block-long Pirates of Nassau Museum, where tourists board a mocked up buccaneers' ship "to walk through a pirate's life as they plot, plunder and rule the high seas."
Museum guides say merchant ships loaded with gold, silver and products from mainland plantations stopped at Bahamian ports to load up on meat, veggies, fruits and fresh water before crossing the Atlantic on the way to Europe. At favored harbors, like Nassau, the merchant ships were sitting ducks for marauders hiding there.
First-time visitors to the island are in for a pleasant surprise at the end of their stay. After checking in for their flights at the Nassau jetport, they'll go through a Security checkpoint and then a "pre clearance" process there for U.S. Customs and Immigration – meaning they'll be able to avoid the mob scenes for such checks on arrival at U.S. gateway terminals.
If You Go:
Breezes Resort and Spa
https://www.breezes.com/
Bahamas Tourism
https://www.bahamas.com/