"It's always cool to be around Jack. It's cool to see him wax poetic. Jack still feels like one of the guys on Tour but he also knows he's the elder statesman." – Mark Cannizzaro, New York Post
Having competed in 164 major championships while racking up 73 wins on professional golf's PGA Tour, Jack Nicklaus has "been some places." He's changed some places too as a golf course architect who has designed 410 golf courses in over 45 countries.
Jack Nicklaus
The native Ohioan who has long lived in South Florida has logged significant air miles and in doing so has created a significant worldwide footprint for anyone attempting to fill his shoes. Does the man known by the nickname the Golden Bear have any advice as he's reached the golden age of 80?
"We're here a short time. Enjoy it. Have fun," Nicklaus told me. "Try to make a contribution. Try to make it a better place than when you got here."
Though Nicklaus is most closely associated with Augusta, Columbus, Pebble Beach and South Florida, perhaps no place better displays his philosophy than the Cabo San Lucas region of Mexico.
Calling Cabo
While vacationing in Cabo as a very young man Nicklaus probably never dreamed, he'd go on to essentially introduce the game of golf to Cabo by designing six high-profile golf courses anchoring major resorts at the bottom of the Baja Peninsula.
"I stayed at the old Hacienda Cabo San Lucas and we use to go out fishing and swim out under 'The Arches.' We used to be able to come down here in the 1960's in a tee-shirt, a swimsuit, and a pair of sandals with 20 bucks and stay for a week. Now you might not get out of the airport for that. So, my friends joke that I'm the guy who ruined Cabo," said Nicklaus at the 2014 grand opening of Quivira Golf Club, the most visually dramatic of his Cabo designs.
"The Arches" are Cabo's iconic, dramatic rocky Pacific outcropping and dramatic is a good way to describe Nicklaus' first visit to Cabo in 1963 – which was also almost his last.
"I was flying in for a landing on my Aero Commander with a co-pilot and I was getting ready to start throttling back on the runway and all of a sudden I felt a hand on my hand push my hand forward," Nicklaus recalled. "The runway sits at an angle and I was lining it up like it was a flat runway. It was below the hillside and we would have gone right into the face of the hill. The little push said, 'we need more gas here.' I'll never forget – it's like it was yesterday."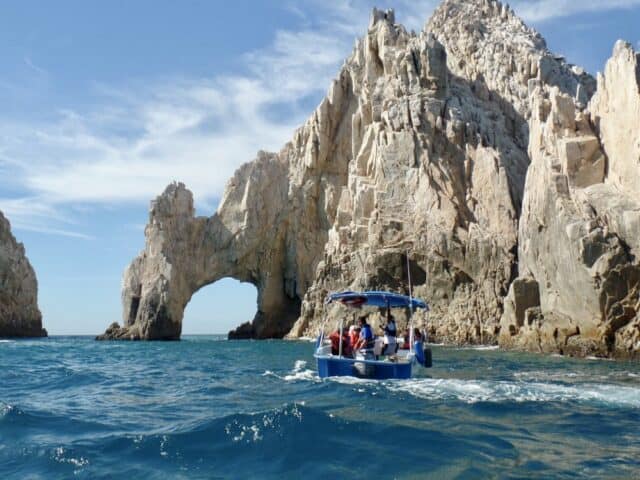 Fairway Fiesta!
Vacationers who fly into Cabo don't forget Quivira Golf Club, either. The unique design is blended like a frozen margarita over terrain that allows for links, mountainside, and oceanfront golf.
"It's got some very unusual, spectacular golf shots on it over obviously great terrain," said Nicklaus. "Most of all it's got some absolutely unbelievable vistas."
Each hole presents stunning, natural, bird's-eye views from hundreds of feet above the all-inclusive Pueblo Bonito Pacifica Resort and Spa spot near at "Land's End" – where the Pacific and Sea of Cortez meet. The golf course is, indeed, a roller coaster.
"It's designed for people to enjoy it and play golf, and the hotel and so forth and so on," said Nicklaus."
The expansive beach, sheer granite cliffs, and huge dunes are also visible from four enjoyable and complimentary "comfort stations" built into the course's cliffs along the way. These stops scenic serve up the Baja culinary talents of the resort chef's regional dishes – tuna sliders, fish tacos, breakfast burritos, are ready to go or prepared on the spot to preference…at no cost.
"I think it's a feel‑good thing. I mean, what does it really cost to have snacks, water, put it all‑inclusive in your price, and have your meals? A lot of times you go to a club or a place, and you're paying for a bottle of water, you're paying for a handful of peanuts, you're paying for this and that and so forth. I think the all‑inclusive is the thing that people really like about their vacation. Not worrying about having to reach in their pocket and grab $5 every time they turn around," said Nicklaus.
His home course in the Palm Beach, Florida area has adopted the same policy. "If you go to the Bear's Club, we have a no‑tipping policy. We have all our drinks, everything, all breakfasts are free – they are all-inclusive. We figure we charge the guy enough to join the place we can give him something and have him feel good."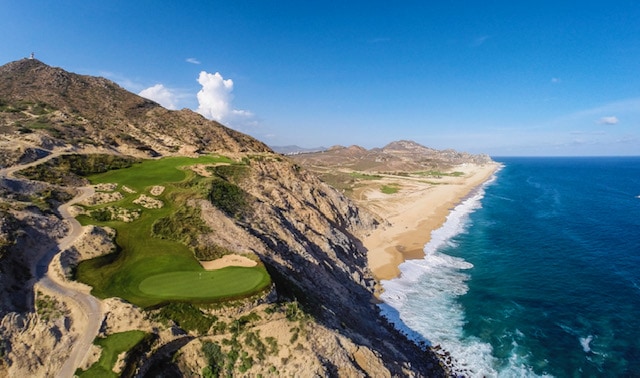 Fiesta or Siesta
Quivira's three indulgent "halfway houses" will surely not speed up play, which is somewhat ironic since in the past Nicklaus, with his pre-shot routine and focused, deliberate style of play, has been blamed for a generation of slow golfers.
Industry proponents of speedier rounds (meaning more revenue for courses) begged golfers not to entirely heed the title of Jack's bestselling book Golf My Way, but no one can argue with his successful results. Beware, though, as your golf results may be affected by the free-pour bar with blanco, reposado and anejo tequilas.
There's no reason to race through the round anyway since you remain immersed in the scenery throughout the experience and you're never "off property." From high atop Quivira's tees and greens you can see the pool and beach down below aren't going anywhere and night owls can linger at its' fire pit and private cabana beds.
Pueblo Bonito's neighboring Sunset Beach resort has a sky pool for those who'd like a swim with the scenery at a pool providing a Pacific panorama.
Birdies and Busy Bees
Quivira Los Cabos is a community 10-minutes from downtown Los Cabos which encompasses the oceanfront Pueblo Bonito Resorts including Pacifica and Sunset Beach. Pacifica is an adults-only beach and spa retreat; while Sunset Beach is an adjacent family-friendly enclave on a coastal bluff. The golf course with its thatched-roof clubhouse is easily reachable from both properties.
There's plenty to do besides golf. Whale watching, shopping, fishing, hiking, cooking classes, horseback riding, snorkeling, diving, boat cruises, a desert safari and Cabo canopy tour are among the choices. The properties have many options for destination weddings and, of course, honeymoons.
In his golden years, the sun may someday set on the Golden Bear's golf course architecture career, but not yet…but it will never set on his empire.
He's retooling his beloved Muirfield Village Golf Club in Columbus and has revealed a complete re-do in west Michigan called American Dunes – for which he donated his services since the course's revenue will benefit the Folds of Honor military Gold Star family charity.
He and Barbara, his wife of 60 years, happily participate in charitable efforts such as "Play Yellow" to benefit the Children's Miracle Network Hospitals, signs autographs with a wink and a smile, and of course hits the honorary opening tee shot at each year's Masters Tournament.
Hopefully now and again Nicklaus can get back to Quivira Los Cabos, with a bathing suit, pair of sandals, a fishing rod, and a $20 bill…to admire his amazing handiwork and enjoy a priceless sunset.
Read more of Michael Patrick's work at The Travel Tattler, or contact him at [email protected]