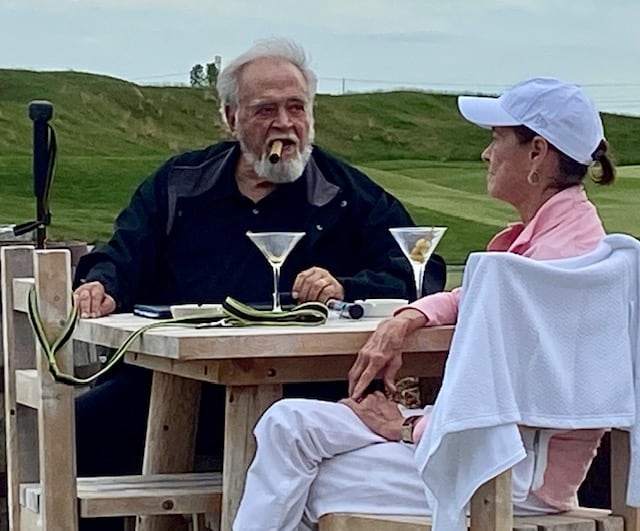 The powerful, successful Kohler was the picture of happiness with his dog playing at his heels, a chocolate martini in hand, and a big cigar between his smiling teeth.
Herbert Vollrath Kohler, Jr. is like a man with such presence that he seems to roll in like a planet with his own orbit.
In the gloaming of an evening in America's Dairyland, I waited, in the Wisconsin village founded by his family and therefore named Kohler, to catch a glimpse of the Yale alum who became chairman and CEO of his father's Kohler Company at age 33.
Now, at age 82, $8-billion is the number Herb Kohler is reportedly worth. That is a lot of toilets, plumbing fixtures, furnishings, generators and small engines that the Kohler Corporation has sold worldwide.
But it was "the Baths" that we had gathered on this early June evening to see. Not the kind of bathtubs you make gin in…but the kind you revel in if you're a golfer.
This was the ceremonial grand opening of Destination Kohler's newest golf course – a 10-hole, par-three course Kohler named, appropriately, "The Baths."
Herb Kohler Lives Large
My anticipation of Kohler's arrival that evening was heightened by the way everyone on staff referred to him all day as "The Chairman." The Village of Kohler was created around the stately, industrially fanciful factory in order to house and recreate the employees.
While the plumbing empire grew, The Village of Kohler's level of recreation opportunities also expanded beyond employee perks and into a world class golf and spa resort called Destination Kohler.
This, to me, made Herb Kohler part Willie Wonka and part Walt Disney. And like Disney did to put Orlando on the map as a city of spin-off theme parks, Wisconsin has become a golf haven beyond Kohler, with destination courses and resorts such as Erin Hills – which immediately landed a U.S. Open – and the three very natural courses at Sand Valley Golf Resort Mammoth Dunes designed by David McLay Kidd; the Sand Valley Course by Bill Coore and Ben Crenshaw; and, preceding The Baths, a par-three charmer called The Sandbox.
Both Erin Hills and Sand Valley, like Kohler, offer lodging and dining, and the Delafield Hotel near Erin Hills is a lovely option, too.
Lake Geneva, in Southwestern Wisconsin near Chicago, is a longtime vacation spot, and those who can get off the water there long enough love the Grand Geneva Resort's Highland Course – also designed by Pete Dye (with Jack Nicklaus), and Brute Course. Nearby, at Geneva National Golf Resort, legends of the game Nicklaus, Arnold Palmer, and Lee Trevino (a rarity) laid out tracks.
Kohler Keeps Creating
He wasn't initially a golfer, but Kohler's vision via the Meadow Valley and River Courses he created on campus at Blackwolf Run; and the Straits Course and Irish Course he built above the Lake Michigan shoreline at nearby Whistling Straits have drawn no less prestigious professional events than the PGA Championship; Ryder Cup; and U.S. Women's Open.
Those courses were each designed by the now late golf course mad scientist Pete Dye. Chris Ludzke, a Dye disciple, designed The Baths with Kohler. He stood nearby me, as I sipped a local Spotted Cow craft beer at the reception, also awaiting the arrival of "The Chairman."
"He walks in a room and he's a big force. Chairman Kohler brings something with him," said Lutzke, who grew up 20 miles from the site of The Baths. "Therefore, I knew the name of the Kohler Company before I could walk."
Kohler Collaborator
Though Herb Kohler essentially inherited the reins of the Kohler Company, he famously prepared by first working as a laborer or technician in every division of the operation. It should therefore have come to no surprise to Lutzke that Kohler was very involved in the design of The Baths.
"He was my co-architect and for the most part we agreed on everything. He had some really well-rounded design ideas and it was a joy working with him," said Lutzke. "He'd come out on-site and we'd look at the design for 45 minutes and then just sit in the cart and swap Pete Dye stories for another two hours. Someone would bring us a sandwich and we'd watch the sun go down. I don't take a relationship like that with Mr. Kohler for granted. He's a friend and I really respect him."
One of Kohler's more unique ideas was to make the ponds on the course swimmable, Lutzke revealed.
"Chairman Kohler wanted people to be able to dive into The Baths so we put sand in the bottom of these ponds. There are some shallow areas where people or kids can walk in and play. It doesn't always have to make sense but that's what he wanted."
Mike O'Reilly, Destination Kohler's Director of Golf and Operations, began his career as a caddie at age 12 and has spent a lot of time with "The Chairman," who turns out to be a gentle giant.
Kohler even took the time to teach O'Reilly's wife to drive a stick shift while they were in St. Andrews, Scotland, at the home of golf after Kohler purchased the historic Old Course Hotel and Hamilton Hall. "Mr. Kohler is an amazing man. He's successful and done so much for this local community as well as the community of golf. I am proud to be part of this company."
Kohler Takes the Stand
The cocktailing became quiet when Chairman Kohler rolled in on a golf cart along with his wife Natalie and their doggie. He was compelled to view and almost immediately took to the Lucite podium positioned in front of the pond and between the putting green, firepit patio and The Baths 10th green. Lutzke and a colleague of his were faithfully positioned nearby, but not too nearby, on either side of Kohler. They watched carefully that the Chairman, who uses a cane, didn't accidentally totter back too far and splash down with a Nestee Plunge, thereby fulfilling his own playful prophecy.
No, the chairman left that levity to Lutzke, suggesting he be the first to take to jump, so the golf architect and one of his colleagues loyally leaped in!
"It wasn't planned. Mr. Kohler said, 'Why don't you jump in?' I just said, 'Okay,'" Lutzke told me later as he dried off with a bath towel.
"So, when Mr. Kohler says jump…?" I asked.
"Pretty much," Lutzke admitted with a smile.
Kohler smiled with pride from the podium.
"I've known Chris for more than 30 years," Kohler said. "Throughout the entire process of building The Baths I marveled at his ability to take ideas I'd throw at him in the drafting room or out walking in the field and bring them to life 'in the dirt,' as Pete Dye used to say."
Tied to Dye
Lutzke's dip in the pond was reminiscent of his mentor Pete Dye's most famous watershed moment.
Dye's most famous design is TPC Sawgrass, the tough track at PGA Tour headquarters in Ponte Vedra, Florida – home to The Players Championship – professional golf's richest annual tournament. At the conclusion of the first Players Championship held on the new course in 1982, a controversial affair due to the players griping about the difficulty of the course, Dye, along with the winner Jerry Pate and PGA Tour commissioner Deane Beman found themselves top over teakettle on TV in the water next to the 18th green.
"There were alligators there at Sawgrass. Here in Wisconsin we just have some big turtles," said Lutzke.
After the completion of TPC Sawgrass, Dye set his sights on Wisconsin, where Lutzke was a construction laborer on Dye's design team that built the Blackwolf Run courses which now gave birth to The Baths. "And now to come back to Kohler, Wisconsin where I met Pete Dye in 1985 and then have the Kohler Company call me back to do this 10-hole, par-3 course is really special because I feel like I have come full circle."
But how did the Dye circle start? Kohler, like a charming, grandfatherly storyteller, told the tale from the podium.
A Match Made in Kohler
Dye was an Ohioan and Indianan and Kohler's Austrian family put roots in Wisconsin in 1873, so in a sense Pete and Herb were both Midwesterners.
"Pete Dye was a somewhat strange fellow who'd just finished designing TPC Sawgrass for the professional golfers. He consented to come and see me," Kohler recalled from the podium as the breeze blew his notes.
"When we passed the Kohler village sign on the way that read: 1,934 people, Pete Dye leaned over and said, 'Mr. Kohler, do you really want me to build a golf course for 2,000 people?' But when we then passed the corporate building on High Street, he looked at me again and said, 'I guess you can pay your bills.'"
Kohler then noted that Pete Dye went on to build four spectacular public courses at what became Destination Kohler – each of them rated in the United States top-100 public courses.
"And old Herb Kohler went on to learn the game…fascinated that it could challenge the physical, mental and the emotional all at once. It was the only game people could play that required you to call a penalty on yourself. I loved the challenge. I love the fact some of my best friends in life come from the game of golf," said Kohler.
He then got into his philosophy about creating a 10-hole, par-three course.
"Our intent with The Baths is that it will become a place where people from all walks of life will be introduced to the great game of golf. We will use it as a place where juniors and seniors can learn the game in a fun, supportive environment."
Especially fun and supportive, O'Reilly elaborated to me.
"We're going to have speakers with music around the putting green at The Baths and on the patio. We're widening our reach and loosening up a little bit," he said while wearing a fancy, logoed hoodie. "Whatever we can do to make it fun and a little more approachable is good. Anyone can step onto our two-acre putting course and be on that green and enjoy putting around."
With that putting green within eyeshot, Kohler continued.
"The Baths will be a place to loosen up before you play on one of our championship 18's…or where after a round you can try to work through a swing fault that caused a few extra strokes. One of the most interesting aspects of The Baths is the way it can be played.
Normally a 10-hole par-three and an 18-hole putting course on two acres of rolling ground, the par-three can be modified into a six hole or even a 12-hole. I think you're going to find some remarkable and memorable holes you'll want to come back to time and time again."
And then, in a most sincere, Burl Ives-style close, he looked up at the crowd and said…"I wish you luck."
Then safely seated at his patio table the powerful, successful Kohler was the picture of happiness with his dog playing at his heels, a chocolate martini in hand, and a big cigar between his smiling teeth.
Read more of Michael Patrick's work at The Travel Tattler, or contact him at [email protected]