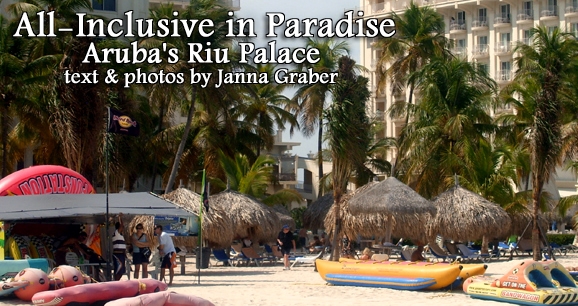 For most of us, making the most of our vacation budgeting is important. After all, there's nothing more depressing than receiving an unexpected bill at the end of a relaxing holiday. Perhaps this is why all-inclusive resorts have done so well in recent years. Guests pay one daily price that covers lodging, food and sometimes alcoholic beverages. You can enjoy all you want for one flat fee.
The Hotel Riu Palace Aruba is one such resort. Tucked along a beautiful white sand beach on the island of Aruba, the resort is one of the RIU Hotels & Resorts. Known for their first-rate service, prime beachfront locations, palatial décor and careful attention to detail, Palace hotels are Riu's most luxurious resort line.
Located on a beautiful stretch of Palm Beach, just 15 minutes from the airport, the Riu Palace is an idyllic Caribbean resort. Almost every day in Aruba is a warm one and sun worshippers thrill at the white sand beaches, waving palm trees and crystal blue ocean waters.
Water sports – from diving and snorkeling to wave runners – are all available on the pier beside the hotel. And if you're into partying, spend an evening on the Tattoo Party Cruise where you can drink and dance the night away for US $49/person.
(And if you're a little bit crazy, you can also play on the boat's slide, which drops you right into the Caribbean Sea.)
You don't need to leave land to enjoy the water. The Riu Palace Aruba has two huge swimming pools where you can sit at the swim-up bar or relax in the sun – all under the careful service of the Riu Palace staff.
The hotel has daily free entertainment, including dancers and other performers, as well as a casino. Guests at the Riu enjoy unlimited dining and drinks. Food and room service are available 24 hours a day. Numerous dining choices are available, from large buffets to four themed a la carte restaurants, including a Japanese restaurant and a steakhouse.
The food is excellent and well proportioned and service is excellent. It's easy to get spoiled at the Hotel Riu Palace Aruba.
You'll never have to pay for a drink as unlimited local and imported beverages are available 24 hours a day. Each room includes a mini-bar and regularly restocked liquor dispenser.
Guest rooms are large and tastefully decorated. Most rooms feature a terrace or balcony offering wonderful views of the ocean. Split-level sitting areas with sofas provide plenty of space to relax.
While the Riu might tempt you to stay at the hotel all week, be sure to get out and explore the island. Aruba is well worth the trip!
This tiny slip of land in the Caribbean Sea is just 17 miles (27 km) off the coast of Venezuela. Happily, Aruba lies outside of the hurricane belt and enjoys a dry, arid warm climate year round.
Perhaps the best reason to visit Aruba is the people who call it home. The Aruba license plate reads "One Happy Island" and it seems true. The locals are friendly and welcoming. The pace of life is relaxed. No one ever seems in a hurry. And folks honk their cars horns in greeting rather than annoyance when they pass one another on the roads.
The Aruban culture draws from many nations and nationalities. The island is an autonomous region of the Kingdom of the Netherlands so all schooling is in Dutch, as is governmental communication. But the people prefer to speak their own native tongue of Papiamento, a Creole language derived from Portuguese, Dutch and other languages.
Most Arubans speak beautiful English and do their best to make visitors feel welcome. An easy-to-use bus system can whisk you around town, but you might want to rent a car if you plan to explore the whole island.
Whatever you choose to do, your time on the island will go much too fast. Aruba has a high return guest rate and, after your visit, you'll understand why.
If You Go
Hotel Riu Palace Aruba
www.riu.com
Aruba Tourism Authority
www.aruba.com