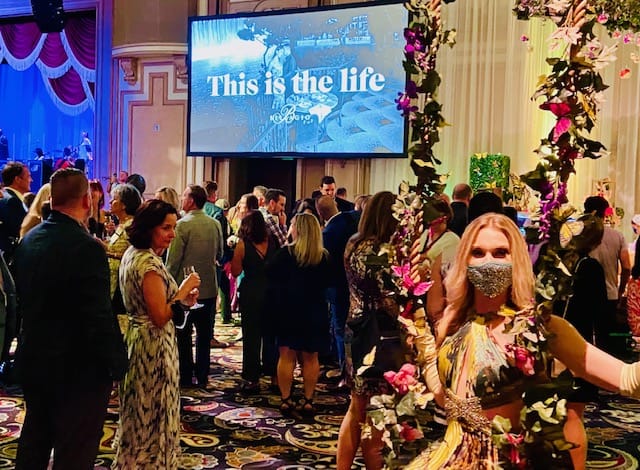 Virtuoso sweetens, curates – and rescues or alters – priceless experiences created by their expert advisors for travelers who seek a "return on life."
Before I take you inside a swinging soiree let me start with a quick summary of the Virtuoso Travel Week's top trend takeaways:
People are traveling safely right now.
Flexible booking and even double-booking as a back-up is still possible with the current lack of change fees, which is why travel advisors and agents are more important than ever now.
There's a case to be made for keeping it simple and sitting still to absorb one destination or even working from the road.
And while there is a rental car shortage, adventure travel, even to the poles, is hot. Travelers are booking private villas in remote areas, for instance, seeking space. Space travel now, too. And they're attempting to do so sustainably. Now…let's party:
The Travel Industry's Best Bash Bounced Back Big
It makes perfect sense that Virtuoso Travel throws itself the most efficient, memorable, fanciful annual "Travel Week" conference each August. That is exactly what Virtuoso and its universe of travel advisors and provider partners do every day for their traveling clients: create efficient, memorable, fanciful trips that last a lifetime in the hearts and minds of those who've come to trust them with planning their bucket-list getaways.
I was once again, in 2021, a gadfly on the wall at "Virtuoso Travel Week 2021," the annual takeover of Las Vegas by the world's most knowledgeable and influential travel advisors and providers, who yielded the latest pandemic-era data, news, trends and inspiration. Lots of spoonful's of sugar went with the merry medicine of briefings, power points, professional "speed dating sessions," and speeches presented on stage and at two-top tables throughout the MGM's Bellagio, Vdara and Aria expansive, cavernous conference centers and breakout spaces and ballrooms. Candy jars at registration full of rubber, colored bracelets – red, yellow and green – signified social distancing preferences: "no contact;" "air kisses only;" and "hugs welcome" respectively.
Tears, though, were in my eyes at the opening ceremony presentation when, on large screens on and beside the big stage, live postage-stamp video boxes of 1,823 virtual Virtuoso participants from 102 countries around the world who, due to pandemic restrictions couldn't travel to America, appeared in unison sending greetings to the 1,478 in-person attendees. It was as if they were in a futuristic video jail.
What We Don't Know
The opening ceremonies include cinematic videos of inspiring destinations and live dancers. Adam Grant, the Wharton School professor who authored the bestselling book Think Again…the Power of Knowing What You Don't Know, gave a virtual keynote address and confessed to running his travel guide company "Let's Go" into the ground. "Build yourself a 'challenge network' of hard-truth givers," Grant advised the travel agents and providers who filled the room. "Define yourself with values, not opinions."
Industry leaders, including Stacy Hamilton, MGM International's director of public relations, and various Virtuoso executives spoke concisely, including a humorous bit by the company's strategy V.P. David Kolner who magically transitioned, during his appearance, from "virtual" to "in-person" on the stage.
Nobody upstages Matthew Upchurch though. The deep-voiced visionary Chairman and CEO of Virtuoso described the anguish he felt steering his company through a pandemic that cost the travel industry 62-million jobs and $4.5-trillion GDP loss. Upchurch, ultimately, after sleepless nights, remained steadfast.
"Disruptions accelerate trends and humans are motivated when you take something away from them. People value travel more now than ever and they are living more purposefully. They desire a return to life," said Upchurch. "What travelers had previously thought of as their 'bucket list' has now become their 'to-do list."
Upchurch became emotional amidst what he described as the "collective effervescence" of once again gathering travel advisors, industry leaders, product providers and media together in-person (masked) and virtually worldwide for the colorful conference. Wandering around the room resulted in meeting the likes of James Bermingham, CEO of Virgin Hotels; Ben Trodd, senior vice-president, sales and marketing for Four Seasons Hotels and Resorts; Amanda Elder with Kempinski Hotels; Michael Ungerer, of Explora Journeys, and Brett Armitage, chief commercial officer for Kerzner's One & Only Resorts, to name only a few. It was like meeting the godfathers of the Cosa Nostra's "five families."
This is the Life
Following Virtuoso Travel Week's stirring, showy opening presentation the attendees were directed from the massive Bellagio ballroom to a similar one for a cocktail reception down the corridor…a hallway lined with hotel staff cheering, clapping and shrieking as if they were fans seeing the Beatles walk through JFK Airport.
It's an unusual sensation, and a conference tradition, to be applauded like a rock star by the Bellagio staff and it's a unique theatrical gimmick only a vast company such as MGM could pull off. But this time, after 2020's Corona cancellation, the waves of appreciative applause seemed somehow more genuine. I, in turn, applauded them back and waved and bowed as I walked between them in the long gauntlet, not to play Barney Bigshot, but because I was very grateful to be there and appreciated their warmth. (By the way I learned their enthusiasm was not my imagination the next morning at the ballroom buffet breakfast when I sat alone at an 8-top round table with scrambled eggs and fruit but found three served hovered around me filling my juice glass and bringing tea.
"We're just so happy to be able to have something to do. It's been more than a year since we've even seen people in here," said a young, dark-haired woman.)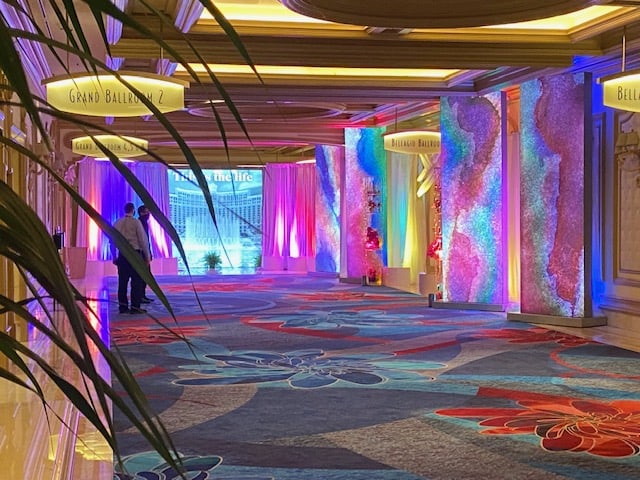 Jay Gatsby would have been proud of that opening night cocktail reception, sponsored by MGM, which was themed "This Is The Life." It was a midsummer's night dream. An orchestra played pop hits, models dangled from floor-to-ceiling swings, dancers posed for photos, and drinks were poured between unique food stations that included tall, carved-ice shrimp cocktail chutes; a cigar box server with beef wellington in the shape of stogies; and macaroons and cakes served out of the drawers and shelves of pastel antique dressers and armoires. It all seemed so…forbidden and imaginative.
Imagine What Can Be
"Imagine What Can Be" was Virtuoso Travel Week theme and Upchurch himself has taken the topic seriously by being one of the first to purchase a future flight to space aboard Virgin Galactic. "I've already completed the requisite astronaut training," he revealed.
"To the curious, the world is reopening," echoed Mark Conroy, managing director for Silversea Cruises. Opening, literally, was on the mind of Armitage, Chief Commercial Officer for One & Only Resorts, which is unveiling new luxury properties in Dubai, Rwanda, Greece, Montenegro, and the Maldives.
Reopening was also on the mind of Tania Swasbrook, the vibrant vice-president of San Diego-based Travelworld International, who told a press panel, "I was in Portugal the day it reopened. Lisbon locked down again while I was there but I adjusted and was still happy to be there. My clients also are likewise not cancelling their trips."
Misty Belles appears regularly as a guest on NBC's Today Show and in other media. She lives in the Washington D.C. area and such is her poise that if she were not director of global public relations for Virtuoso she would be wholly suited to speak for President Biden as the White House press secretary.
"Travelers are becoming more comfortable with unpredictability, " Belles concurred. "They were more hesitant, a year ago, to make travel plans because they knew changes were inevitable. Now they're just embracing the fact and ready to get back out and explore."
Viva Virtuoso Las Vegas
The site of the Virtuoso conference itself has been evidence of Belles' point. Keith Salwoski, executive director of public relations at The Venetian Resort Las Vegas, said, "Many people put off birthdays, weddings and anniversaries during the pandemic but now Vegas is on fire with people who are here to have a good time. That's what we're seeing."
Salwoski and The Venetian gave some of the media members marshalled by Alice Marshall, a New York-based public relations consultant to Virtuoso Travel Week, the opportunity to visit and taste Chef David Chang's new Majordomo Meat and Fish restaurant. Scribes and broadcasters who cover everything from private jets to airports tasted Bing Bread, Shellfish Plateau, Roasted Beet Salad, Stuffed Peppers, Iceberg Wedge, Smoked Prime Rib, Smoked Tomato Macaroni, and Miso Marinated Black Cod before the PTJ dessert: banana flambe, caramel whipped cream, vanilla ice cream, and Krispy Kreme doughnuts were set afire tableside like bananas foster.
The newest shiny new toy Las Vegas offers are the NFL's Raiders, who moved from Oakland into a brand new, state of the art stadium across from The Strip which has been nicknamed the "Death Star" because of its intimidating "Raider black" exterior. Virtuoso Travel Week held its Tuesday night party not just in the stadium but on the field so attendees could take pictures, throw and catch passes and kick field goals in between bites of nachos, sliders and decorative cookies which they washed down with fresh-made margaritas. Upchurch took to the microphone at one stage and appeared on the giant screen to thank Virtuoso's sponsors.
Where You're Going, When and in What Style
Las Vegas has always been a more-than-ready, go-to option for the last-minute weekend getaway. Virtuoso Travel advisors allowed that sometimes people are booking travel in shorter windows – such as waiting till Wednesday to schedule a weekend escape – and learning to be flexible in case of developing deviations. Those are two specific situations during which Virtuoso's global network of 20,000 expert travel advisors throughout 1,200 locations in 50 countries are vital for tourists who need advice, access, advocacy, accountability, value and time savings from 2,200 preferred provider partners.
In short, Virtuoso is a free service for those who believe travel is an essential part of living a rewarding life.
CBS News travel reporter Peter Greenberg invented coverage of the travel – the world's largest industry – and arrived at Virtuoso Travel Week after reporting from Greece, Turkey, Tanzania, Vienna and the Canary Islands. "I haven't been on a plane or cruise ship in the last three months that hasn't been totally full," he told me. "Travel is part of our cultural DNA. It's not that we want to travel – we need to travel. People will do whatever they can to do it. It's not a question of if people will travel, or when or even where they will travel, it's how. As soon as they figure out how they're gone."
73-percent of Virtuoso travelers are ready to go right now. 69-percent are traveling closer to home but 67-percent are willing to hop an international flight – especially to countries that require proof of vaccination to enter – according to data revealed by Belles. Italy, as always, led the international destinations while it was "California Here I Come" domestically. Virtuoso's purpose is to take those travel experiences to the next level of luxury and excitement.
"Through relationships Virtuoso creates a more elevated, more personalized experience for travelers. There is no subscription or membership fee, but the VIP treatment and savings they get through Virtuoso has tangible value," she explained. Virtuoso "imagines what can be" and makes it happen.
Read more on Michael Patrick Shiels' travel blog, The Travel Tattler. Contact Travel Writer Michael Patrick Shiels at [email protected]