"Being at the beach is where it's at…especially at sunset when crowds settle in as they would in anticipation of a fireworks show."
You and I have visited many hotels and resorts together in these columns. We're going to take a brief break from the whistle stop traveling today to settle in for a spell and put our feet up – and in the surf. I am going to share with you my secret happy place where if I am going to sit still, I love to sit – and walk and swim and see sunsets.
Welcome to the Barefoot Pelican, at Vanderbilt Beach in Naples, Florida. Please don't tell anyone about this place.
Location, Location, Location
Barefoot Pelican is essentially two, four-story apartment buildings with 60 luxury condos with outdoor entrances. The exterior is, by comparison to its neighbors, could be considered unremarkable and even dated. But I like the simplicity and especially the location. There are permanent residents, and, in the winter, only month-long rentals are allowed, which gives the place a less-busy, more settled feel than the big name, towering, generic luxury hotel next door, where a room is over $1200; chips and salsa are $17…same price as the pina coladas.
Barefoot Pelican units, right across the street, can typically be rented at a much, much lower price…but provide essentially the same location. With some concessions:
The Barefoot Pelican is on an inland waterway with boat slips, which for those sitting on their screened balconies, gives it a Venice-style feel, but there is no view of the Gulf of Mexico unless you go to the top floor breezeway, which some of the residents do for a spontaneous sunset cocktail toast.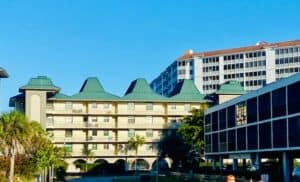 Walk a Block and Save
But being at the beach is where it's at…especially at sunset when crowds settle in as they would in anticipation of a fireworks show. Couples and families point their chairs and watch westward waiting for sunset and snapping selfies of themselves under pink, orange and lavender colored skies created as the blazing red sun dips down into the horizon. At that point the crowds applaud as they might at midnight on New Year's Eve. It all feels like a big communal party or even a subconscious prayer session.
Vanderbilt Beach has nice, soft sand if you're up for a nap and plenty of room to roam – miles from end to end – if you want to walk. Delnor Wiggins State Park is to the north (where you will find public restrooms with a vending machine and trees on the beach with washed up, dramatic driftwood for a nice shady, scenic nap. There are usually people fishing in that area also since it is near the inlet pass.
If you walk to the south of the Vanderbilt Beach public access you can go about as long to the inlet pass on the other end and peer at the Naples skyline, but you'll find any restroom facilities along the way are private for the club residents and homeowners of the massive Pelican Bay subdivision.
Morning, Noon and Night
At the start of each day, you can see people with backpack beach chairs making the one-block walk from Barefoot Pelican and other local lodging to the Vanderbilt Beach public access which is marked by a giant sailboat mast with an American flag on it.
I like walking to the beach and back because just across the street, next to the fancy hotel and hidden in the foliage, is a public parking deck. Therefore, the locals stream together with those walking from the on-site condo buildings in a community of sun-worshiping beachgoers. There are also benches, public bathrooms and spigots to rinse the sand from your feet at the beach entranceway.
On the way there – or the way back, everybody passes the corner with the Beach Box Bar – an indoor/outdoor version of the creature-filled Tatooine cantina in the original Star Wars movie. By 10 a.m. there are people in sandals sipping Pabst Blue Ribbon beer from cans and passing time playing the ring-on-a-string game or other remedial distractions the Beach Box has provided. Most people sit on stools outdoors, walk-up serving windows or stand outside.
The Beach Box is on the corner, and in its parking lot, where a cart sells hot dogs and walking tacos, I've spotted everything from Harleys to Bentley convertibles. Make no mistake this is where you will find your friends in low places despite your economic status. There is enough grit to feel grimy and sometimes live music in the evening.
Infinite Fun Beyond the Beach
If the Beach Box is like the Star Wars cantina, then just to the north it's Buzz Lightyear's turn at Buzz's Lighthouse – a nautical-style pub directly on the same waterway as the Barefoot Pelican and accessible by boat with indoor and outdoor seating. It's a soothing spot to get out of the sun for a bit at midday and have a grouper Rueben sandwich. The clientele is more upscale and calmer than that of the Beach Box, but there is still a great buzz, pardon the pun – thanks in part to a sharp-witted weekday bartender named Angela from Cavan, Ireland.
I have met all manner of people in Buzz's, including a New Jersey policeman and a contractor who has built swimming pools in the Hamptons for the likes of celebrities such as Billy Joel and Howard Stern.
If you wish to avoid the Beach Box and Buzz's but need provisions, there is a very handy Beach Store right next to it full of conveniences for a picnic and even made-to-order Boar's Head deli sandwiches. You can get everything from the NY Post to sunblock there at the Beach Store. The owner behind the counter can be a bit grumpy and short, but the store stays busy anyway.
Unplug
In my experience, the Barefoot Pelican condos are the type of place one could park their car for a month and never need to use it. A mile up the road on US 41 is a busy commercial corner with drugstores, restaurants, gelato shops, grocery stores, and a large fitness gym. Barefoot Pelican has a heated swimming pool and jacuzzi right on the harbor and a large deck along the marina with a grill and tables and chairs. The permanent residents seem largely friendly to the snowbirds that rent who are, due to the typical monthly rent, mainly affluent and not, shall we say, the spring break crowd.
Best Landlords Ever
The particular unit I have rented twice is on the second floor. My landlords the second year, Gary and Victoria, are Ukrainians who bought the two-bedroom, two-bathroom unit and spared no expense in an extensive, thoughtful update and renovation. Mind you the monthly rental price doubled, but Gary and Victoria put a spoonful of sugar with the rental price medicine. They are easily the most thoughtful and generous VRBO/Airbnb-type renters I have ever encountered.
Arriving at the condo I was given an individual code number to unlock the door – no need to keep track of keys. I was even able to speak to the owner Gary, who was not on-site, right through the lock by pushing the doorbell button when, at first, I fumbled with the high-tech system.
Once inside it was like Christmas morning. Gary and Victoria had provided all sorts of necessities and goodies, too. I found a basket full of salty snacks and treats and a refrigerator with beer and flavored sparkling water to wash them down with. The freezer had frozen pancakes and the cupboard had maple syrup, oatmeal and cereal packages, coffee, tea and cream and sugar.
Of course, there was wi-fi, bed and couch-side phone-charging stations, and smart TVs, but there was also what was labeled a "worry-free emergency basket" with essential bathroom hygiene items. Soap and shampoo were given – the rest, including toothpaste, air freshener, laundry detergent and dishwashing soap, and a rack of every salt and spice imaginable.
My favorite touch was a closet full of beach chairs, towels, a beach umbrella and even a football.
Victoria and Gary also left an info card with local recommendations, all of them high-end, including The Turtle Club (on the beach across from Buzz's); Seed to Table grocery store and food court; the Naples 5th Avenue District and pier; and the Botanical Gardens. The Mercado is nearby, too, with varied chain restaurants and nightlife.
One Word of Caution
It is anticipated that in 2022 and 2023 a major construction project will take place across the street from the Barefoot Pelican obliterating the Da Ru Ma Japanese steakhouse and the Beach Store – the latter of which will be located inside the new high-rise, which, upon completion, will block the aforementioned sunset view from Barefoot Pelican.
The new high-rise condo building will obviously come with the dust and noise of such a project, as will the proposed installation of a new seawall and perhaps relocation of and improvements to the swimming pool deck at Barefoot Pelican itself.
It is worth asking about the status of these projects when booking in case you are sensitive to such activities, or the swimming pool is important to you.
Check out my Southwest Florida happy place for yourself BarefootPelicanNaples.com
Read more on Michael Patrick Shiels' travel blog, The Travel Tattler. Contact Travel Writer Michael Patrick Shiels at [email protected]