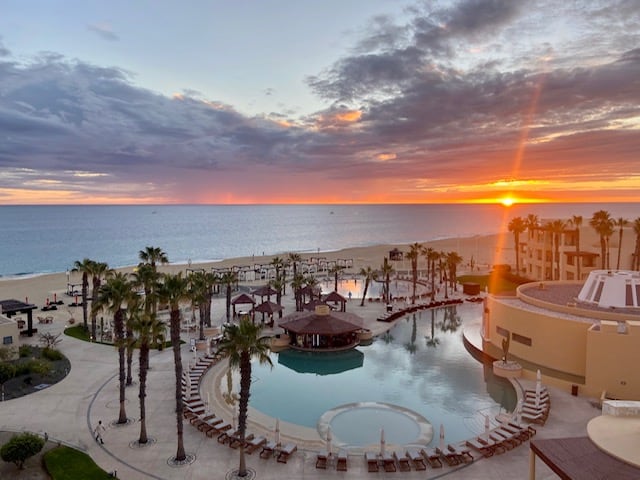 Eat, exercise, sleep in the sun…and repeat…
Indeed, I'd been baking in the rays of the Mexican midday sun and, admittedly, I'd had a Tequila Sunrise for breakfast and a Margarita for lunch, but my eyes could barely believe the mirth before them.
I squinted to be sure – because seeing is believing – and so I am giving you the straight skinny when I tell you I saw 11 people (I counted for accuracy) actively participating in a water aerobics class…all while trying not to spill the drinks they were holding.
This is the irony of an all-inclusive resort: excess even while exercising. I did some fuzzy math trying to calculate the calories needed to burn off the frozen Pina Colada, Dirty Monkey or Strawberry Daquiri's being consumed during the class.
The resort trainer called out the instructions as the participants swiveled and swayed, reaching and bending in the water just a few yards from the pool's swim-up bar.
Who was I to judge, though, because as silly as it was, I was witnessing a microcosm of my daily routine at Pueblo Bonito's all-inclusive Pacifica Golf and Spa Resort at Quivira Los Cabos: eat – exercise – sleep in the sun – eat – exercise – sleep in the sun. (Repeat.) And why wouldn't I?
"All the dishes we make are of very, very high quality in presentation and flavors. It's not a typical all-inclusive hotel. We serve lobster, filet mignon, ribeye, and other dishes," said Aldo Hernandez, Executive Chef, Pueblo Bonito Resorts. "We offer balanced, healthy dishes, too. Not too greasy. A lot of good food."
Pueblo Bonito's operations manager Armando Garcia told me over a taco, "Mexican cuisine is changing to the 'Baja-style.' We have created an all-inclusive program which allows guests to enjoy 52 different dining options in the rest of our resorts here in Cabo San Lucas. Mexican, Italian, Greek, a steakhouse…whatever you like."
And every single dining option, including room service, comes with a panoramic Pacific view – and every bite can be taken al fresco in the open air.
Glorious Grazing and Choice Chomping
One evening, just after a splendid sunset, I dined on delicacies off a menu which included in Pacifica's Peninsula Baja Cuisine restaurant such as ajillo octopus, chocolata clam chowder; oxtail tortellini; and beef tenderloin carne asada.
The next evening in Siempre, Pacifica's Mediterranean-style restaurant infused with Mexican flavors overlooking the expansive pool, offered beet gazpacho; roasted catch of the day over risotto; rack of lamb, and even a Hindu menu with curry.
Siempre also serves the daily breakfast buffet with all the sunrise staples plus local dishes such as egg enchiladas; huevos rancheros; and my new favorite which won't be found north of the border: chicken chilaquiles, which are fried tortilla chips in red or green sauce with chicken, cheese, cream, avocado, onions, and cilantro.
It is a very good thing I began my mornings at the Towers at Pacifica's open-air fitness room just below the VIP Whale Watching Lounge. It is invigorating to watch the sunrise from an elliptical machine or treadmill machine with the fresh morning air sweeping in another day of tasting and toasting.
Drinks and Delicacies
The patio was always packed at Pescados, Pacifica's sushi restaurant by the pool. And for those mermaids and mermen like me who prefer to stay literally poolside, I can personally vouch for the guacamole, nachos, burritos, and quesadillas being carried to chase lounges from Aire Restaurant and Aquabar.
I asked Chef Hernandez if he'd ever tasted Taco Bell?
"No," he answered before I could finish the question. "I lived in America for a while but I never went to Taco Bell." America tries to make 'Mexican food but they don't have the same ingredients. We make tacos of high quality."
Pueblo Bonito's cooks, on the contrary, have no problem replicating American favorites.
"A simple hamburger here is popular, but it is a very good quality hamburger," he insisted.
I can attest to his claim because I ordered a late-night burger through room service one night just to test the system. At an all-inclusive resort, why wouldn't I dial up a midnight burger and fries to smash under the stars on my 8th-floor balcony in the Towers at Pacifica?
At that hour I poured a Pacifica cerveza from the mini-bar (a guilty pleasure also allowable in the all-inclusive plan) on top of the treat, but I was already dreaming of breakfast because Hernandez had suggested I pair a Don Julio Blanco tequila sunrise with my huevos rancheros.
He's also advised lobster and oysters are best accompanied by a margarita. (Pacifica's version is the Frida Margarita – two tequilas with agave syrup, lime and lemon juice, Cointreau, and Grand Marnier.
LaFrida Restaurant was also the site of the most unusual pairing the next night when I ventured out of my room and off-campus – but still on-property – to the resort next door.
LaFrida Restaurant
Pacifica's neighboring property is just a stone's throw down the beach but still inside the Quivira development and part of Pueblo Bonito's family of offerings. It's Sunset Beach Resort which, despite the sandy name, sits on a panoramic bluff hundreds of feet above the beach with a sky pool perfect for spying migrating whales and a sinking sun.
The new upscale Market there with colorful confections and Mexican macaroons can hardly be dubbed a "food court" any more than the snazzy lounge overlooking the ocean can qualify as a "sports bar" due to its elegant, artistic stylings and bottles of Veuve Clicquot champagne chilling on the bar in front of flat screens showing soccer.
While Pacifica's architecture is minimalist with contemporary, crisp lines, the décor at Sunset Beach is maximum with the sumptuous appointments of European palace-like tapestries and a massive statue of San Miguel seemingly snatched from a Vatican museum.
Fittingly, the menu at La Frida, the AAA Four Diamond gourmet restaurant there, should be presented by docents instead of waiters. Mushroom panucho; gordita nortena short ribs; marinade lobster tostadas; mole de olla sea bass; barbacoa lamb shank; quails in red pipan sauce; were all in the gourmet gallery. A pre-dinner flite of mezcal was accompanied by a plate of crunchy grasshoppers.
Hook and Cook
I was stepping off some of my calories on the brawny beach that stretches between Pacifica, Sunset Beach and Pueblo Bonito's Quivira Golf Club when I noticed a charter fishing boat about 100 yards offshore. I heard a woman onboard remark, "Wow, look at that beach!"
She was right. The beach is a big, bright boulevard of sand. It was so expansive and secluded I was tempted to yell out "Wilson!" like Tom Hanks in the film "Castaway" in which he was stranded on a desert island with a soccer ball.
"Here in Cabo the Pacific Ocean is all around the peninsula. We are like the longest island in Mexico. From California to Cabo is 1,000 miles and we are right on the tip at 'Land's End,'" said Garcia. "And we are one of the best fishing spots in the world."
Each morning, at 7 a.m. Pueblo Bonito Pacifica's fishing guide Jorge Cital tries to prove it through a breakfast activity with resort guests called "Hook and Cook"
"I give them lessons on how to use the rod and the reel and show them how to cast from the beach," said Cital. "We have big waves here on the Pacific so you have to cast behind the waves.
Whether guests get nibbles or not, "Hook and Cook" is invigorating and inspiring.
"The name of the game is 'fishing'…not 'catching.' We're blessed just to wake up in the morning and see the sunrise. Fishing is therapy without the doctor. It's relaxing for the people."
"Here we catch rooster fish, red snapper, jack crevalle, mahi mahi, king mackerel, you name it. We have the grill at the beach here ready to cook whatever we catch."
If nobody lands a fish, Chef Hernandez's team is ready on the beach to serve the resort's signature dish: mesa de ceviche – a gourmet breakfast of seafood, shrimp, smoked salsas, beet's ink, unfused oils and emulsions.
"We serve sierra fish, robalo, halibut…we have a lot of fish here in the ocean at Pacifica," said Hernandez.
"Today is sea bass; with coffee or cervezas, if you prefer," said Cital, who kept fishing well after the guests got hungry and dived in…to the dining.
Dine, Wine and Nine…or 18
I did my best to have a bottomless belly but for that gluttonous gorging to be accommodated, I needed, in addition to the baking in the blazing sun, to burn off some calories. I thought perhaps a round of golf on Pueblo Bonito's adjacent Quivira Golf Club, a Jack Nicklaus designed oceanside yet mountainous desert-style course might be a good start. But even before the start of the round, as I made my way to the first tee, I heard a voice call out from a small kiosk.
"Sir, would you like a pork sandwich?"
Who on earth would turn that down? Therefore, my cart quickly contained a couple Coronas to wash the sandwich into my stomach. And while some of the belly-tickling drops and views from the escarpments and cliffs of what is the most scenic stretch of panoramic Pacific holes south of Pebble Beach keep cameras busy, the comfort stations (an understatement) along the course collect lots of praise, too.
Every few holes covered patios provide players with quesadillas, sliders and other foods grilled upon arrival with open pours of tequila, bottles of beer and tables from which to take in the views.
Lapping Up the Swimming
While more steps after golf would have helped work off some of the consumed calories, I didn't want to walk all the way to my room before cooling off in the pool and "chilling" in the jacuzzi. Time was of the essence, too, since I didn't want to miss the sunset at the beach and a cigar at the firepit.
This was decidedly a "first world problem," so what's a resort guest to do? Believe it or not, I managed to squeeze it all in. The answer is an old adage: "The butler did it."
Leopoldo was the butler assigned to be upon check-in. All week he implored me to text him with any needs or requests I might have. As a modest man, it took me a while to get comfortable asking for help, but Leopoldo was so cheerful and seemed pleased when I asked him to bring a bathing suit, robe, sandals and a Cuban cigar from my room to the pool so I could trade them for my golf clothes and spikes.
"The 'soul of Mexico' is Mexican people. We are always waiting to create a special experience and show that Mexicans are real," Garcia explained.
Pacifica's second pool was soulful and thoughtful, too. In addition to the massive serpentine swimming experience stretching across the resort with a waterfall, zero-entry accessibility waterfall and the aforementioned very accessible swim-up bar, a smaller, quieter pool sat next to the beach. As I got my last laps of the day in under the night sky matching starlight was coming from below.
The pool's bottom had little luminescent stars embedded in the bottom which I later learned were made to match the constellations on the night 2014's Hurricane Odile made landfall and lashed Land's End.
My night swim was placid, though. I swam on needing to clear more calories in time for room service!
Read more of Michael Patrick's work at The Travel Tattler, or contact him at [email protected]