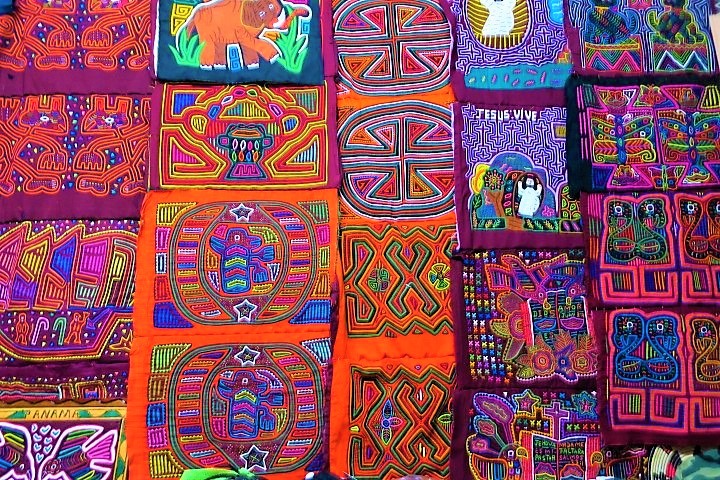 Virtually everyone who visits Panama takes time to see, and perhaps enjoy a boat trip through, the canal for which the Central American country is famous. But there are more reasons – many more – to visit that destination.
For starters, the South Carolina-size nation offers the sun-and-sand appeals found throughout the Caribbean Sea. Its history includes colorful chapters from the past, and equally colorful characters. Then there are opportunities to meet and mingle with members of seven indigenous groups that comprise part of the country's melting pot population.
The trip that my wife Fyllis and I took with Caravan Tours provided opportunities to explore and experience these and other attractions.
We had time to join other sun bathers who were working on their tan at inviting beaches. More than a dozen stretches of sand are perched along the shoreline just west of the capital of Panama City.
The black sand of Playa Barqueta is a popular weekend destination among locals. Palm-fringed Playa Las Lajos is more than seven miles long.
A number of the most inviting beaches rim the San Blas Islands off the Caribbean coastline. More than 350 of those islands offer sugar white sand fronting clear turquoise water.
Another reason to spend time on the San Blas Islands is the Kuna Indians, for an immersion in their unique culture and customs that have changed little over time.
Panama's Colorful Kuna Communities
The Kunas comprise about 300,000 of Panama's total population of about 4 million, with the greatest concentration on the San Blas Islands.  Their primary sources of income are selling coconuts to the mainland and nearby countries, and limited tourism to the tiny atolls to observe their lifestyle.
We came face-to-face with members of the Kuna community at a small marketplace where women were selling blouses and other items decorated with colorful molas. These elaborate hand-embroidered cloth panels are used to decorate the front and back of blouses. They're part of the traditional clothing along with a patterned skirt, red and yellow head scarf, leg beads and gold nose and ear rings.
Present and Past in Panama City
The peaceful setting of Kuna villages contrasts sharply with the scene in Panama City. A frenzied period of development that began in the early 2000s, based upon the city's role as a center of international banking and trade, has transformed it into an architectural showcase.
Towering skyscrapers create a dreamlike setting of steel and glass in a myriad of shapes and colors. The site combines the glitz and glitter of New York and Las Vegas with a colorful overlay of Latin American life.
At the same time, Panama City is home to inviting reminders of its Colonial past. Panama Viejo (Old Panama) is an archaeological treasure where the first Spanish city on the Pacific coast of the Americas was founded in 1519. It was from this location that expeditions embarked to conquer the powerful Inca Empire, and through it that most of the gold and silver found in the New World passed on its trip back to Spain.
The Welsh buccaneer Henry Morgan sacked the city in 1671 and today only sprawling ruins hint at its former grandeur. They include remains of a soaring cathedral, churches and stately homes that were built by wealthy citizens.
Following the destruction of Panama Viejo, a new city was constructed nearby.  Casco Viejo encompasses about 800 buildings in a mixture of architectural styles. In recent years the site of cobblestone streets has turned into a chic neighborhood where boutique hotels and trendy bars contrast with crumbled remnants of the original setting.
Visitors who venture outside of the country's capital find a number of smaller cities, each with its own attractions.  Colon is home to Panama's major sea port, La Palma is surrounded by undisturbed nature, and both Santiago and Portobelo are treasure troves of graceful colonial architecture.
Then there's the Canal.  Its history, the story of its construction and the efficiency with which it still operates today continue to intrigue and impress those who visit the world-famous waterway. It soon becomes clear why it's ranked first on the Society of Civil Engineers' list of major modern engineering feats.
The route generally follows a trail that indigenous people used in the past to cross the narrowest part of the isthmus. Those seeking a first-hand experience may board a tourist boat to traverse part of the route, as our tour group did.
Wildlife in a Wild Setting
Given its location as the last link which emerged between North and South America, Panama served as a land bridge that played an important role in the migration of animal and plant life in both directions.  In addition, its own varied terrain of tropical rain forests, mountain cloud forests, woodlands, low-lying mangrove wetlands and nearly 500 rivers has provided a welcome environment which prompted many species to stay.
These include jaguars, pumas, ocelots and panthers among big cats that make Panama their home, although humans are more likely to see their prints rather than the elusive animals themselves. Easier to encounter are aptly named sloths, which lead their sedentary lives hanging upside down from the branches of trees where squirrel and spider monkeys also hang out, if not upside down. Crocodiles may be spotted sunning themselves on river banks while killer and humpback whales, sharks and bottle-nose dolphins find the reefs off both coastlines to their liking.
Panama also is one of the best birding sites in the world, with more species than are found in Europe and North America combined. Resident populations include parrots, toucans, quetzals, macaws and the harpy eagle, the nation's national bird.
From animal life to archaeological treasures, enticing cities to beautiful beaches, Panama has diversity enough in a compact area to attract visitors with a variety of interests.  Add the world-famous Canal and it's no wonder that more than one million people each year include the small country in their travel plans.
If you go.  Caravan Tours has been offering trips "at an affordable price" since 1952, and it lives up to that claim. The cost of the 8-day Panama trip is $1,634 per person. That includes accommodations that range from a modern Marriott Hotel in Panama City to a comfortable rainforest retreat.
The itinerary packs a full variety of experiences into a busy schedule, with one day set aside for some welcome R&R at a Pacific Ocean beachfront resort.  It also includes two Canal cruises, one through dual sets of locks that offers close-up views of the massive steel gates. and the other on Gatun Lake, which forms part of the channel.
Another highlight is time spent at the Museum of Biodiversity (Biomuseo), which turned out to be a surprisingly intriguing diversion during a trip that was chock full of them. The ultra-modernistic building itself, which was designed by the world-renowned architect Frank Gehry, is worth a look-see.  The multi-colored structure is intended to depict how the isthmus of Panama rose from the sea, uniting two continents with a land bridge. The story continues inside where exhibits describe the lasting impact that event has had on the planet's biodiversity.
When to go
Temperature isn't a major factor when planning a trip to Panama. Highs hover around 85 degrees F throughout the year at most of that tropical paradise, falling as much as 15 degrees only at elevated altitudes.
Rain is more of a consideration. More precipitation usually falls on the Caribbean side of the country, but most often only as short afternoon downpours. The dry season, about mid-December to mid-April, offers the best weather – but also the highest prices for those traveling on their own.  Visitors willing to put up with some wet weather during the rest of the year find that their travel budget is likely to stretch further.
For more information about visiting Panama, and other destinations, with Caravan Tours call (800) 227-2826 or log onto caravan.com 
Authors: Fyllis Hockman and Victor Block are a husband-wife team of experienced travel journalists who have gallivanted throughout the United States, and to nearly 80 countries around the world, and written about what they have seen, done and learned. Their articles have appeared in newspapers across the country and on websites across the Internet, and they each have won numerous writing awards. They love to explore new destinations and cultures and uncover off-the-beaten-path attractions. Read more of their work at The Rambling Writers