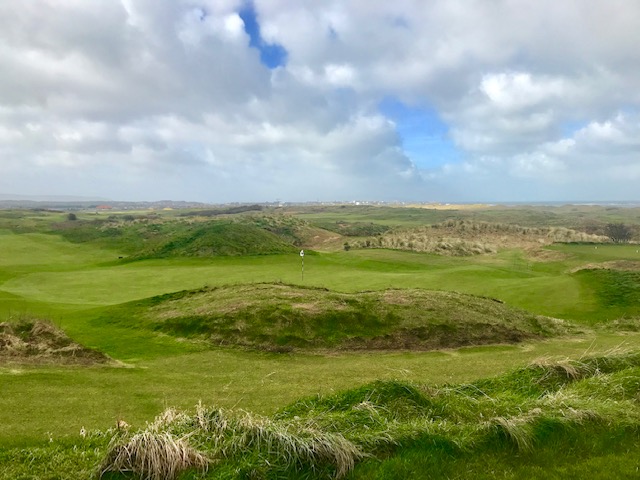 Portrush, Northern Ireland, is an oceanfront holiday village just over an hours' drive from Belfast and just under three hours from Dublin.
Royal Portrush Golf Club
The local links of Royal Portrush were chosen to host The 148th Open Championship – the world's oldest and most prestigious golf competition. Each year, historically, the Open Championship is contested on one golf course chosen from a small "rota" of venues in either England or Scotland. Only once in history was the event held elsewhere… and it was Northern Ireland's Royal Portrush Golf Club in 1951 for the 80th edition.
Worldwide television will broadcast the four-day Open Championship in July of 2019, which is sometimes referred to as the British Open.
Starring Roles for Local Scenery and Characters
Willie Gregg is the wildly popular and energetic manager of the Harbour Bar, a beloved hovel of a pub down along the marina wedged underneath a three-story collection of fancier dining bistros such as The Mermaid, Neptune and Prawn, and Ramore Wine Bar.
Although Gregg pours pints of Guinness and measures of Bushmills to friends in low places at Harbour Bar, he is looking forward… to looking up!
"I want to see those drone camera shots of my town and my golf course and my coastline on television sent all over the world," said Gregg while looking over the golf links out the window of the Skerries Room in Royal Portrush's clubhouse. "I am fifth-generation Portrush. There is only one Portrush in the world. Golf is supreme in this little part of the golf coast of Northern Ireland and the Open is huge for the community. We can't even yet fully appreciate the positive impact it will have on tourism here."
John Bamber is Chairman of the 148th Open Championship. "It's a world championship, and for The Open to come back here for the first time since 1951 and only the second time out of England or Scotland, we are incredibly proud."
"Openly" Talking in the Town and Pub
Gregg concurred with Bamber and said the Open has been the talk of the town – and the Harbour Bar – long before its arrival for 2019.
"People are not coming into the bar talking about the weather or even Brexit; they're talking about the Open Championship."
Irishman Marty Carr is the executive chairman of Carr Golf Group, a company which designs custom and corporate golf vacations to Ireland for visitors from around the world, particularly the United States. His late father, Joe Carr, was a World Golf Hall of Fame player who won one of his 40 titles – the British Amateur Championship – at Royal Portrush in 1960.
"My father used to say if he could play one golf course in Ireland the rest of his life, it would be Royal Portrush," said Carr. "It's phenomenal. Having the Open here is historic, but to have five Irish representatives competing for the championship is icing on the cake. All we need is an Irish winner."
An Irish Brigade of Potential Local Champions
The notable Irish golf stars which have played their way into the Open Championship include major champions Rory McIlroy, Graeme McDowell, Darren Clarke, and Padraig Harrington plus Shane Lowry, who won the Irish Open as an amateur.
"I've known these guys since they were kids here and now they're all world famous. And I'm still here," remarked Wilma Erskine, who has been the manager of Royal Portrush since 1984 and will retire after the Open Championship. "It's going to make a great Open with all our local heroes who were born and bred here out playing and competing against the elements."
Erskine is not overstating the "local heroes" description. While the likes of Tiger Woods and Dustin Johnson will be seeing the golf course for the first time, McDowell, Clarke, and McIlroy are no tourists.
"Graeme McDowell has been around Portrush all his life. He started coming here as a nice, 10-year old boy and was always very mannerly. He worked as a caddie and did the bunker raking so he knows the course inside and out, and in fact, his brother is still on our greens staff. Graeme comes into town often to see his mom and dad," Erskine revealed.
"Rory McIlroy played a lot of his junior golf here in this teens. He once shot 61 here in the North of Ireland Championship and that has been very hard for anyone to replicate. Rory is a member of the club now and plays here from time to time," said Erskine, who said Lowry competed in that same championship and that Harrington claims Portrush is his favorite course.
Portrush's favorite son might be the lovable, colorful local Darren Clarke, who edged out Phil Mickelson and Dustin Johnson to win the 2011 Open Championship in England – and then brought his Claret Jug Trophy home to plant it in the Royal Portrush glass trophy case where it remains on display for visitors… but not before hauling it into a stop at the Harbour Bar.
"Darren brought the Claret Jug and his family and close friends in and we spent three days in the snug of the bar with the doors closed," laughed wily Willie Gregg. "Darren is a very special friend of mine and has been for a long time. Darren is firmly a Portrush man and one of my regular customers."
Clarke, who now lives in the Bahamas, obviously still has a great affection for Portrush.
"I spend very little time back in Ireland, but when I do get back home my friends are always waiting for me to give me some grief," said Clarke standing in the warm sunshine with a smile. "And Wilma Erskine is a wonderful lady who has done a great job at Royal Portrush."
McIlroy and Harrington have also won Open Championship titles in Scotland and England. (Harrington won two consecutive.)
Roger Anderson, a local historian who is about to publish the history book of Royal Portrush, is careful to point out another Open Championship "local competitor" of sorts.
"Ricky Elliott is from Portrush and he is caddying for Brooks Koepka. They've been working together for six years now and won four major titles together, said Anderson. "Ricky has the local knowledge and is a great guy. So if you're looking to place an outsider bet, Brooks Koepka is worth a flutter."
Gregg agreed wholeheartedly.
"Ricky is hard working and was an outstanding golfer himself. He and Koepka are not just a caddy and a player – they are a 'marriage.'"
Changes to Make the Classic Course More Competitive
The 'local knowledge' of these Irishmen will be put to the test some as the Royal Portrush they know will look a lot different during the public spectacle and media event that is the modern Open Championship, according to Erskine.
"We've got a big stand of bleachers around the new 18th green. There will be seating for 14,000 people. There will be a double-decker, temporary super structure for the players with a full-scale locker room, health facility, a travel agent, and a barber shop, plus food and beverage built over what used to be part of the course," Erskine said.
The Royal and Ancient Golf Club – which administers the Open Championship, consulted with Portrush to create some new holes and blend into Harry S. Colt's original 1929 Dunluce Links layout some holes from the club's adjacent, shorter 18-hole Valley Course, also designed by Colt. Those changes are now permanent. "For the Open it's a new, fresh venue. A true champion will come out of this one."
Fittingly Clarke helped to consult on the architectural changes to the classic links layout.
"I have spent a lot of time with Martin Ebert who is the designer for the Royal and Ancient. He's put in two new holes and some new bunkers and greens. He just modernized the golf course for the standards that are required for a modern Open Championship these days. You have to present a test that is tough but fair. I think Royal Portrush will definitely do that," Clarke told me.
Carr played the new holes just over a month before the Open.
"We played 18 holes in two-and-a-half hours on a beautiful summer evening and it was an amazing golf experience. Royal Portrush is an extraordinary piece of land, said Carr. "The real beauty of it is visitors and travelers have access to this golf course."
All Are Welcome to Play Golf in the Footsteps of Stars
Many of the notable major championship venues in the United States are private and do not offer open guest play in the way all of the Open Championship venues, including Portrush which is now on the permanent rota, venues do.
"Any golfers are welcome to come and play. The North Antrim Coast here has such beautiful scenery. And the layout is grand because no two holes run consecutively in the same direction.
The course twists and turns through the sand dunes and there's always a great challenge from the wind," said Gary McNeill, head golf professional at Royal Portrush. "The weather can change very quickly. You can typically see it coming in over Donegal since that is the prevailing wind."
Non-golfing tourists visit very nearby sites such as Portrush's carnival, the strand of beach, and the Bushmills Distillery. Natural wonders Giant's Causeway; the ruins of Dunluce Castle; and the Carrick-a-Rede rope bridge are each within a few miles on the Atlantic Ocean just down from Royal Portrush, which looms over the crashing waves.
"The course is quite spectacular. It's more undulating than most links courses and it has spectacular views of the coastline, said Graeme Beatt, Royal Portrush's golf course manager. "The dunes are 50 to 75 feet high in some cases. It's such a natural site. The smell from the yellow gorse flowering bushes smells like coconut and on a nice warm day you can hear the seed pods popping."
Whether visitors are playing golf or not, there are plenty of top-quality Royal Portrush and Open Championship souvenirs and apparel options in the golf shop, and you can get a nice, warm elevated view of the course and the sea over a plate of fish-and-chips and a pint of Guinness in the upstairs bar and grill.
Michael Patrick Shiels is a radio host and travel blogger. Follow his adventures at GoWorldTravel.com/TravelTattler. Contact Travel Writer Michael Patrick Shiels at [email protected]