Emmy Award-winning actor Jeff Daniels had just been nominated for a Tony Award but bounded into his Shubert Theater dressing room after another Broadway performance in "To Kill a Mockingbird" with another concern in mind.
"He had a tablet going and was watching a live stream of the Detroit Tigers game," said Tim Hygh, who was backstage in New York to pay the Michigan-based actor a visit.
Celebrities from Michigan
Like Daniels, Hygh earned a degree from Central Michigan University and now, as director of the Mackinac Island Visitors and Convention Bureau, brought Daniels some home cooking. "Mackinac Island fudge from Grand Hotel…to take away any homesickness."
Hygh met Daniels with Dave Lorenz, the Travel Michigan V.P. who invented the award-winning "Pure Michigan" promotional campaign, but Daniels didn't need to be sold. He's always eschewed the Hollywood lifestyle to keep his family grounded in Michigan where he grew up – even though he starred in hit films with the likes of Jack Nicholson, Jim Carrey, Sandra Bullock, Meryl Streep, Nicole Kidman, and Russell Crowe.
It was his turn with Mia Farrow in Woody Allen's "Purple Rose of Cairo," for which he won the Golden Globe Award, which provided the name for his "Purple Rose Theater," an intimate, successful acting venue he founded in Chelsea – his little, Victorian, storybook hometown near Ann Arbor where his father, a lumberman, was once mayor.
Hygh said Daniels wound up their visit by saying, "I have to go because there are 56 senior citizens from Chelsea, Michigan who took the bus all the way to New York for the show today and they want to see me."
Tim Allen and David Spade both lived in Birmingham, Michigan
The aforementioned "Pure Michigan" promotional campaign is voiced by another Michigander-turned-movie star: Tim Allen, who came to fame on ABC's "Home Improvement" television show, but grew up in Birmingham, Michigan; a suburb of Detroit where comedic actor David Spade was also raised.
Ted Nugent thinks Michigan is tops
Back to west of Chelsea, though, is Jackson, Michigan, where Ted Nugent, the rock star known as the "Motor City Madman," lived for years. He now resides in Texas, but gets back home religiously.
"I terminally love the water/winter wonderland so much," said Nugent, an outdoorsman who performs an outdoor concert most every summer in Clarkston, north of Detroit. "I am a 'Michiganiac' and will always be."
Nugent, 70, said he hunts daily in Texas and returns to his "sacred Michigan grounds" every hunting season every September, October, November and December. Following the daily hunt his morning is musical.
"After my daily primal escape in nature, after that peace and sanctuary, I can't wait to put my .22 caliber rifle or bow and arrow down and grab a guitar and try to play like Little Richard," Nugent explained. "If you walk in the wild as a conscious, thinking predator and go slow and absorb your surroundings it will cleanse your soul. So when I pick up that guitar afterward and I crank up the amplifier (much to Mrs. Nugent's chagrin, by the way) I just let these licks rip."
Nugent, who has sold more than 40-million albums, is careful to point out his iconic Gibson guitar was created in Kalamazoo, Michigan.
"I am so terminally in love with Michigan I am so proud to be the 'Motor City Madman' bringing forth the unrivaled soulfulness and musical dedication of the Motown Funk Brother and Bob Seger and Mitch Ryder and the Detroit Wheels and all those amazing Motown gods of thunder," he insisted. "I am convinced the majority of the great families in Michigan – with spirit and attitude – are my blood brothers. They're the greatest, most caring, loving, generous, hardest working people in the world."
Rock and Roll in Motown and the Urban Tourism Experience
Kid Rock and Alice Cooper are also rockers from Michigan, but Cooper now lives in Scottsdale, Arizona. Seger makes an annual trip to the Lilac Hotel on Mackinac Island. Madonna has lived in London, and most recently Portugal, but she grew up in Rochester, Michigan, outside Detroit.
The "Motor City" is now often referred to as "The D." Eminem, a Michigan native, sang about and appeared in a movie called "8 Mile," which is a decidedly unglamorous road bordering the city.
And while Detroit is still the most visited area in the state, northern Michigan's Great Lakes beaches, deep forests, inland lakes and lush little villages are what most people refer to as "Pure Michigan."
Traverse City sits right in that northwest tourism region of the state – right where a wedding ring would go since Michigan's Lower Peninsula looks like a hand.
Filmmaker Michael Moore, originally from Flint, has made his home there – previously on Torch Lake in Bellaire and now in downtown Traverse City, where he has founded an annual summertime film festival in the nation's cherry capital.
Michael and Mario Mingle in Michigan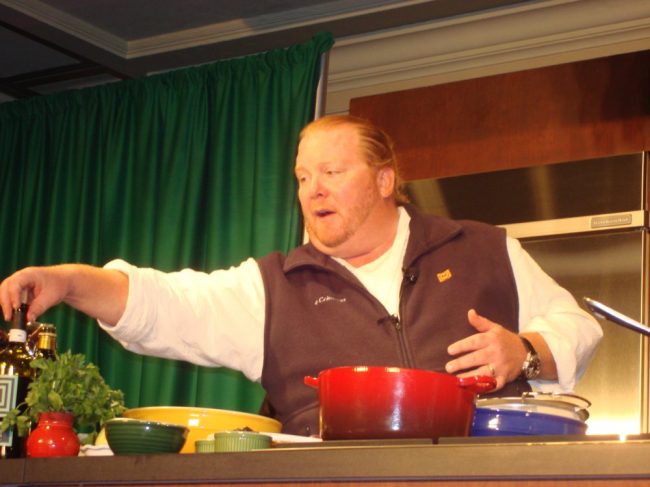 Traverse City, featuring cherries and other locally grown agriculture and fresh caught fish, has become a "foodie destination," even drawing celebrity chef Mario Batali as a full-time summer resident.
His wife went to school in Michigan and his son Leo is currently studying at the University of Michigan.
"I summer in Michigan because I love it. It is a fantastic place. It's not the hullabaloo of New York. As an evangelist for Northern Michigan, I tell people, 'Listen, if you want to wait in line and you want to be where everyone is, don't come to Michigan. But if you want to go to a place where they are unique, independent thinking, really smart people living in one of the most beautiful, unheralded, amazing, places around the world, come visit me in Northern Michigan.'"
Batali has not opened a restaurant in Traverse City because he wants to relax and enjoy the area as a resident when he is at his home there in nearby Northport on the Leelanau Peninsula.
"I am probably the easiest restaurant customer because my favorite thing to eat is anything someone else makes, so I am already predisposed to having a good time," Batali said.
Michael Patrick Shiels is a radio host and travel blogger. Follow his adventures at GoWorldTravel.com/TravelTattler. You can contact him via [email protected].