Carneros Resort and Spa
The spectacular Carneros Resort and Spa sits on 28 acres of beautiful Napa Valley countryside. It's surrounded by vineyards (and some cows) and its hilltop setting provides some epic views. The luxury resort is much more than a hotel, accommodations are in individual cottages. They're little mini houses with no common walls and front porches with rocking chairs. The accommodations and the entire resort has what you might call (and they do) a farmhouse chic vibe. Rough materials like raw wood and corrugated metal, with luxurious amenities, furnishings and fixtures. Also some fun, rural touches like horse trough bathtubs and outdoor showers.
Rent a Home at a Napa Valley Resort
Aside from the cottage accommodations, the resort offers individual homes for rent (and sale). There's an exclusive development of luxury homes that's part of the resort and some are available to rent for the ultimate in luxury and privacy. Guests have access to all the amenities of the resort but the homes are in a gated and walled section, only accessible to home rental guests.
There are a range of activities available, outside stuff like bike rides and inside stuff like wine tasting, and of course some amazing food and wine. The resort's main restaurant, FARM, is considered one of the best in the Napa Valley. You can see a video HERE of my wine-pairing tasting lunch there with Executive Chef Aaron Meneghelli and Wine Director / Sommelier Zion Curiel.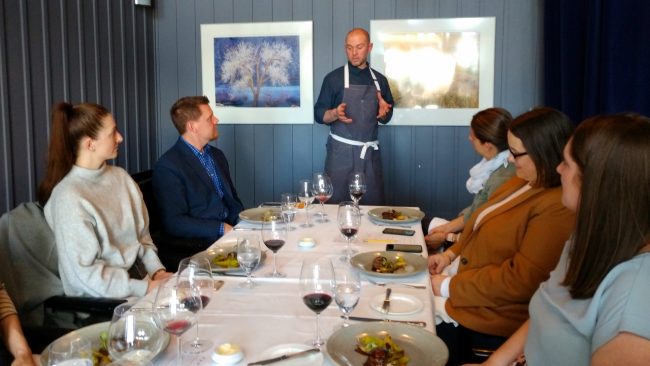 The resort also has its own small (very fancy) general store with snacks and packaged food and a gift shop too. There are two pools, including the Instagram-worthy hilltop top with vineyard views and a newly-remodeled, full-service spa. I treated myself to a massage at the spa, opting for their "Heal Me" massage as it included a rub down with a full-spectrum CBD salve (legal in California).
Getting to Napa Valley
I visited the resort as part of an amazing private jet adventure with evoJets. This was one of the company's evo Experiences, carefully curated luxury adventures involving travel on a private jet. The resort is only a ten minute drive from Napa County Airport so within about 70 minutes from leaving Los Angeles, we were sipping wine in Napa Valley.
I experienced things from evoJets' "Wine & Away" adventure, which normally includes private jet flights from any city in the world, two nights in one of the resort's two-bedroom homes and a range of food, wine and spa experiences, all included in the ultra-luxury getaway experience.
Read more of Freddy Sherman's take on travel on his Go World Travel Blog. You can also follow more of his adventures at luxuryfred.com, on his luxuryfred Instagram feed and on his YouTube channel.