I began to let my mind wander across some of the destinations in which I'd experienced some situational sweetness.
Realizing that Hollywood's most memorable movie romances are ones in which the participants do not live "happily ever after" (or even end up together), I have, in a series of columns, let my mind and keyboard wander across some of the destinations in which I'd experienced some situational sweetness. Not talking torrid times, but rather, relationships that weren't going to get any better than they were during those golden moments at destinations designed to steal your heart:
Red Faced on the Red Carpet
The Golden State's setting sunlight streamed across the Hollywood Boulevard corridor as if it were a river of gilded glamor. It was the fog of fame – a magical mist set further ablaze by the camera lights on the red carpet across the street from the Dolby Theater – known as the venue of gold statuettes named "Oscar."
One glance upward, behind the adjacent Loews Hotel, was the iconic Hollywood sign. But I could not see past Paula.
Paula Abdul. Thee pristine, preening, pretty but not pretentious, Paul Abdul.
The famed Laker girl-turned pop music sensation and "American Idol" founding judge was among the luminaries who'd accepted invitations to the premier of "Chip 'n' Dale: Rescue Rangers," the animated film that would play that evening on the silver screen of the El Capitan Theater.
John Mulaney and Andy Samberg, the voices of "Chip" and "Dale," respectively, were posing for pix and chatting on camera between the pipe-and-drape and temporary hedges that created a bigshot bubble on the red carpet covering the sidewalk under the carnival-colored marquis above the theater's box office window.
Cast members Seth Rogan and J.K. Simmons were supposed to be on their way, I was pinching myself that I was actually there. Paula Abdul was, like her hit song title, "Straight Up" (from her 7-million copy-selling, 1988 debut album "Forever Your Girl") right there before my eyes. The question was, could I manage to muster the courage to approach her? Would she be, like another of her song titles, a "Cold Hearted Snake?" I tried to read her "Vibeology" to see if maybe "Opposites Attract" and she might be "Forever My Girl."
Did I date introduce myself to Paula Abdul? Read on…
Loews Hollywood Hotel
Show biz scenes such as the one I found myself in happen frequently on Hollywood Boulevard. Loews Hollywood Hotel is baked right into Tinseltown's cake. The 20-story hotel is literally embedded into the cement footprint of the aforementioned Dolby Theater; the iconic TCL Chinese Theater; the Hollywood and Highland shopping complex; and surrounded by the Hollywood Walk of Fame. Hotel guests can see all of it, plus the Hollywood sign and the mysterious Magic Castle, from Loews guestrooms, starlight event spaces and rooftop swimming pool.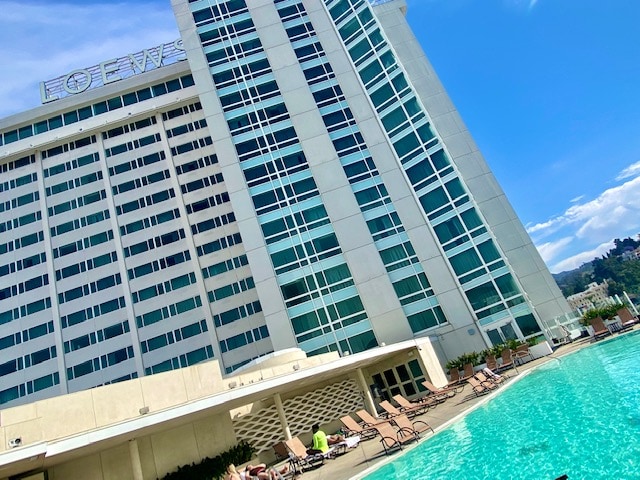 There are many, shall we say, varied tourism experiences in the hotel's vicinity. Souvenir shops sell replica Oscars and there are tours of the homes of the stars (present and past.) You can put your hands and feet into the cement spots celebs did and get selfies at the sidewalk star of your choice. Costumed characters will pose for pics for tips.
Seeing Stars
ABC's Jimmy Kimmel tapes his late-night television show weekday afternoons at 5 p.m. at the El Capitan Theater in front of a studio audience. Tickets are free at 1iota.com and it's the best entertainment value in town: Kimmel up-close; a live band; the opportunity to see how a major television show is taped and celebrity guests.
Don Barris, the Don Rickles-type comic who warms up the Kimmel audience, sometimes performs after Kimmel up on Sunset Boulevard at the famed Comedy Store.
Keep your eyes open at Loews, too. During my three nights in a fourth-floor room there was a private security person guarding the end of the hall opposite the elevator from my room. I knew better than to ask who they were guarding. Guests of shows such as Paramount's "Dr. Phil" are lodged at Loews, too.
Studios and Sets
Blocks away from Loews Hollywood Hotel, Musso and Frank Grill has been serving actors and agents since 1919 – from Charlie Chaplin to Johnny Depp (who sat in the booth next to the phone booth waiting for a studio callback for his big break.) More recently, in 2019, dynamic director Quentin Tarantino shot scenes of his "Once Upon a Time in Hollywood" in the dining room with Al Pacino, Leonardo DiCaprio and Brad Pitt.
A quick cab or rideshare from Loews just past the Hollywood Bowl will put you in the Universal Studios Hollywood Theme Park, where I was surprised to find the customary studio tram tour is also part simulated, high-tech thrill ride. There are plenty of actual movie-based thrill rides, too, based on "Jurassic Park," "Transformers," "The Simpsons," "The Hulk," and "Harry Potter."
Universal's expansive, scenic park offers sweeping views of Warner Brothers and Disney studios below in Burbank, too.
Being dropped off and picked up at Universal Studios will save you time and money.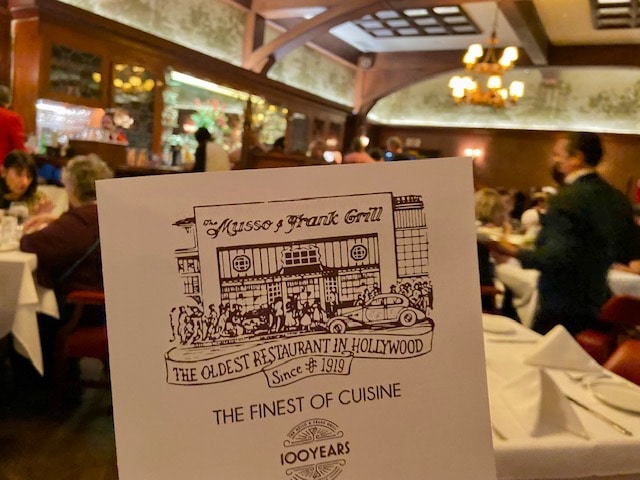 Priceless Paula
I knew my red-carpet coach would soon turn into a pumpkin when everyone went inside to take their seats. I'd already had the opportunity to stall by exchanging a quick, friendly word with John Mulaney – but it was now or never. I noticed Paula Abdul standing alone after one of her attending entourage – a slender man in a dusty mustard-colored suit – had finished touching up her makeup so she could pose before the customary paparazzi wall.
In terms of a red-carpet designer fashion report, I can't tell you "who she was wearing," but Abdul was arresting red from head to toe, including her lipstick, which matched her handbag she clutched, which was shaped like a pair of lips ala the Rolling Stones logo. (I later learned it was by lulu Guinness – $380, for what it's worth.) Her shoes were super-high white pumps with the same red lips on each of the toes. The big puffy, cape-like shoulders of her otherwise short, tight, mini-dress, itself, resembled an evoked image of those same red lips.
Paula Abdul's brown hair was up in a bun with bangs trailing over and around her eyes and Syrian/Californian complexion. I noticed red fingernails and rings on both pinky fingers and one on her right pointer. Long, thin, silver (or white gold?) chain earrings dangled down.
For a woman who was a Laker cheerleader, served as Janet Jackson's choreographer, and danced her way across the world stage, Paula Abdul was vibrant even when standing still.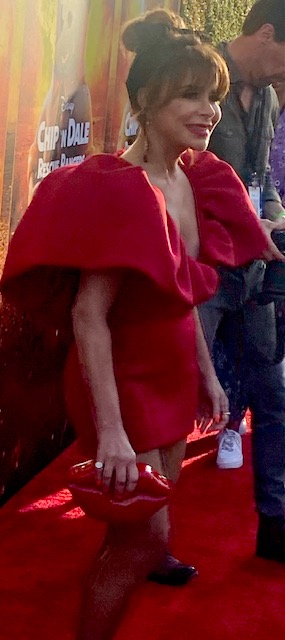 Hey, Hey Paula
I was surprised a bit to see her, in the midst of the other "beautiful people," standing alone. So like jumping into a cold pool, I sauntered (maybe stumbled) toward the solo-standing Paula Abdul. I'd suddenly gained the confidence to chat her up since I was, after all, and however I got there, a guest on the red carpet, too. It wasn't a big crowd of people I found myself mixing with. So…mix I did – without a plan of what I would say. So, I kept it spontaneous and sincere.
"Hello, Paula. Thank you for all the fun you've given us over the years, I said."
I was anticipating from Paula maybe a nod and smile, or maybe even a customary "your welcome" response from a dismissive distance. But Abdul approached me.
"Well thank you very much. That's very nice of you to say," she said.
She could not have been more gracious, warm or friendly. She seemed genuinely appreciative that I spoke to her and offered her hand to allow me to introduce myself.
I told her my name while gently shaking her palm-down, soft, smooth, bent hand. She intimated that she wanted to know more about me. It was then I tried to get cute and drop a name I knew she was familiar with from her Laker days.
"I'm from Lansing, Michigan. Magic Johnson's hometown."
To say my statement went over like a lead balloon would imply that Abdul gave it any notice whatsoever. If she heard it, she pretended not to. I don't know why but perhaps they're not the L.A. pals I presumed they'd be.
I didn't have time to regret the comment – or even recover from it – because Abdul then extended the conversation:
"We have met before, haven't we?"
I was surprised and searching for a polite way to say to Paula that no, we hadn't met before. The last thing I wanted to do was disagree or correct her. The only time I'd been in any room with her was the front (or maybe second) row at the 20,000-seat Palace of Auburn Hills during one of her concerts in the late 80's. She did sing off the stage and high-five fans but c'mon, a sea of people in front of the lights dancing during a song? No way she was remembering that.
Before I could offer any of this as a compromise, Abdul spoke again. This time I noticed she looked directly into my eyes.
"Yes, I am certain. That's it. You and I have met before," she said.
Paula Abdul was way more interested in talking to me than I would have expected. Is it possible I am being naïve? I began to wonder whether maybe she was saying this as a way to actually extend the conversation.
So I mustered up some Hollywood suave:
"Paula, I'm not sure if we've met before…but I'd sure like to meet you again."
Bam! LOL. I delivered the line with all the "007 schmaltz" imaginable.
Abdul was smiling and about to say…something…when, alas, out of nowhere, her handlers hustled her away! As they hurried her in those tall red heels in a "Rush Rush" toward a bank of television cameras, she turned enroute to look at me from under her bangs and bid me goodbye with a gracious smile and a wave of the lulu Guinness clutch bag. Or was it goodbye…again?
Until next time, Paula!
Read more on Michael Patrick Shiels' travel blog, The Travel Tattler. Contact Travel Writer Michael Patrick Shiels at [email protected]