I began to let my mind wander across some of the destinations in which I'd experienced some situational sweetness.
As Good as it Gets
In this series of columns, I let my mind wander across some of the destinations in which I'd experienced some situational sweetness: golden moments at destinations designed to steal your heart.
On my first visit to Nashville, the 'Music City' transported me back in time and across America as the melodies and spirited live performances gave lift to the lyrics. Listening with a longneck of Bud Light as a sunny afternoon slipped away, my imagination drifted to the destinations mentioned.
"I saw miles and miles of Texas," sang Wendy Newcomer, decked in a skirt and satin western top on stage with the band at Robert's Western World – the classic country, historic honky-tonk. I took a sip and recalled a recent 10-hour-drive from San Antonio to El Paso across a barren moonscape of miles. My first stop in El Paso was Rosa's Cantina – memorialized in the Marty Robbins gunfighter ballad "El Paso," where of course they played the hit song often.
Getting behind the wheel the next morning I cued up Glen Campbell's "By the Time I Get to Phoenix," so I smiled when I saw the Glen Campbell Museum that day in Nashville, too.
Songs are the Soundtrack
Music can be life's soundtrack, coincidentally or not, and so sometimes the tunes can bring back, shall we say, less ebullient memories. Lyrics like George Strait being exiled to Tennessee because "all his exes live in Texas; or, to again speak locally while in Nashville, when Waylon Jennings sang "T for Texas; T for Tennessee" about the "no-good woman who made a wreck of me" and drove him out of Atlanta.
Merle Haggard implored the listener to "tell him something bad about Tulsa" so he won't go back to face an old love.
And where was "Lucille" going when she "picked a fine time to leave" Kenny Rogers? Was she "Eastbound and Down" like Jerry Reed sang?
Sad Songs Say So Much
When it comes to melancholy melodies do the songs provoke feelings? Or…is it moods that give birth to the music?
"Both," said Jay McDowell of the Musicians Hall of Fame and Museum in Nashville. "Art allows that for us. It's personal and different for each of us going through it or listening. The singers we turn to for those feelings help us express our feelings."
Nashville-based songwriter Jenn Schott penned, for Mickey Guyton, one of Billboard Magazine's 10 Best Country Songs of 2015 which included the lyric: "You said 'goodbye' with words cold as ice I was shaking watching you go. I couldn't breathe. I just couldn't see past you leaving me here all alone…"
Schott sat, strumming her guitar, telling me about how she co-wrote "Better Than You Left Me" with another songwriter Jennifer Hanson and Guyton herself.
"The day Jennifer and I wrote that song we had never met Mickey before. Mickey came in and sat down and said, 'You're never going to believe what's going on in my life.' For the next 30 minutes she shared her heart with us," Schott revealed. "Mickey was a genuine, open-book and while she was telling us all of that we ended up writing Better Than You Left Me in about 90 minutes."
Schott described it as a "song of strength" that was cathartic for Guyton. "The hope of a songwriter is to write something that is true to the singer and resonates."
Song on the Spot
Upon hearing the story, I told Schott, "God forbid you write a song about the details of my life!"
"Truth is usually much better than fiction," Schott goaded me back.
As she strummed her guitar, I thought about how Schott had written "Feel It in the Morning" for Rascal Flatts; and "Two Lanes of Freedom," the title track on Tim McGraw's Grammy-nominated album. This was a once in a lifetime moment with songwriting royalty, so I dropped my embarrassment and decided to give it a shot.
"Let's write a song about me real fast," I suggested.
Schott, with long, very light brown hair, wearing blue jeans, a white sweater, and an olive-colored quilted coat, took a swig of her decaf coffee and played along. I, ala Mickey Guyton, then spilled a few personal points to her:
"Married four times…vagabond who lives on the road a bit…radio performer…is that enough?"
"I already know the title," she chimed.
"You do?!"
"I do: "Four Wheels Four Wives."
It was savant-like as if she'd performed a magic trick. Then she began to play the guitar and sing the brand-new song:
"Four wheels…four wives…four dozen roses…
Good car…good life…I don't know where the road goes…
Two blondes and two brunettes, too many stories to count…not done driving yet on road I'm rolling down…"
I asked Schott how she did that?
"Being here in Nashville you get schooled in the craft. I learn every single day – even after 22 years," explained Schott who also performs at The Listening Room and Bluebird Café.
I don't know if she will move forward with "Four Wheels Four Wives" but maybe there is a Grammy Award in Schott's future with it – courtesy of my country song-style life.
Four Wheels Four Wives
During my day wandering Nashville her melody and lyrics for Four Wheels Four Wives played over and over in my head as did some of the destinations I visited with those four former spouses (two blondes and two brunettes) – whether they were honeymoons, vacations or getaways – like retrospective music video: Nassau and New York City; Ireland; Bermuda and the Big Island; Kauai and London, respectively, for instance. Each of those places have music which conjures up memories of them – as do the brides I'd traveled with.
But on this day, I kicked up my heels and then put my heels up at Nashville's new Hyatt Centric Downtown, a flashy, fun, high-rise hotel which, as the name describes, is in the center of the action – as is Nashville itself.
"'Music City' is within 500 miles of 50-percent of the U.S. population," said Hyatt Centric sales director Bret Hoffman, who pointed out the hotel's welcoming lobby mimics a living room in the South. A close look reveals the wallpaper is subtly patterned with Tennessee State bird – a fact you can confirm at the nearby Tennessee State Museum. "Our staff will point you to Nashville's hot spots."
The vision and drive of developer Michael Hayes put the music and art-filled Hyatt Centric walking distance to the Country Music Hall of Fame; revered Ryman Auditorium; concerts and hockey games at Bridgestone Arena; Titans football games; Hattie B's Hot Chicken, and Broadway – Nashville's neon answer to the Las Vegas's glowing "Glitter Gulch."
But music, not gambling, is the name of the game here where Broadway's bustling buffet of all-day live entertainment is served up family-style.
Dancing the Day Away
My standout scene was a father and daughter dancing the afternoon away in front of the rooftop band at a big bar called Lucky Bastard. I am sure he felt like one…and I'm certain his little girl will never forget the fun.
Another vivid visual is seeing sidewalks full of performers pulling musical instruments all over town like cowboys slinging six-shooters.
"My guitar centers me…and this is my good luck guitar – it's one that got some of my music recorded," Schott had told me while strumming the strings of that beauty that also created hits for music stars Billy Ray Cyrus, Pam Tillis, and more.
Music Crawl Through a Street Full of Stars
Tap your toe to classic country music in Robert's Western World or step into sprawling show bar restaurants with open-air and rooftop patios founded by Kid Rock, Jason Aldean, Blake Shelton, Miranda Lambert, Luke Bryan, and Dierks Bentley. Don't forget the no-frills "honky-tonks" too, like time-honored Bluebird Café; Redneck Riviera; and Winners and Losers: the bar Toby Keith sang about loving in the lyrics of his hit song.
The depth and quality of musicians playing all day long with no cover charge is astonishing – but bring a pocket full of cash because you will be inspired (and encouraged) to tip these top-class performers. And God bless the beauties sporting spirited Southern and Western wear. Nashvillians, though, without dampening your ardor, would have visitors know locals don't wear cowboy boots…even though you can buy three-for-one (that's pairs, not boots) at shoe shops on Broadway.
"There is a perception that Nashville is all 'boots and leather,'" Hoffman admitted, "but it's called 'Music City,' not 'Country Music City.'" It's now a clean, youthful, fresh, stylish and slick city.
Classic Country
You can get your weathered, downhome fix at the Johnny Cash; Patsy Cline; and Glen Campbell Museums and, of course, the Grand Ole Opry House (20 minutes from downtown) for a great backstage tour or another historic (since 1925) performance.
"It's overwhelming. When you walk down Broadway you hear all different types of live music surrounding you and coming from every direction," said McDowell. "It is exciting to see music stars come into the Musicians Hall of Fame and Museum and be fans. I do get starstruck. Aritmus Pyle, who survived the Lynyrd Skynyrd plane crash, came in yesterday. Graham Nash has been by. I gave Don Everly a tour once. In Nashville you might see Taylor Swift dining across the room."
First timers – start with "medium" spiciness anywhere you try Nashville Hot Chicken (for decades the city's official food) and then work your way up according to Jim Myers, who serves a version of the authentic Prince's Hot Chicken Shack original recipe at his charming Elliston Place Soda Shop. "The hot sauce and cayenne will burn you from here to tarnation."
Did you just hear …"hunka hunka burnin' love…" or "…ring of fire…" in your head?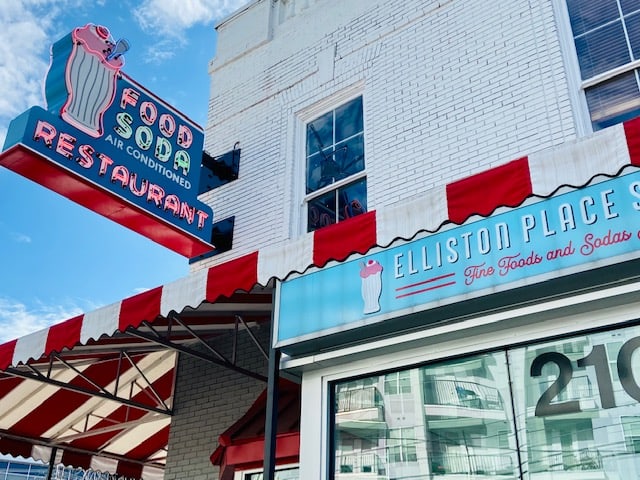 Read more on Michael Patrick Shiels' travel blog, The Travel Tattler. Contact Travel Writer Michael Patrick Shiels at [email protected]