I began to let my mind wander across some of the destinations in which I'd experienced some situational sweetness.
Considering that Hollywood's most memorable movie romances are ones in which the participants do not end up "happily ever after," I began, in a series of columns, to let my mind wander across some of the destinations in which I'd experienced some situational sweetness. I'm not talking torrid times, but rather, relationships that weren't going to get any better than they were during those golden moments at destinations designed to steal your heart:
Afternoon in El Quelite
I didn't know it would become a golden moment. I just knew she had golden hair.
The sunlight was strong also that afternoon in El Quelite – a village outpost 40 minutes by car from Mazatlan in the Mexican state of Sinaloa along a river. There was some shade in the square plaza plateaued in the middle of town, but otherwise the cobblestone streets were steamy and the colorful, tile-roofed houses, historic buildings with pre-revolutionary porticoes and colonial church, galleries and shops appeared brilliantly lit even though squinted eyes.
It was my understanding that buses drop tourists and cruise ship passengers to wander and shop amidst the 1,800 inhabitants of this farming town literally named after vegetables, but it was quiet on this weekday afternoon.
Myself I had been driven, kicking and screaming, from the breezy beach, Banda music, bikinis and swimming pools of the Pueblo Bonito Mazatlan Beach Resort with some other writers through the cock farms and cattle fields to sightsee in this town which may or may not be the birthplace of Pancho Villa, depending on who you ask.
If Pancho Villa was born in El Quelite on a day like this one, I hope they kept the infant covered and cool. But the heat – dry and dusty – didn't seem to deter the pre-teen boys I saw vigorously playing traditional Ulama, which is something like soccer with a heavy rubber ball. I got thirsty just watching them, so I decided to procure a Pacifica.
Siesta Turned Fiesta
Suds or shade were tied for the top priority when I saw the long, dark, covered porch of an abode across the narrow street. I could hear my footsteps on the wood as I walked up onto the empty space and sat down in a rocking chair. I recall being content to be out of the noonday sun, but I do not remember if I was rocking or just sitting still in the seat when my eyelids drooped down like wilting lettuce leaves in a left-behind botana.
Still soaking in some sweat, I found myself swaddled in the solace of a shady siesta. In my somnolence I swam in the dreamy blue pool back at the Pueblo Bonita Mazatlan Beach Resort. In some level of REM, I was floating under the footbridge that spanned the swimming pool like a dog paddling troll. In my dream a poolside waiter was waving me over for a frozen margarita. I'd managed to order over the marching band-style sound of the traditional, brassy Banda music being played live on the beach.
When I swam, in pool water not perspiration, over to the waiter, he handed me my margarita, but when I looked down, it was actually a goblet full of ice cream just like the bowls I'd actually eaten at the resort's Los Palomas breakfast buffet. I spooned up the vanilla and chocolate soft-serve-yourself right out of the machine…as much as you want! It was like being left alone after hours in a Dairy Queen speakeasy, which was a dream in itself.
The memorable Los Palomas breakfast buffet bursts with cultural cuisine: sopes de papa chorizo; chilaquiles verdes and rojos; marlin a la Mexicana; chicharron salsa verde and frijoles. I usually added a tequila sunrise…before the sundaes.
But the nonsensical incongruence of a poolside margarita-turned-sundae, along with the next part of the dream in which a bonita senorita in a bikini actually spoke to me, proved preposterous enough to force me awake in the rocking chair.
In reality I was parched, and it was time for lunch with the other traveling sightseers.
Meson de los Laureanos in El Quelite
The Meson de los Laureanos is the type of establishment one might expect to find the leader of a band of stagecoach robbers, which is who the timeless restaurant is named for: Jose Laureano. I wandered through the series of dark, small rooms and bars at different levels until I came to an open-air, partially covered courtyard. The intricate, brightly colored room with its shelves, artwork, and even trees had the feel of a bazaar in which the heisted merchandise and minerals might have been fenced.
Little did I know it was a coin that was about to play a major role in my experience.
Since I'd been snoozing, I was the last of about 10 of us to get to the long table near the sidewall full of photos, shelves and a heath. The only seat was at the tail of the table at the far end near the banos. The remote spot was suitable for me since I was woozy and not likely to provide compelling conversation.
Once seated, to my left across the colorful tablecloth was a couple from Carlsbad, California. To my right was a woman with blonde hair a bit frizzy from the heat. She told me she'd actually just moved with her daughter and dogs from Denver to Puerta Vallarta. Heather was solo, like me, and I liked her because she didn't seem to need to talk or impress anyone. She glistened after an afternoon in the steamy sun and yet was and completely at ease.
After I bit, I didn't mind talking so much.
Mexican Margaritaville
As thirsty as I was, I hesitated to drink water poured from the pitcher out of caution and instead, out of habitual indulgence, had a big margarita like the one I'd just dreamed about.
Between sips, or maybe they were slugs, I tried to seem nonplussed about some of the Sinaloan local menu choices of our host, the genial, enthusiastic, Marcos Gabriel Osuna Tirado, who is an ambassador for the area. A read over an English translation which included Ranchero liver; Chilorio; Beef head in its own juice; Chicharron; and Slight – a soup with seasonings prepared with corn grains and the stomach of the beef.
I nibbled on some soft tortillas and morsels of conversation with soft, subtle Heather, who genuinely seemed as non-plussed about her intriguing life as I attempted to be about some of the unique menu items. She shared she was fairly recently divorced after a long marriage.
"I've been down the aisle so many times when I'm asked if I am married, I answer "occasionally,'" I told Heather in an attempt to show shared empathy and yes, amuse her with some lightness. Maybe I could manage some charm, but she was a compelling conversationalist.
Heather told me how she'd bought a home, sight unseen, in Puerta Vallarta. She didn't have a car, but her daughter had driven all the way to PV from Denver. It's a 30-hour journey if it could be done non-stop and if Mexico's roads were not so narrow, windy and bumpy. That trip also, according to Heather, meant delays due to occasional stops by both the Federales and the cartel, something she maintained was an inevitable part of the trip and both had happened to her daughter.
"The way you know the difference is the Federales pull you over. The cartel runs your car off the road," she explained. "They just want money and any guns you might have."
She said she, as a newly single woman, had not been going out much or socializing yet in Puerta Vallarta. I don't know what possessed me to ask the next question, but I was curious to know whether Mexico had a 9-11 system to call in emergencies.
When Heather told me she didn't know and hadn't thought about it, I encouraged her to find out as soon as possible.
"You've been living here nine months without knowing who to call in an emergency?" I asked.
She shrugged. "I guess I should find out."
"I am going to figure out how to contact you so I can check on you to make sure you do," I told her in a comical way. But I secretly admired how Heather seemed to just be rolling with life as it came, but with my empty stomach, dehydration and margarita, I told her so.
"You should try it sometime," she said flatly. Her eyes were piercing but she was not as insistent with her advice as I was in imploring her to find out the Mexican emergency phone number.
The Carlsbad couple, particularly the wife, chimed into our conversation some, but only occasionally. I was too busy asking questions.
"How did you choose to leave snowy Denver to move to Puerta Vallarta?"
"I had vacationed in P.V. once. And after the divorce I felt I needed a fresh start," Heather answered.
I nodded and again mentioned that I could relate and that I'd been struggling with the compelling idea of a fresh start myself. Then she continued.
"For my fresh start I decided I was going to either start a small business in Denver or move to Puerta Vallarta. Honestly, I would have been happy with either."
I didn't ask her what the small business would have been, but I did ask Heather what her determining factor was. Again, she answered plainly as if her answer was obvious and universal.
"I flipped a coin."
She assured me she wasn't joking. She left her life's direction to the 50-50 prospect of a coin flip.
"I still have the coin," she said.
In the midst of a series of resulting questions I ended with a revealing one.
"Heather…what if the coin had come up the other way? What if the flip had determined you'd stay in Denver?"
She looked at me, thought about it, and gave me her first smile of the conversation. It was the smile of someone who'd been busted. "Then I would have flipped again."
"Maybe two out of three?"
"Something like that," she admitted. "I guess down deep I knew what I really wanted. It was kind of a 'bucket list' thing and the time was right."
I suggested to Heather that nothing has to be forever and that she can always move back if she ever wants to. Once again, I was spouting advice to someone who clearly had the confidence to not need it. So, she turned the tables and challenged me.
"What about you?" she asked. "If what you said is true, what's holding you back from your fresh start? You told me you were having trouble with a decision."
Stumped, I wasn't sure how to answer. Inside I was asking myself the question in the face of someone who'd exhibited the courage to take a big, international, cultural leap of faith. As such, she didn't wait any longer for my answer.
"I am going to lend you my coin," Heather stated definitively. "I will send it to you."
She promised, just as I'd said I'd be checking on her about the 9-11 service, she'd also be checking on me about my coin flip to a fresh start.
Gulp!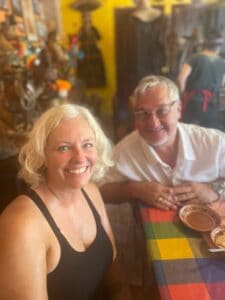 Read more on Michael Patrick Shiels' travel blog, The Travel Tattler. Contact Travel Writer Michael Patrick Shiels at [email protected]
Latest posts by Michael Patrick Shiels
(see all)