When you drive across a state border, it's not customary that there's a sudden and immediate sense that you're in a new place. But when you cross the Ohio River from Ohio to Kentucky, it's just a matter of minutes before you're aware you've passed from the North and into the South where people have accents, dine on different cuisine, and have an elaborate social code. And anyone who isn't struck pretty quickly with the Bluegrass State's obsession with horses and bourbon simply isn't paying attention.
One of my very favorite destinations to visit in Kentucky is a place where the eyes of the world turn the first week of May when the city of Louisville holds the Kentucky Derby. I've never been to "the Derby" as it's referred to in those parts.
I've been going to Louisville as many as three to four times a year for nearly three decades now. During that time, I've seen "The Derby City" evolve into a world-class destination with its charm not confined to a single part of town but instead distributed across its fascinating neighborhoods. Here are my curated recommendations of what to see and do in the best neighborhoods in town.
Downtown Louisville
Starting a visit in downtown Louisville makes sense since so many attractions are clustered there, particularly along West Main Street, which sports the largest collection of cast iron building facades outside New York's SoHo district.
Two decades ago, the charming 19th-century commercial structures with their elaborately ornamented architecture were dingy and in disrepair, but now they're vibrantly painted with a number of new businesses inside. The entire area has attracted so many museums it's become known as "Museum Row."
Within a few short blocks, visitors will find the Louisville Slugger Museum, unmistakable with its giant 120-foot replica of Babe Ruth's bat outside; the Muhammad Ali Center, with exhibits and videos on the life of the local champion (and real punching bags visitors can smack as hard as they want); the Kentucky Science Center; and the Frazier History Museum.
Close by, it's impossible to miss the 30-foot-tall golden replica of Michelangelo's David faithfully reproduced right down to the absence of a fig leaf. It stands outside the innovative 21C Museum Hotel, a combination hotel and art museum.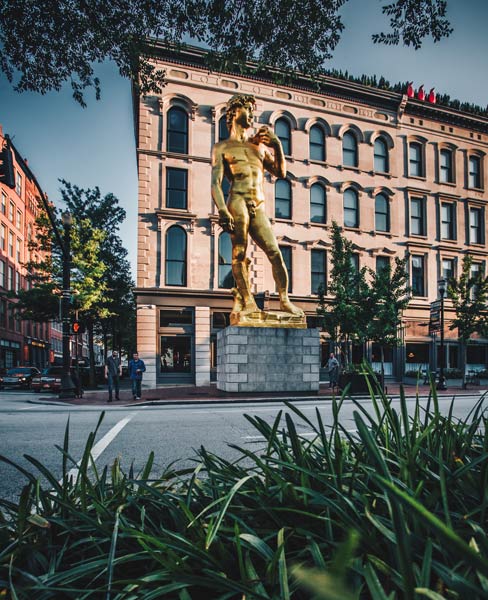 Its sizable galleries filled with ever-changing exhibits of contemporary art aren't one of Museum Row's official museums, but they're open to the public and always worth a stop. Over the years, I've also learned that Proof, 21C's onsite farm-to-table restaurant is a good place to get an authentic mint julep. And if pork chops are on the menu, definitely order them. They know how to make succulent pork chops in Kentucky!
Nearby, the Evan Williams Bourbon Experience gives visitors the chance to learn how "America's Native Spirit" is produced and what specific requirements must be followed to distinguish bourbon from other whiskeys. And although for many years there were no bourbon distilleries inside Louisville that offered tours, that is quickly changing.
One that has recently opened on Main Street is Old Forester's, making the only bourbon continuously produced by the same family since before Prohibition — a special part of the tour there is watching a bourbon barrel being assembled.
Elsewhere in downtown, the Fourth Street Live area, with its distinctive arching glass overhang, is a destination for nightlife with its many restaurants and bars, and close by are two of the grand hotels of the South — the Seelbach and the Brown. Their elegant lobbies are worth a stop to see. The Seelbach's historic bar is just one of many on Louisville's very popular stops on the  city's popular "Urban Bourbon Trail."
The Brown Hotel is where one of the mainstays of Kentucky cuisine originated, the Hot Brown, basically an open-faced turkey sandwich served with bacon and a Mornay sauce, which originated in 1926 when late-night partiers were clamoring for a snack and the chef used what he had on hands to oblige.
Try this delicious and filling delicacy in the place it had its start, then move around Louisville on the "Hot Brown Hop" to try its many permutations substituting the turkey with chicken or seafood, for example. There's even Hot Brown Pizza to be sampled in Louisville!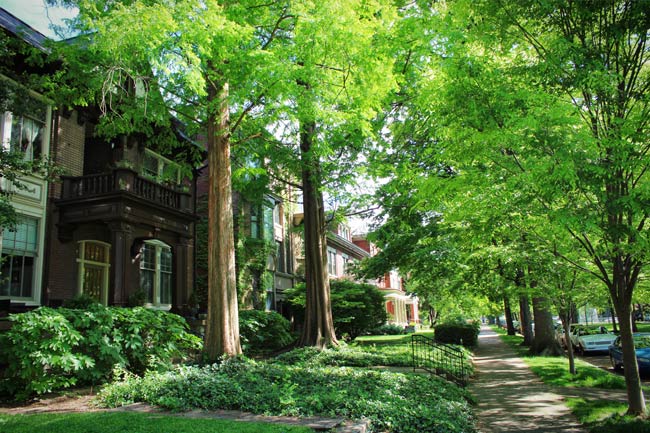 Old Louisville
The Old Louisville neighborhood, just south of downtown, is the third largest Historical Preservation District in the U.S. The residents here rightfully think their neighborhood should be getting as much tourism traffic as Savannah and Charleston, other Southern cities with many architectural treasures. The reason is that the structures in this area of 48 city blocks aren't just houses—they're mansions where the city's Titans of Tobacco and Barons of Bourbon once resided.
Walking tours of the neighborhood are offered by Louisville Historic Tours, but for my money, the best bet is their ghost tour with stories that are absolute doozies.
You'll hear about the spirit of a spurned woman who still loudly weeps and walks in front of the Christian Scientist Church, and at the easily identifiable Pink Palace, a friendly ghost named Avery once suddenly appeared to a startled woman taking a bubble bath, causing her to leap out of the tub seconds before a giant piece of concrete fell into it, tossed through the window by potential burglars outside.
The grand finale of this tour is "The Witches Tree," a gnarled twisted and truly ugly specimen that sprang up after the witches of Louisville supposedly placed a curse on the city for going against their wishes and cutting down a lovely tree that once graced this spot and was of ritual importance to them — As the legend goes, the tornado that ripped through the city in 1890 and destroyed substantial portions of it was a result of their curse.
The disfigured tree that grew from the original one's stump is now a place of pilgrimage with present-day witches who leave offerings like Mardi Gras beads, tarot cards, candles, and yes — broomsticks.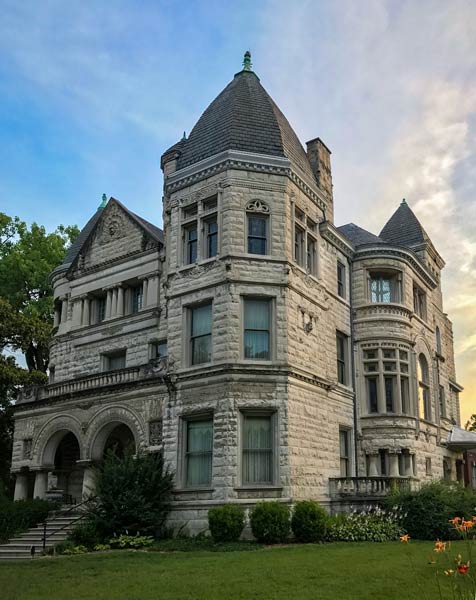 One home that's open for tours in Old Louisville is the opulent Conrad-Caldwell House, but beware — step away from the guided tour for even a moment and nose into unauthorized areas and you might be confronted by the house's original owner, who died of a heart attack on the magnificent staircase. He won't lecture you, just shake a shaming finger in your face.
Kentucky Derby
Louisville is known as the home of the Kentucky Derby, an annual horse race held the first Saturday in May, capping the two-week-long Kentucky Derby Festival. The famous race, held at Churchill Downs, is a Grade I stakes race for three-year-old Thoroughbreds at a distance of one and a quarter miles.
Churchhill Downs
It's important to remember, though, that much more than the Kentucky Derby takes place at Churchill Downs. A number of races, including the Kentucky Oaks the day before the Derby, extend through the racetrack's season, with tickets at a much cheaper price for a race that's just as exciting, well, almost as exciting, but definitely a place to witness how thoroughbred horse racing holds Kentuckians in thrall.
Even on days when no races are being run, there are many reasons to visit. The Kentucky Derby Museum is full of trophies and so much comprehensive information on horses and jockeys that the average person's eyes may well glaze over.
But it still manages to give enough of a sense of the mystique surrounding this fabled place to make a visit worthwhile — I defy you not to find your emotions stirred at the 18-minute 360-degree multi-media presentation that gives a good sense of what Derby Day is like. Your eyes may well grow misty when everyone around you starts singing "My Old Kentucky Home."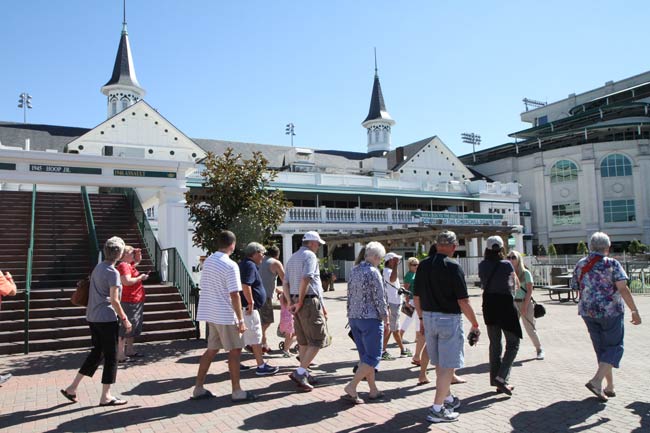 Tours of the facility range from a 30-minute walking tour to the 4-hour "Around the Track Golf Cart Tour" that takes you into every corner of the facility, including the barns out back with their 1,400 stalls — you can watch the horses during their morning workouts. A shorter "Barns and Backside Van Tour" lasts an hour.
These two tours are especially exciting (but more expensive) during Derby Week. I was especially fascinated by the "Behind the Scenes" tour that takes you into the exclusive "Millionaire's Row" area.
Across the street, the famed Wagner's Pharmacy, you can buy liniment for your lumbago or eat in their diner-style dining room on fare like biscuits and gravy, grits, or the enormous Pam and Jack's Omelette once featured on Throwdown with Bobby Flay.
Since it opened in 1922, it's been a popular hangout for jockeys, trainers, and horse owners all in earnest conversation about their trade — Eavesdrop and you may well hear tips on potential winners of upcoming races or even prospects to grab the next Triple Crown.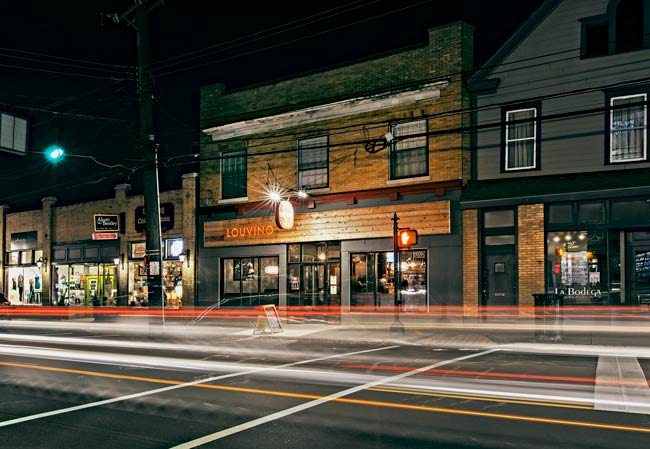 The Highlands
To the east of Old Louisville and the racetrack area is my favorite part of Louisville. The Highlands is a coveted residential area filled with charming turn-of-the-century homes, some of them quite ornate.
Its main thoroughfare, Bardstown Road, is several miles long and lined with boutiques and excellent restaurants like Jack Fry's, serving up traditional Kentucky cuisine (and bourbon cocktails, of course!) in an upscale atmosphere. I always make it a point to make a stop at Carmichael's Bookstore, one of my favorite independent booksellers anywhere, whose bookstore kitty has alas gone to her reward (Tell them to get another one!).
Peaceful enclaves in The Highlands include the huge Cherokee Park, designed by Frederick Law Olmsted, who also designed Central Park in New York. Here, the gently rolling topography of the Highlands gets downright hilly and even forested.
Closer to downtown, Cave Hill Cemetery is a gorgeous Victorian-era place of interment with a towering clock tower at its entrance, memorials featuring ornately carved statuary, and enough trees, shrubs, and flowers to make it almost as much a green oasis as Cherokee Park.
Distinguished persons buried here include three Union generals, the two sisters who composed the "Happy Birthday Song," Muhammad Ali and Colonel Sanders. It's easy to find the resting places of these last two— stripes are painted on the pavement of the winding roads to lead the way.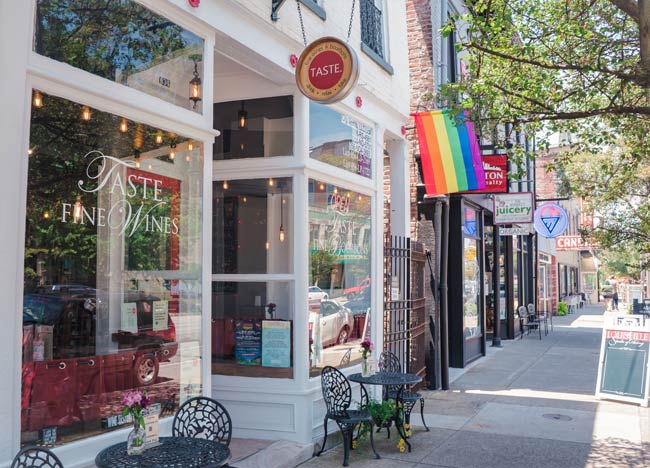 NuLu and Butchertown
NuLu, otherwise known as New Louisville, is a neighborhood just east of downtown that's been up and coming for so long it's safe to say it's already up and come. This trendy part of town is filled with art galleries, specialty shops, and boutiques. A good time to visit is during the First Friday Hop, a combination art show, shopping adventure and street party.
Thrillist has named NuLu one of the top 18 food neighborhoods in the country. The popular restaurant Harvest was such a pioneer in the local foods movement that even the term "farm to table" was new when they opened their doors.
For my money, the restaurant not to be missed in the neighborhood is the Mayan Cafe with cuisine that I fell in love with while visiting the Yucatan Peninsula — sample the slow-roasted pork dish known as Cochinita Pibil and find out why everyone raves about their tok-sel lima beans.
The adjacent neighborhood of Butchertown, the city's old meatpacking district, is the best place to experience the emerging energy that's already well established in NuLu.
Butchertown Grocery offers upscale dining, while the Butchertown Market offers a number of unique retail vendors under one roof like Cellar Door Chocolates and Bourbon Barrel Foods. Play Dance Bar is popular with the gay community and lovers of camp who flock there to watch the drag shows.
Not to be missed in this neighborhood is Copper & Kings, a distillery that's working hard to make Louisville as well known for producing brandy as for bourbon. What makes tours of this facility so much fun are the musical associations — down in the cellars where the brandy is aging, five major sub-woofers belt out music with a strong bass beat in a process called "sonic aging."
The distillers believe that the pulsation produced in the brandy by the music creates a distillate wave inside the barrel, enhancing maturation. As owner Joe Heron puts it: "We're more about rock 'n roll than anything else."
Elsewhere, check out the Frankfort Avenue shopping area or go down to the riverfront and take a spin on the Belle of Louisville, a classic sternwheeler steamboat from yesteryear. Arguably, the communities in southern Indiana across the river constitute yet another neighborhood of Louisville with unique attractions all their own.
One of them, New Albany, even bills itself as "the Brooklyn of Louisville," with coffee shops, boutiques, and breweries lining the streets in its quaint downtown just as they do in the New York borough. But whichever of the Derby City's many neighborhoods you visit, you'll find something distinctive around every corner.
Author Bio: Ohio-based travel writer Rich Warren travels the U.S. and the world looking for offbeat and off-the-beaten-path stories. He is a graduate of the Elf School of Reykjavik and can tell you what the Amish wear to the beach in Florida.