Staying At LEGOLAND Hotel
Elevator music plays softly as my son and I step into the elevator at LEGOLAND Hotel. It's a soft tune you barely notice. You know the kind I mean.
A family with three small children joins us at the last minute and then the door closes.
Suddenly a disco ball starts spinning above us and Abba's Dancing Queen fills the air.
It's the kind of song you have to dance to, and the little ones jump with glee. The adults can't help but join in. Even my 17-year-old laughs.
Then we arrive at our floor and the dance music stops. The elevator music returns as the doors open. The dance party is our little secret.
The preschoolers can't hide their giggles, and they skip down the hall. Here at LEGOLAND California, even the elevators are child's play.
Most families traveling to Southern California are on their way to Disneyland, but LEGOLAND is a must-visit for families with kids ages 2 to 10.
LEOGOLAND and its adjacent LEGOLAND Hotel have been designed to delight younger children. But that doesn't mean that adults and older kids can't have a good time too.
LEGOLAND for Families
I had first brought my son Matthew to LEGOLAND California when he was eight, and I still remember his wonder at the buildings, models and play areas all made out of LEGO.
There are some 30,000 LEGO® models throughout LEGOLAND® California Resort. For a kid in love with LEGO, that is almost heaven.
Matthew had skipped from ride to ride (there are 60 rides, shows and attractions, including three rollercoasters), but what had really captured his attention were the detailed models in the park.
Many of them have moving parts – boats that float across the tiny lakes, trains that run and much more. I have to admit, they captured my attention too.
But my son is no longer 8 years old, and I am curious to see his reaction as his 6'1" frame lumbers into the park with the other families in our group.
Evidently, the kid in him still lives on. He walks straight for Miniland USA, where seven areas of the USA have been recreated in miniature with more than 20 million LEGO bricks.
The detail is incredible – the streets of Las Vegas, the nation's capital, the alleyways of New Orleans. We could spend several hours and not see half of it.
But that's when Matthew sees the STAR WARS area. Yes, LEGOLAND has created Episodes I to VI in LEGO. There's even a detailed model of the Death Star.
For a teenage boy, this is about as "awesome" as it gets – and he goes from model to model, posting pictures of them to Instagram.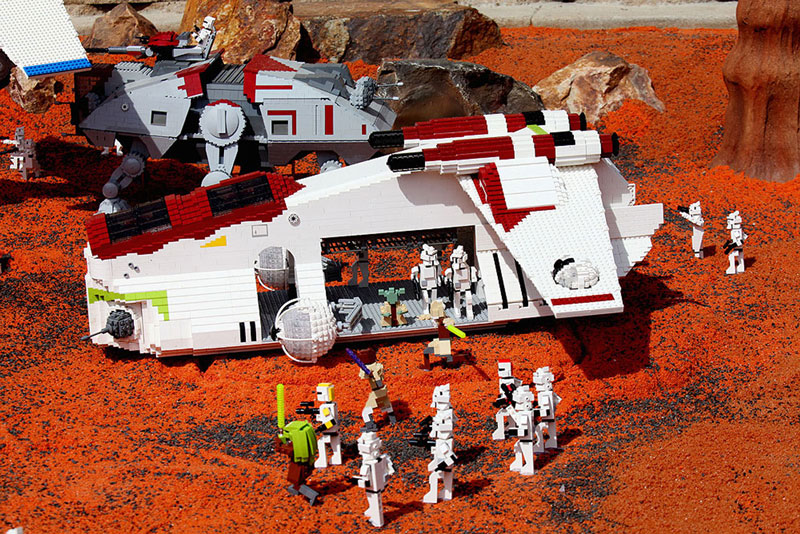 When I begin to wilt in the California sun, I'm finally able to drag him to some of the other areas of the park.
And while LEGOLAND may be aimed at younger children, it has several rides that are not for the faint of heart.
The wild Knights Tournament thrills the teenagers in our group, and with its spins and twirls is even hard for me to watch.
Fortunately, no one loses their lunch. In fact, we have worked up an appetite. LEGOLAND California has a good selection of eateries that go well beyond the usual boring theme park food.
We stop at the Fun Town Market, and I'm pleased with the wide selection of fresh ingredients, including a huge salad bar, an Asian stir-fry section, fruits, sandwiches and baked goods.
They have a gluten-free menu as well.
LEGOLAND Hotel

After a day in the park, we're ready to head back to the adjacent LEGOLAND Hotel, which opened in 2013. The 250-room property continues its creative LEGO theme in detail, including a LEGO play area in the lobby.
Guests can choose between three types of themed rooms: Pirate, Adventure or Kingdom. Ours looks right out of the Indiana Jones movie set, which suits my teenager just fine.
There are several restaurants in the hotel, including one that includes a child-sized buffet.
Just like the restaurants in the park, there is plenty of healthy food options offered along with children's favorites like pizza, hot dogs and chicken nuggets.
As we are checking out the next day, we meet the family with three small children again. The children look a little sad to leave as they pull their suitcases out of the room next to us.
As they start to close the door, the littlest one runs back. "Can't we look at our room just one more time, dad?" she asks.
Her father smiles and they head back inside. I'm sure this is one family vacation they will remember for years.
If You Go to LEGOLAND
If you're going to visit several California theme parks, consider the Southern California CityPASS. The CityPASS costs $329 for ages 10 and up and $286 for kids age 3 – 9 and it includes the following:
Southern California CityPASS
3-Day Disneyland Resort Park Hopper Ticket
1-Day SeaWorld San Diego ticket
1-Day LEGOLAND California ticket
We found the Southern California CityPASS saved us $120 each (ages 10+) and $140 for kids ages 3-9, which is a huge help when you're traveling with a family.
LEGOLAND California Resort
california.legoland.com
CityPASS
citypass.com
[mappress mapid="943″]