For years, we've been sharing the stories of travel with you – and now, we're inviting you to come along!
Partnering with TrovaTrip
We're thrilled to announce that we've partnered with TrovaTrip, a leader in small group travel tours, to offer trips to top destinations around the globe.
We've been working behind the scenes for months to create some amazing itineraries for 2022 – and we're happy to announce that bookings for three European itineraries will open on Feb 25th.
We'll venture to some of the world's most fascinating destinations and introduce you to the people, places and experiences that make travel so rewarding.
Each guided small group tour offers worry-free travel and an authentic look at the destination, with fun activities, great food and comfortable accommodations.
You'll get to share unforgettable experiences with like-minded people from around the globe.
What's Included in the Trip?
Each trip is seven days long. One set price includes all your accommodations, transfers from the airport, ground transportation, daily activities, local guides, six breakfasts, several other meals and lots of good memories. Airfare isn't included, but all you need to do is arrive at the airport, and we'll take care of the rest. (You can read more details on the FAQ page.)
Come with friends, family or even on your own. After all, part of the fun is meeting others on the trip. Accommodations are based on double occupancy, but you can request a single room for a small additional fee.
Group sizes range from 10 to 20 (must be 18 years of age or older). Each itinerary has been carefully planned with local experts to provide an authentic experience at each destination.

Travel with Us to Europe This Fall
So where are we headed? We have exciting trips planned to France, Scotland and Portugal – and these are just the beginning.
France: Sep 18-24, 2022
Scotland: Sep 28-Oct 4, 2022
Portugal: Oct 17-23, 2022
We'll be adding more trips in the future, so stay tuned.
Spots are limited, so don't wait. Bookings open on Feb 25. Book early to get the best Early Bird pricing.
You can check out the itineraries below. Can't wait to travel together!
Scotland: Sep 28-Oct 4, 2022
Beautiful and rugged, tough yet delightful, from highlands to lowlands, forever wild and free, Scotland will charm you. Rough around the edges yet warm in its core, an ancient land with an ancient culture, the Scottish are waiting to welcome you.
France: Sep 18-24, 2022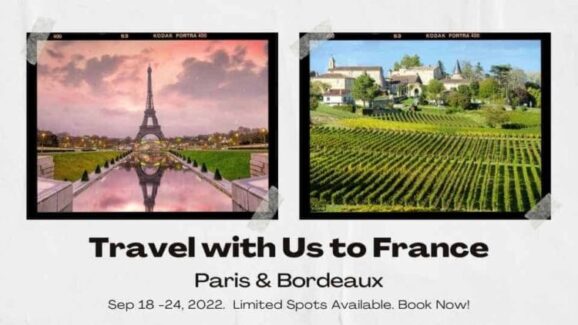 There's no other place like France. With the romance of Paris, the beauty of the French countryside and the world-class vineyards of Bordeaux, it's no wonder that France is one of the world's top destinations. Join us and experience this beautiful land for yourself!
Portugal: Oct 17-23, 2022
In Portugal, sometimes the cities and traditions seem as old as time. Cobbled streets and ancient ruins set over dramatic vistas over the infinite sea. The Portuguese are steeped in tradition of legendary seafarers, navigators, and natural-born travelers. Now it's your turn to explore this country's unlimited beauty.
Booking Policies
Booking the trip is easy. A down payment of 25% of the price of the trip is required to reserve your spot. This down payment is refundable until your spot is confirmed, at which point the payment becomes non-refundable.
The remaining balance will be charged 60 days prior to trip departure. If you book within 60 days of departure the entire amount will be charged upon booking.
TrovaTrip offers financing on all trips, if you're interested in that. All payments become 100% non-refundable within 60 days of departure.