Road Trip to Idyllwild, CA
Idyllwild is a beautiful mountain town in Southern California's San Jacinto Mountains, about an hour from Palm Springs (two hours from LA or from San Diego). It's reached mainly by a twisting, winding road, known officially as the Palms to Pines Scenic Byway (and CA 74). The road, which starts amid the palm trees of Palm Desert, winds through the mountains (and forests and valleys) for 50 miles, rising about 5,000 feet in elevation. It terminates amidst the pine trees of Idyllwild. Much of the road is just two lanes, and for much of it you have a sheer rock face on one side and a cliff on the other side. Needless to say, it leaves no room for error for drivers and motorcyclists. It's that danger, the beautiful scenery and the amazing views that make it such a great driving road.
The road is one of Southern California's and the nation's best driving roads and was seemingly made for the seriously intense 2019 Range Rover Sport SVR which I drove on it. The ultra-luxury SUV, with a price tag around $130K, sports a very angry, super-charged, 5.0L V8 engine with 575 horsepower. Yup, this SUV packs almost 600 horsepower channeled through a NASCAR-like active exhaust system which scares both small children and small animals (when driven aggressively).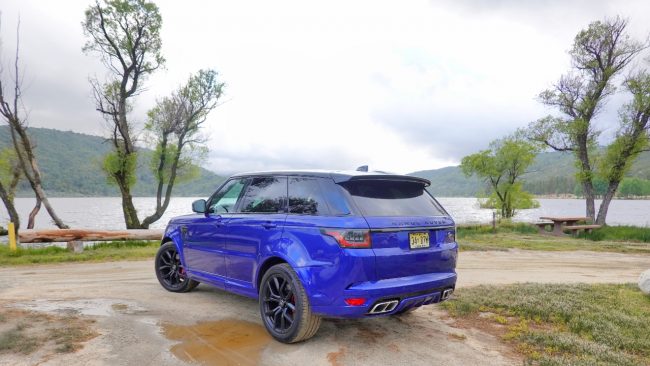 Inside, you get the usual Range Rover bespoke luxury experience but more sport-oriented cabin with racing seats. And since this is a Range Rover, you can use all that power and speed on any terrain. Yes, it will do 0-60 in under five seconds on the street, but it will also do it on a dirt road, snow, ice or even climbing a mountain. The entire four-wheel-drive system is automated, the SUV can sense the terrain and adjust itself accordingly. On the road it's just a beast, with endless power available from the massive engine. Handling, for a full-size SUV, is also spectacular with a very firm suspension and surprisingly little body roll.
Lake Hemet, CA
Before even getting to Idyllwild, we stopped at picturesque Lake Hemet, about mid-way through the journey. This camping and recreation area has 12 miles of scenic shoreline and is stocked with all kinds of fish.
Where to Eat in Idyllwild
Once in Idyllwild, we stopped at our favorite coffee / bakeshop, Idyllwild Bake Shop & Brew to refuel from the drive up and give our doggy a chance to stretch his legs. The veteran-owned shop is a favorite of ours, we especially love their sandwiches. We walked around the compact downtown area, visiting a few of the many gift shops and art galleries. We then went for a hike on the Ernie Maxwell Scenic Trail, which is an easy, three-mile roundtrip hike with some beautiful scenery along the way. It starts right near the downtown area.
After the hike we were hungry again and headed to Cafe Aroma for dinner. It's one of the town's main restaurants and one of the few open late on weeknights (. It was our first time dining there, we found it a wonderful experience with a sophisticated menu, a good wine list and extremely warm and friendly service. The night drive back home to Palm Springs was also a fun experience, although done at much lower speeds thanks to the thick fog.
Read more of Freddy Sherman's take on travel on his Go World Travel Blog. You can also follow more of his adventures at luxuryfred.com, on his luxuryfred Instagram feed and on his YouTube channel.