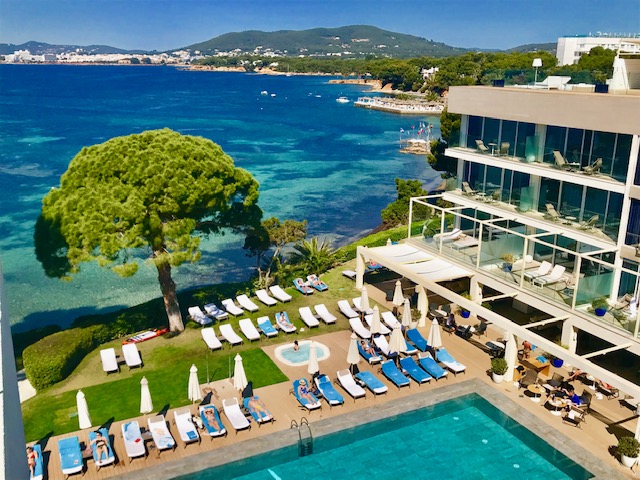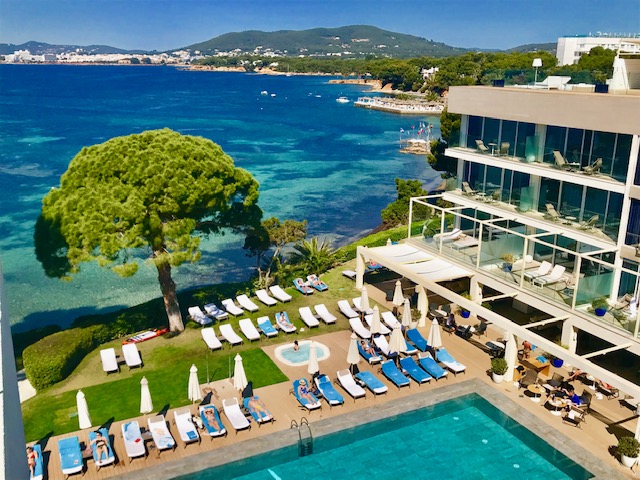 Travel is perhaps the most vibrant form of education. Experiencing a culture through all the senses fosters global appreciation and awareness and creates a subconscious memory that promotes growth and perspective.
So when four Alpha Epsilon Pi fraternity brothers – having just graduated from the University of Michigan – decided to reconvene only three weeks after commencement ceremonies in Ann Arbor, I was all for it. Highly educated and already well-traveled, thanks to their study abroad opportunities at the university, they'd had the privilege of worldly experiences, but did not behave in a "privileged" fashion.
This trip could hardly be classified as a "foreign study" though. After four years of cohabiting on campus, my son Harrison, and his pals Ben, Larry and Benji – who in their post-graduate professional pursuits will disperse to jobs in Los Angeles, Miami, New Jersey and Madrid – wanted to keep their frat house fun going just a little longer.
So they convened in Ibiza – a small island 60 miles off the southeastern coast of Spain. Ibiza is recognized as the planet's best party destination, according to MadeForSpainAndPortugal.com, the region's award-winning, international custom tour operator.
ME Ibiza: Lux Lodging With Sweeping Views
MadeForSpainAndPortugal's Virginia Irurita, who directs travelers to experience Spain "in a beautiful way," suggested we stay at the ME Ibiza resort – a contemporary boutique property created by Melia Hotels and Resorts – a well respected company with 382 hotels worldwide.
"ME is a niche product. There are a handful of them so far," explained Rene Hoeltschl, ME Ibiza's general manager as we talked in "Radio," the all-white rooftop bar and restaurant of his stylish, boutique beauty.
I sipped a glass of the hotel's customary "welcome champagne" while staring at the panorama of the Mediterranean Sea and other Balearic Islands below as Hoeltschl continued.
"ME is the future of the 'lifestyle hotel.' Our Dubai opening is coming soon; then Barcelona. Location is important. ME either has to be in the center of the city or, in the case of our resort hotel on Ibiza, you can overlook the sea and be away from the city because our hotel is the destination in itself."
Having never been to Ibiza, I was initially concerned the resort – a 25-minute drive from the airport – was too far from the nightclub scene for which Ibiza is famous. Santa Eularia is a picturesque and functional seafront town just a mile or two from ME with restaurants and shops.
Ibiza Nightclubs
But the after-midnight, legendary nightlife at clubs like Pacha, Lio, and Heart Ibiza, were 25-minutes away in the charming, old world marina of Ibiza Town. Not to worry, as Hoeltschl explained
"The party culture intensifies after dark but Ibiza is also famous for beach clubs with day parties. You listen to good, chill music during the day and then dance at 2 a.m.," Hoeltschl explained.
The midday electronic house music was already pumping from ME's poolside DJ four stories below. "This is where the music was born when the first important DJ's came here to Pacha, our original nightclub, to create their music and take it all over the world."
Beach Club Boozing
Nikki Beach
One of those beach clubs – Nikki Beach – is right beside the hotel. Day-drinking with a pool and a view of the waves, along with the chic reputation Nikki Beach-brand properties have in other places such as Miami, Monaco, provides bottle service and international intrigue.
The boys spent the afternoon poolside at Nikki Beach sipping their way through a bottle of Grey Goose vodka and cranberry juice with a young couple from Croatia and Bosnia who were vacationing from their home in Austria. It was the Croatian woman who, poolside first at ME Ibiza before we migrated, introduced all of us to the "Porn Star Martini."
"Our beverage director is creative," laughed Hoeltschl. "If you're not a porn star when you order one, you may be after you drink it!"
(It is vodka, passion fruit, lime, vanilla and egg white in a glass with floating slice of passion fruit on top; with a sidecar shot of sparkling rose champagne.)
But ME Ibiza's music was ever-present and swank, too. The techno beat scored the scene of the hotel's mainly open-air, clean, white décor. Rocking chairs and chaise lounges surrounded the seafront pool, and at one end of the adjacent restaurant black-and-white films played on a giant flat screen to evoke a feel of classic history in contemporary setting. The hotel displays art and photo exhibitions and stages fashion shows.
Arabian Shisha/Hooka pipes are set out and poolside snacks were offered. But the boys were mortified when I got such a kick out of rhyming my order: "a pizza in Ibiza!" For a bite they preferred to stick with the shisha's Middle Eastern theme by frequenting a local place in Santa Eulalia called "Mr. Kepab," which served original doner kebap and falafel.
Sunset Signals Pacha's Partying
After dark the ME Ibiza's lobby was lit with subtle, white clusters of candles – and the guestroom climate control panels even had a button for colored back-lighting, which included a setting called "sexy" which powered up a purple glow.
The bathroom mirrors were emblazoned with calligraphy: inspirational sayings which appeared to be scribed with a bar of soap. Mine said, "The best way to pay for a lovely moment is to enjoy it." –Richard Bach.
Pacha
The best way to pay for a visit to Pacha, the world famous nightclub, is to plan ahead. Cover charges are north of 50 Euro, but you can get that number down (a little) by booking ahead through your concierge or online. Most importantly, booking in advance can help you avoid standing in line well past the midnight opening time.
Be ready for sticker shock once you're inside the cavern-like, circular club, too – a half-bottle of water is 9 Euro. I didn't ask how much for a "porn star martini," but the bar looked rather remedial, anyway.
Maybe not surprisingly, then, despite Ibiza's party reputation, I did not see a lot of people drinking into the wee small hours – just dancing. I began to wonder whether Mike Posner's hit song "I Took a Pill in Ibiza" explained away that matter.
The circular nature of the club was cool in that you could dance facing the techno DJ on stage or stand up behind the performer and watch them work their magic on the mixing board.
The boys were absolutely psyched to be at Pacha and snapped pictures in front of a photo wall emblazoned with the club's iconic logo featuring two cherries, which was next to the gift shop with the 50 Euro, logoed t-shirts.
After surveying the scene, this travel writer left the boys at Pacha (where they stayed until 6 a.m.) and made his way back to ME Ibiza, listening to techno music on Radio Ibiza the entire drive back. The beat was growing on me, and it's actually very good driving music because it has a repetitive, forward moving rhythm and there are no lyrics to have to focus on or process.
The Morning After the Night Before
Morning broke and the sun shined – as it does most days of the year – on what's known as the "white island" due to its bright, sheer cliffs along the sea. The hilly terrain has an earthy nature to it – and the best American comparison I can make is that the vibe reminded me of the Hawaiian Island of Kauai – but with smartly sophisticated, low-rise, modern European villages and virtually no Americans.
After a lay-in (even though they were four to their room), the lads awakened and sought a very late but lavish ME breakfast buffet of meats and cheeses washed it down with flutes of prosecco. (They had risen much too late for the daily morning waterfront yoga session.)
It was the trip's last day – after a big night – so the lads sought the serenity of the resort's rooftop sundeck and pool bar, next to the open-air, scenic spa area, to sleep it off.
They were rarely without their ear bud headphones for music. For Benji it was Beethoven by day – techno house music by night. Harrison was frequently sampling, if not actually making music for his "Active and Domeless" international DJ business with his colleague Everest, also a recent U of M grad.
Cala Mastella
After seeing the Mediterranean all afternoon between sleepy dozes, the boys decided it was time to get into the sea somewhere also quiet. On advice from the ME's associate sales director Mireia Llopis, they drove 15 minutes north of the resort to Cala Mastella, a hidden, rocky, tree-lined inlet with a tiny beach bar.
They splashed and swam and tossed around a University of Michigan rubber football. And when they climbed on the boulders to skip rocks into the sea, these newly-graduated collegians, these highly-educated young men headed into the professional world, these masters of their universes…were just being boys again.
Adios, Amigos. But the Party Lives On
Later, in the twilight, it was Benji's turn to fly away first. After a quiet 30-minute drive to the airport with awkward small talk, his frat brothers stood at the departure curb outside the airport bidding adios to him before his evening flight home to Madrid.
"Well….see you 'never,'" Ben joked.
Benji then, diplomatically, with handshakes, offered each of them an encouraging personal thought.
"Many are envious you get another year in Ann Arbor," he said to Larry, who was heading back to Michigan alone to finish up his business studies.
After hugs, Benji walked into the terminal and they slumped back into the rental car and shut the doors.
"Man, that sucked," Ben admitted to the other fellows.
After a few quiet seconds, Harrison steered the car away and broke the silence.
"You think the next time we see Benji he'll be a boring old man?"
"He kind of already is," Ben answered.
And with resilient laughter, the grads headed to the seafront Blue Marlin outdoor nightclub to keep the party going on their last night in Ibiza. Did somebody say "Sangria?"
Visit MadeForSpainAndPortugal.com and MEbyMelia.com

Latest posts by Michael Patrick Shiels
(see all)