Private Jet Experience
The world of private jets is truly the ultimate in luxury travel. Perhaps the greatest luxury about the experience is the convenience, you suddenly don't need to deal with crowded airport terminals. Now regular people, albeit with a large vacation budget, can experience the private jet lifestyle via evoExperiences from evoJets. The private jet charter company has created a whole range of all-inclusive luxury travel adventures, all involving transportation on a private jet.
I experienced the highlights of an evoExperience they call Wine & Away, featuring a stay at the Carneros Resort & Spa in the Napa Valley. The trip, which starts at $18,900 for two people leaving from LAX (or BUR or VNY), can be done from anywhere in the world (pricing changes based on the origin city).
Luxury Travel
First, you get private jet transportation on one of the evoJets aircraft. Onboard, your experience begins with wine, fruit, cheese and a Tata Harper Daily Essentials Kit spa amenity. This is the luxury beauty brand featured in the resort's spa. For accommodations, you get two nights in one of the Carneros Resort's private two- or three-bedroom luxury homes. You get a full-day cabana rental at the resort's Hilltop Pool (invite friends, there's room for six) with wine and food. After pool time, you get two 60-minute Hydration Boost facials and two 90-minute Napa Nirvana body treatments at the new Spa at Carneros. And finally, you get your own, private culinary experience hosted within your private home with Carneros Executive Chef Aaron Meneghelli and Sommelier Zion Curiel complete with a caviar tasting and sparkling wine flight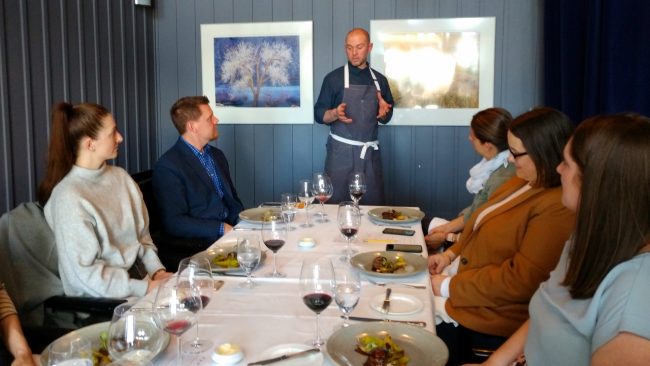 I had a chance to experience it all, but in an abbreviated, one-day version. We started off with an incredible flight from LAX to Napa Valley Airport. It was my first time flying private and it was great to just drive up to the terminal, park my car and walk out onto the tarmac where the jet was waiting for me. They shut the door, I buckled up and we took off.
The flight was smooth, we took off and headed out over the Pacific before turning north for our trip up the coast. We landed at APC, Napa Valley airport, about 55 minutes after taking off from LAX. As the plane pulled up to the gate, Escalades from the Carneros Resort were out there waiting for us on the tarmac. We hopped off the jet, into the Escalades and were at the resort about ten minutes later. So to recap, I parked my car at the Signature Flight Support private jet terminal at LAX around 7:30 AM and was sipping my first glass of wine at Carneros in Napa by 9:30.
Wine Tasting in Napa Valley
The Carneros Resort & Spa is beautiful luxury resort set on 28 acres, surrounded by vineyards, in California's iconic Napa Valley wine country. On arrival, we had a chance to explore the resort, which features individual cottage-style accommodations. Carneros also has individual private homes in an ultra-exclusive enclave which offer access to resort facilities and service.
Seasonal Menu
Lunch was next, hosted by the resort's executive chef Aaron Meneghelli with help from wine director and sommelier (and wine world celebrity) Zion Curiel. The two guys guided us through an incredible chef's tasting menu lunch with wine pairing, held at FARM, the resort's main restaurant. FARM's seasonal menu features a different vegetable each season and we had the carrot menu. Delicious dishes all featuring carrots used in unique ways, culminating in a carrot-shaped carrot cake. Read more about my lunch here.
Lunch was followed by a visit to the resort's newly re-designed spa, where I indulged myself in the "Heal Me" massage using a CBD salve. CBD is the non-psychoactive component to cannabis and its use is now legal in California. The special treatment is designed to relieve pain and soreness while getting a boost of wellness with a spot treatment of warm camphor and the full spectrum CBD salve. There's also a full body massage with arnica oil.
The day concluded with another part of the Wine & Away experience, a caviar and wine tasting session in the private home that serves as your accommodations. It was great to spend some more time with Chef Meneghelli and Wine Director Curiel and to have a chance to experience more delicious things.
Of course the final part was a quick ride (in one of the resort's Cadillac CT6s) back to the Napa Airport where our jet was waiting to take us home. Another smooth flight and 50 minutes later we were walking off the plane at LAX.
Read more of Freddy Sherman's take on travel on his Go World Travel Blog. You can also follow more of his adventures at luxuryfred.com, on his luxuryfred Instagram feed and on his YouTube channel.