There's much to be said for traveling to Key West, Florida.  It's fun and funky, and the sun casts its warming glow on lotion-slathered bodies. However, my recent visit to the Sunshine State, as Florida is aptly known, had a different goal. I went to check the claim that other islands in the chain boast hidden corners and enticing attractions that many visitors miss.
I wasn't disappointed. On dots of land so narrow I could watch the sun rise over the Atlantic Ocean, stroll across the road and see it set hours later into the Gulf of Mexico, I discovered off-the-beaten-track, often overlooked little gems.
The Florida Keys include some 800 islands that follow a gentle curve southwest from the tip of the state, only 30 of them inhabited. The journey by car, which takes less than three hours driving time, follows the Overseas Highway, officially named U.S. Route 1, which crosses 43 bridges as it strings together the chain of subtropical islands.
Almost immediately after leaving the mainland, travelers are immersed in local atmosphere.   Bridges and piers are lined by fishermen seeking their dinner. Marinas are jammed with boats available for deep sea fishing excursions, and rides to favorite snorkel and dive sites.
The popularity of water sports becomes immediately evident on Key Largo, the first island reached driving south.  It's the largest and most populated of the Florida Keys, with dive shops and fishing boats lining the highway and cramming the docks.
Activities Galore in the Florida Keys
Not far away is the John Pennekamp Coral Reef State Park, which covers 90 square miles of coral reefs, mangrove swamps and seagrass beds. Divers and snorkelers enjoy close-up encounters with some 55 types of multihued coral and 600-plus species of fish, while landlubbers seek to identify resident and migratory birds, some of them rare.
Rental canoes and kayaks, short hiking paths, and two beaches are among other facilities. It comes as a surprise to many people that the beaches at the Pennekamp Park are among only a relatively few stretches of inviting sand in the Florida Keys. That's because coral reefs that lie just east of the islands serve as a buffer reducing the beach-building action of the surf.
Among exceptions to that fact are the two outstanding beaches at the Bahia Honda Key recreation area. Both have fine white sand lined by palm trees and turquoise color water. The stretch of sand known as Sandspur has been a winner of the annual Best Beach in the U.S. contest.
Other swimming spots on the Florida Keys that are favored by local residents who are in the know include the Harry Harris Park and Sombrero Beach on Marathon Key.
The fact that there' a limited number of outstanding beaches on the Florida Keys has its upside, because it leaves more time for discovering other treasures. One of these is the variety of resident wildlife that is encountered both in the wild and at refuges.
Diminutive Deer on the Florida Keys
Most appealing are the tiny and adorable Key Deer, a subspecies of white-tailed North American deer that live only in the Florida Keys. Those minuscule animals, which are listed as endangered, stand only about two feet tall. Most make their home on Big Pine and No Name keys, in a refuge that was established for their protection. The endearing creatures are spotted most frequently in early morning and late evening.
Wildlife Watching in the Florida Keys
Other encounters with wildlife are available elsewhere. The misnamed Blue Hole on Big Pine Key, which is an abandoned limestone quarry, actually is filled with darkish water.
The setting attracts some Key Deer. It's also home to wading birds, turtles, numerous fish and an alligator or two. An observation platform provides a close look at this menagerie.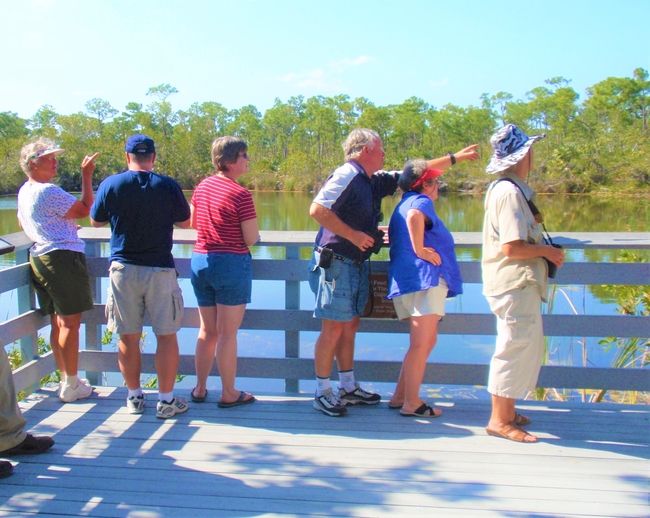 During fall and spring migrations, refuges on the Florida Keys provide habitat for some 285 species of birds. While I'm no ornithologist, I was intrigued by the opportunity to search for winged visitors with unusual names like sooty shear-water, brown noddy and dark-eyed junco.
Inhabitants of the Florida Keys Wildlife Bird Center on Key Largo are not free to Join other winged passers-by fly as they recover from accidents and disease. Residents being nursed back to health for eventual release when I visited included peregrine falcon, a red-shouldered hawk and a roseate spoonbill.
Despite their compact size, the Florida Keys also offer a diversity of active pursuits. In addition to a choice of inviting hiking trails in parks and elsewhere, the Seven Mile Bridge is a favorite route for walkers. It was completed in 1911 as part of the railroad which was built to connect the Florida Keys to the southern tip of the mainland.
After the demise of the railroad, the Seven Mile Bridge became part of the Overseas Highway built to carry vehicular traffic. In 1982, a new span was constructed  alongside it. Since then, the old structure has been a favorite route for walkers, bike riders and so many fishermen that it's referred to as "the longest fishing pier in the world."
Seeking to experience hidden back-country treasures of the Florida Keys, I signed up for a group kayak paddle that explored an area of mangrove forests, tidal creeks and shallow water grass flats. We alternated between paddling and, where the thick tangle of roots made that impossible, propelling the kayaks by pulling on tree branches. Along the way, we spotted tree and water crabs, shrimp, conch, lobsters, countless birds and one snake which, to my relief, seemed as little interested in me as I was in it.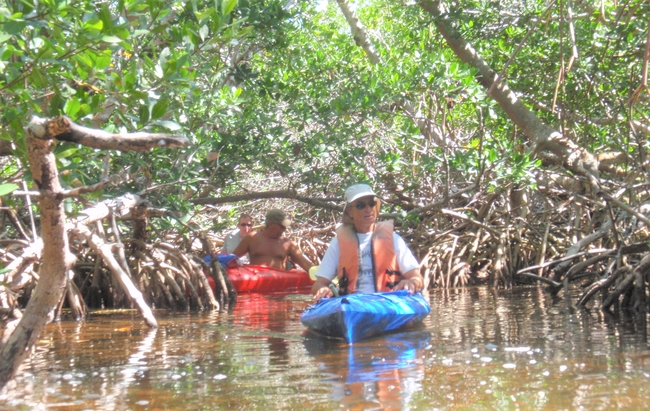 This setting of complete stillness, with the sun filtering through mangrove branches overhead and dancing on the glass-smooth surface of the water, was a far cry from the hustle and bustle of Key West. It underscored my view that anyone who skips the other islands strung out like jewels on a necklace will miss some of the very best that the Florida Keys have to offer.
For information about visiting the Florida Keys call (800) 352-5397 or visit www.fla-keys.com
Authors: Fyllis Hockman and Victor Block are a husband-wife team of experienced travel journalists who have gallivanted throughout the United States, and to nearly 80 countries around the world, and written about what they have seen, done and learned. Their articles have appeared in newspapers across the country and on websites across the Internet, and they each have won numerous writing awards. They love to explore new destinations and cultures and uncover off-the-beaten-path attractions. Read more of their work at The Rambling Writers 
Latest posts by Rambling Writers
(see all)