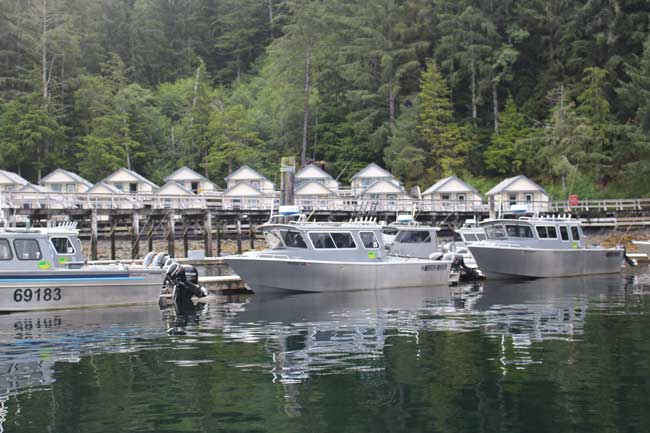 The air is brisk as the boat skims across the water, but I'm too excited to notice. We're in search of wild salmon, and it's my first day on the water here in Alaska.
I'm not a fisherman, but it's a part of Alaskan tradition. When friends invited me to join them at Waterfall Resort Alaska, a premier fishing resort on Prince of Wales Island, I jumped at the chance. What better way to experience Alaska?
Fishing in Alaska
My lack of fishing experience makes me nervous, though. I've only fished a few times, and never in the deep waters of Alaska. To be honest, I have no idea what I'm doing. What if I can't catch anything?
"This is a great place to learn!" our fishing guide, Brian, says when I admit my fears. "You'll have a big box of salmon to take home.
I can only hope he's right.
Waterfall Resort
Getting to Waterfall Resort was an adventure. Accessible only by air and sea, the resort is on Prince of Wales Island in Southeast Alaska's 1,100-island Alexander Archipelago. From Ketchikan, we took a 40-minute floatplane ride over deep blue bays and pine-covered islands. The flight alone was worth the trip.
Finally, we reached the remote bay that is home to the 52-acre Waterfall Resort. Once a cannery, the outpost has a fishing legacy that stretches back more than a hundred years. The resort has been in operation for nearly four decades, and has hosted 60,000 guests.
This week, I'm one of them.
Day One

I get up early after a comfortable night in my private cabin. All meals are included at the resort, so I savor a hearty breakfast before heading down to the boat. The sky is a bright blue on our first full day on the water, and I'm warm in my yellow waterproof fishing gear. I'm the only woman in our group of four, and the only novice too.
Brian, our guide, patiently explains the basics of column fishing, a technique used here. I'm relieved to learn that fishing guides at Waterfall Resort take care of the hard stuff, from baiting the hooks to netting the fish and removing the hooks. All I need to do is enjoy the rest.
Waterfall Resort has the biggest fleet of privately owned fishing boats in Alaska, and their 27 boats are comfortable with heat and a restroom on board.
Learning to fish is rarely graceful, and my fingers fumble to get the rhythm. Eventually, though, I relax, watching sea birds soar overhead.
At first, the bites come slowly. Then someone brings in a large Silver Salmon, and three more quickly follow.
Just when I'm starting to feel discouraged, I feel a tug. A very hard tug. Then the creature on my hook starts running out to sea.
"Start reeling!" Brian yells. "Just keep it steady."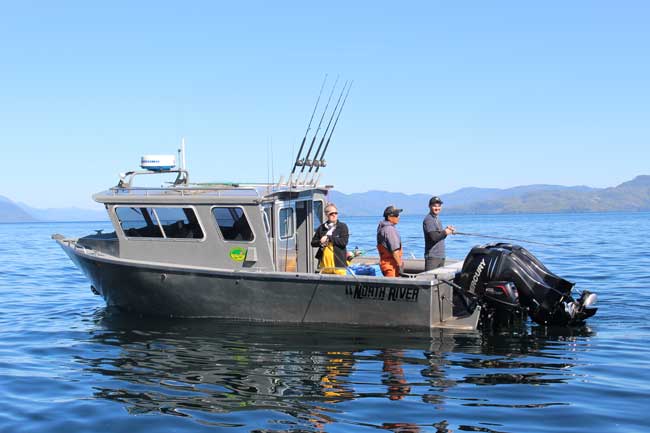 But this fish is strong! It's all I can do to stand still and keep reeling. Just when I see a flash of silver, the fish dives again to 50 feet.
I'm sweating now, and my arms ache as I struggle with the fish. At times, Brian helps to hold my line up as my weakened arms tire, but he doesn't take over.
"You've got this!" he says, as the others cheer. Finally, after 10 minutes of struggling, I reel the fish to the boat and Brian nets it.
It is a glistening 35 lb. King Salmon, the first one we've caught today, and it's beautiful.
Sadly, King Salmon season ended just the day before, so my fish is released. But I catch two more Silver Salmon that afternoon, and they're added to our ice chest.
My face is tanned from the sun and there's a smile on my face at dinner that night. The food is plentiful and good – we're served all-you-can eat local mussels, baked halibut, peppercorn steak and more. All that fresh air has made me hungry.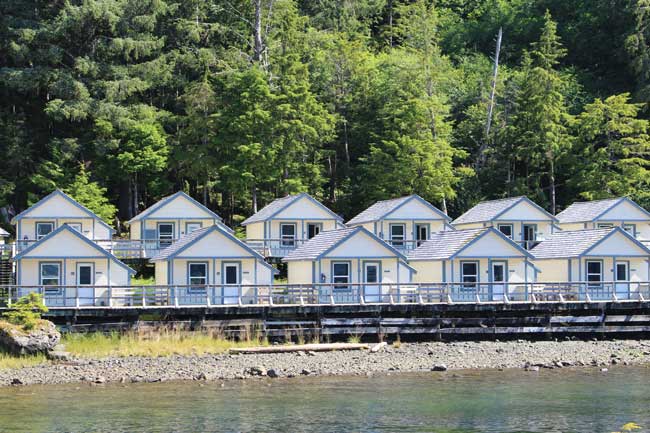 Day 2
It's not quite light when I awaken at 5:00 am in my cozy seaside cabin, but it's time to get out on the water. After a good breakfast, we head back to sea. The fishing guides know all the best spots, and they talk amongst themselves, forming a game plan for the day.
The fish start biting early, and soon the ice box starts to fill. I'm not as fast as the others, but I'm starting to feel comfortable. I reel in a few rockfish (which we throw back), then pull up a silver salmon.
Then we suddenly have one, then two, then three different fish on our lines at once. The fish dive and cross under the boat, pulling our three lines together and into a knotted mess. Unsure what to do, we holler for Brian's help. In an acrobatic feat I still don't understand, he pushes one line up and another back, trying to untangle them. He gets one line loose, and nets the fish when it comes in.
But my line and my friend's line are still a jumbled mess that refuses to be untangled. When the lines can reel in no further, I watch in awe as Brian pulls in the lines by hand. Hand over hand, my fish comes in and is netted, and then the other.
Not pretty, to be sure, but amazing.
By the end of the day, we are tired, but happy. As Brian turns the boat toward home, skimming across smooth water, I can't help but nod off. Once when I awaken, I see my friends have too. The movement of the boat has rocked us all to sleep.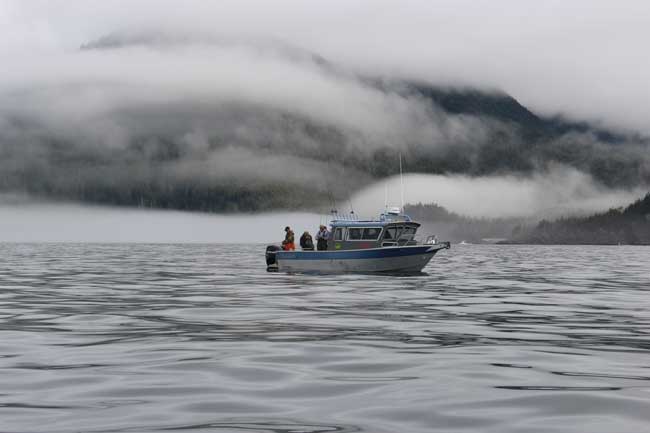 Day 3

A storm rolled in last night, and I wake the next morning to fog. Thick clouds sit halfway up the mountains, their peaks poking out from above. Everything is still, and almost feels surreal. Packing an extra thermos of coffee, we follow the other boats to sea.
Brian takes us to a deep bay, where halibut are said to be biting. Sure enough, I pull one in, marveling at its flat shape and white belly. But it is too small, so we set it free.
"I've snagged something on the bottom," one of my friends says. He can't reel the line in. But Brian thinks it's something else. "Keep reeling" he says.
Then slowly from the bottom comes a 52-pound halibut. No wonder it was hard to reel in! But it's just a little over the size limit.
As Brian sets the fish free, I hear blowing air. Three humpback whales have entered the bay, and are feeding on krill alongside our boat. They pay us no mind, and spend the next hour swimming in the bay.
For a moment, I stop and appreciate the moment. I'm floating on the mist-covered sea, surrounded by whales, the call of seabirds and the wild majesty of Alaska.
Bucket list adventures don't get much better than this.
If You Go to Alaska
Waterfall Resort
www.waterfallresort.com
800-544-5125
Author Bio: Janna Graber has covered travel in more than 40 countries. She is the editor of three travel anthologies, including A Pink Suitcase: 22 Tales of Women's Travel, and is the managing editor of Go World Travel Magazine.