"Fish. Party. Repeat."
Those words, printed on a sign hanging on the wall of a restaurant in South Padre Island, Texas, refer to two of the most popular pastimes there.
SPI (as the locals call it) and Port Isabel, perched at the other end of a causeway that connects the two, boast a long and varied list of things to see and do.
"Winter Texans" appreciate the appeals of South Padre Island and Port Isabel, Texas
That's well known to "Winter Texans." They're people primarily from the Midwest who spend several winter months soaking up the sun, and fun, at those twin towns nestled along the Gulf of Mexico at the Lone Star State's southern extremity.
This is an area of outstanding beaches, a long list of both land and water activities and intriguing historical tidbits that add color to the setting.
At first glance, both communities present the atmosphere of many beachfront locations. Hotels, restaurants and souvenir shops abound. Colorful golf carts are a popular mode of transportation. The favored attire gives new meaning to the words "casual clothing."
These are among the attractions that draw visitors, then keep them returning year after year. Much more awaits those who find their way to this inviting destination, within a seashell's throw of Mexico.
Seashells are a fitting image because the beaches on South Padre Island have won well-deserved accolades, and the proximity of Mexico has exerted a strong influence on the local culture.
After the period of Spanish exploration, when the area was under that country's domain, it was owned in turn by Mexico and the sovereign Republic of Texas before becoming part of the United States.
Vacationers long have been attracted by the sand that stretches in an unbroken line from White Sands Beach in the north to Pearl at its southern end. They are inviting for sunbathers, bike riders, surf fishermen and others.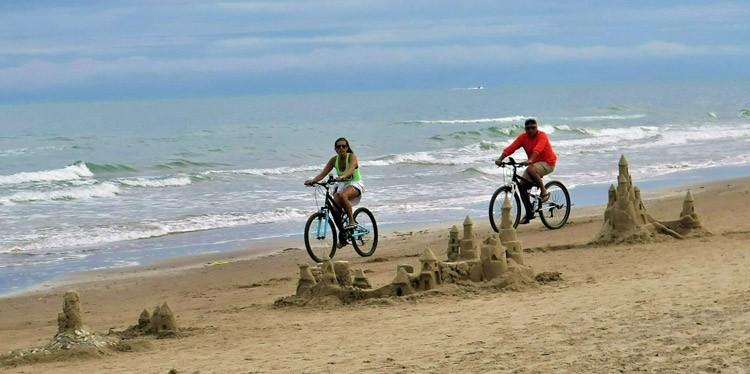 Fishing is Fine at South Padre Island and Port Isabel, Texas
Fishing is by far the favorite pastime for both residents and visitors. Anglers seek their dinner in the flats of Laguna Madre Bay which separates SPI and Port Isabel, surfcasting off beaches, dropping a line from a pier or trolling the offshore depths of the Gulf. So productive are the waters that the advertising of one charter boat captain offers "Guaranteed Fish. No fish – no charge."
For visitors to the area seeking other activities, a lengthy catalog awaits their perusal and participation. Of course, the A (antiquing) to Z (ziplining) list includes many that are water-related. For starters there's kayaking and canoeing, snorkeling and sailing, speeding along on a jet ski and loping along a beach on horseback.
South Padre Island and Port Isabel, Texas are for the Birds
Birding also attracts its fans. The South Padre Island Birding, Nature Center & Alligator Sanctuary is a good place to observe a variety of native wildlife.
An observation tower, blinds and a 3,300-foot-long boardwalk provide close-up sightings of some of the 350-plus species of birds that have been seen in the area. During my visit, a wall chart that lists recent identifications included colorful monikers like marbled godwit and semipalmated plover.
Another expedition took my wife Fyllis and me on a Breakaway Cruises dolphin watch excursion in Laguna Madre Bay. Captain Bob pointed out the first prey as soon as we left the marina.
Whenever someone spotted a telltale fin, or better yet a dolphin leaping out of the water, a collective "ooooh, aaaah" echoed among the passengers. Adding to the enjoyment, and education was inspecting at close hand specimens that a net had dredged up from the bay floor. Among sea life we examined were a stingray, several small fish and shrimp.
It's no surprise that shrimp were among the catch because those crustaceans have been the source of an industry that has thrived in the area since the middle of the 19th century. Today, Texas consistently ranks among the top three producing states, along with Alaska and Louisiana.
The trawlers typically drag their nets along the bottom of the Gulf of Mexico for as long as three weeks at a time, working at night because the shrimp are nocturnal. When not at sea, trawlers may be spotted docked at several locations in Port Isabel.
Also not surprising are the variations on shrimp dishes that are served at local restaurants. They augment the American, Mexican and Texas-based cuisine which is included on many menus. Preparations using shrimp that were new to me included tacos, quesadilla, chipotle, omelet, Benedict and added to a BLT sandwich.
The story of shrimping is among many told at the Port Isabel Historical Museum. Exhibits there portray the area's past, beginning with the Spanish exploration period and moving on to the arrival of Native Americans, the Civil War and colorful tales of border folklore. The museum is housed in a historic building (1899) which in the past served as a dry goods store, post office and railroad station.
Port Isabel also is home to a landmark lighthouse, which was completed in 1853 to guide ships bringing supplies to U.S. military posts. During the American Civil War, it was used as an observation tower by both forces. Of 16 lighthouses along the Texas coastline, this is the only one that's open to visitors.
If climbing to the top of a lighthouse isn't your thing, perhaps world-class fishing or relaxing on celebrated sand beaches is. They're among many treats that await those who visit SPI and Port Isabel, Texas and learn why the destination has become a welcome wonderland for Winter Texans.
If you go
Accommodations include the selection expected at a beach resort destination. Typical of the budget hotels in SPI is La Copa Inn, a beachfront property with a pool, restaurant and fitness room. Rates begin at $90. Check out Lacopa Inn.
Many restaurants in SPI and Port Isabel are similar in decor (casual) and menus (lengthy). Ceviche is a common appetizer, sometimes touted as the best in SPI, all of Texas and the world.
A number of seafood restaurants offer to "Cook your catch" and serve it, alone or with sides, at reasonable prices. Because entrees, like Texas, are oversized, Fyllis and I usually shared one and, at times, an appetizer that was enough for two hungry people.
Jake's Restaurant is a typical local eatery that has been "Serving fun since 1982." Among groupings on its lengthy menu are burgers, baskets, seafood and Mexican.
Specialties include fish, shrimp, oyster and chicken baskets with sides ($10.95-$12.95) and a bountiful seafood platter with sides ($23.95) at Jake's Restaurant and Bar.
For more information visit So Padre and Port Isabel online.