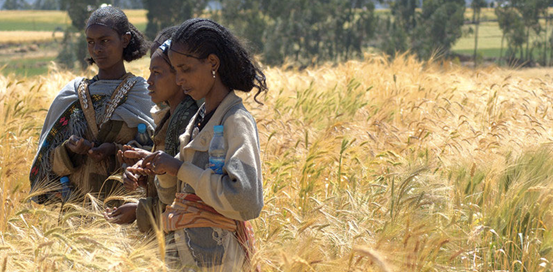 A kilometer across the valley, four mountain peaks rose like a crown through the cloud. Re-emerging below, they fell down in thin tree-lined supporting ridges like the flying buttresses of a cathedral. The shouts of Gelada baboons bounced off from the few sandy-black faces of rock that showed through the thick foliage of escarpments, whose trees stood out as if they were silhouettes in a Chinese painting.
The ridges led down to three tiny soft mounds of bright green, where barley had been sown by the inhabitants of the grass-roofed hamlets, before dropping swiftly down again into the huge cleft of an unseen river. Curved horned ibex silently drifted across un-navigable isolated battlements, bathed in shadow apart from a few patches of golden, moving illumination.
This is Ethiopia.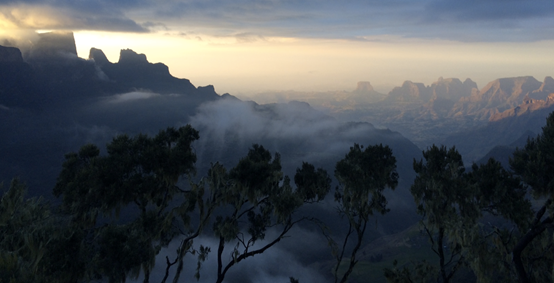 The ambas of the Simien Mountains, Ethiopia's impregnable natural fortresses
Ethiopia is a hidden gem for anyone who has a passion for wild untouched places and an interest in seeing cultures relatively undiluted by globalization. The Simien Mountains are undoubtedly its most dramatic range — its great ambas, (tabletop mountains) rise up in mind-blowing splendor — creating a topography like nowhere else in the world.
A short internal flight or a two-day bus ride from the capital Addis Ababa will bring you to the northern castle town of Gondar, where trips through the Simien Mountains can be organised. You will need a scout and it is best to take a guide and mules to carry your supplies.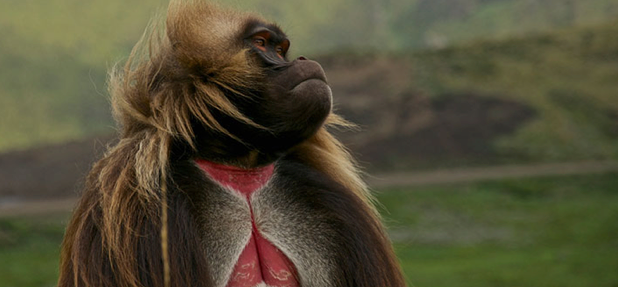 Passing through villages nestled upon highlands of indescribable beauty, I camped for three nights, scaling Mt. Bwahit on the last day for a view of Ras Dashen; at 4550m, it is the highest mountain in the country. It reclines over a parched valley of many folds of baked sun-bleached earth, a lone village of tin-sided huts flash in the sun like a lost caravan.
One thousand years ago, as King Lalibela lay in a poison-induced coma at the hand of his brother, he journeyed to Heaven where the angels commanded that he build a New Jerusalem in Africa's then bulwark of Christianity.
A day's drive from Gondar will bring you to the ancient UNESCO World Heritage site of Lalibela, where his stonemasons cut directly down into the living rock of mountainsides and carved out eleven magnificent churches.

Even the most dedicated hiker should take the time out to visit Lalibela. There is a mandatory $50 entrance fee for tourists and it is well worth hiring a local tour guide to explain the historical significance of the sites. Although one of the major attractions of the country, the town has a very peaceful atmosphere and there are a selection of good hotels.
Hidden frescos high up in the Gheralta Mountains
Further north, the Gheralta Mountains combine long acacia-filled plains with mountain ranges so picturesque that they look like Hollywood 'African' film sets. There are a number of higher-end lodges around the mountain range and guides can be procured from the villages of Hawzen and Megab for some of the best and lesser-known hiking in the country.
The people are very friendly and, hiring a lone guide, I did a five-day trek, choosing to sleep in local farmsteads where I received much warm-hearted hospitality.
In one homestead — a longhouse with a number of sheep pelts laying around or hanging from its tree trunk pillars — all six children gathered around my bed, the eldest son Hamben took down their masinko (single-stringed violin) and played while the others clapped, led by their mother Gabriel.
The younger daughter Terhaus did a little dance in the middle, wriggling her shoulders and stomping her feet. It was like a rendition from the Ethiopian version of the Vonn Trapp family and we all had a lot of fun. In the morning Gabriel performed the traditional buna [coffee] ceremony, carefully roasting the beans and waving the smoke over my head as a blessing.
We visited many of the churches cut high up into the mountainsides. The frescos inside Abuna Gabre Mickail Koraro (St. Michaels) were my favorite; with a blue and yellow theme, they leapt out from the high vaulted ceilings and twelve delicate pillars in a cacophony of martyred saints. I rested with the priest and my guide on the cool floor after the steep climb while the hot sun blazed outside.
The Sanetti Plateau – walking across the rooftop of Africa
Located in the south of the country, tours over the plateau can be arranged from the one-street town of Dinsho, with Dinsho Lodge picturesquely placed just inside the national park grounds and some cheaper hostel accommodation also available. I hired a guide, a cook and two porters, trekking for ten days across Africa's rooftop – an altogether humbling experience.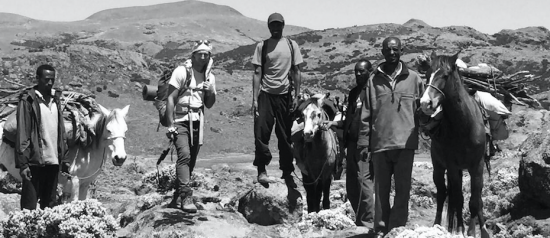 The region is absolutely packed with exotic and many endemic species of animals including the Ethiopian Red Wolf, Mountain Nyala, Gelada Baboons, Columbus Monkeys, Redback and Bushback deer, warthogs, hyenas, mole-rats and a multitude of birdlife, making this a paradise for bird-watchers. South of the plateau beyond the Harenna Forest, lions and wild dogs can still be found.
Horses are widely used here as it is cooler than in the north and are named according to their colouring. I hopped up onto Dama ['Brown & Red'] and took him through a trot, to a canter then finally into a short gallop out from camp, the cool wind whipping my face. It felt great to be out alone in the midst of such vast empty spaces.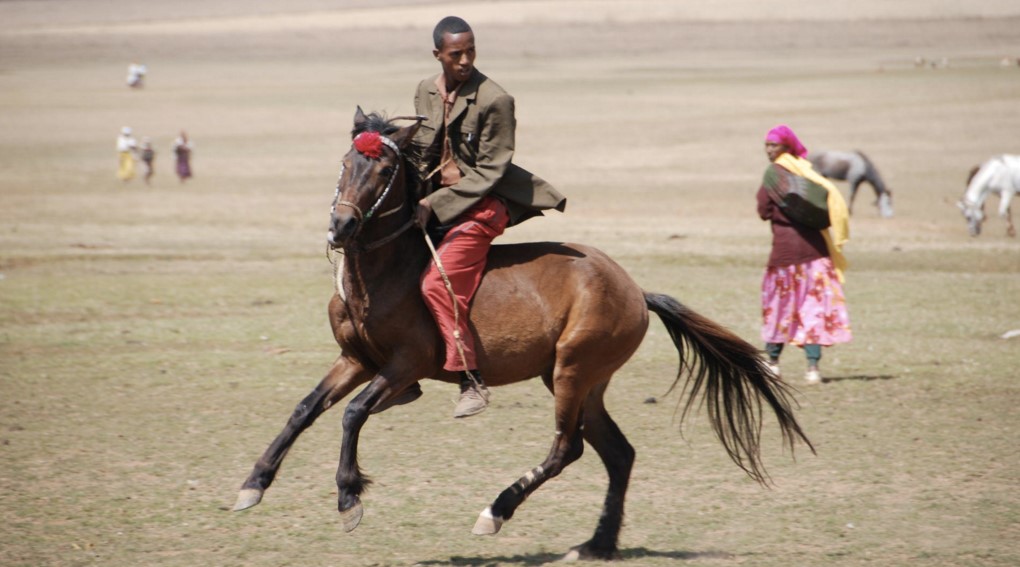 Shorter excursions are more common over the plateau, where you can climb Mt. Tuludimtu. At 4383m, it is the second highest mountain in the country. Standing on its summit beneath a cobalt sky, I watched the shadows from fast-moving clouds drift across the light flaxen shades of plains touched with olive, azure and rust that spread out all around me. It was like being in another world.
If You Go to Ethiopia
YellowWood Adventures Ltd. is a UK-based adventure trekking company operating organised trips and bespoke services for groups into the hidden kingdoms of Ethiopia's spectacular mountain ranges.
Author bio: Sam McManus, founder of YA, has a great passion for walking through distant places. He has a degree in English Literature and is based in London.