"Hold on, and let go when I blow the whistle," the man says.
I'm standing on a ledge high above an aquamarine pool at Scape Park, a natural adventure theme park near Punta Cana, Dominican Republic. The man hands me a white rope with a knot. I hold on tightly and turn toward the water. My friend, Lesli, grips another rope beside me.
"Ready, set, go!" I yell, and we run off the ledge, zipping over the water. I hear the roar of nearby waterfalls, and then the blow of the whistle. We let go and drop into the pool. Laughing, we climb up the ladder to do it again.
Dominican Republic Vacation

It isn't every day that you can plunge into an aquamarine pool, but that's just one way to spend the day in the Dominican Republic. This Caribbean island of 10 million welcomes visitors from all over the world, and it's a popular winter getaway.
Travelers come for the sunny weather, friendly people and miles of pristine beach. Many top Dominican Republic resorts can be found in Punta Cana, which has its own airport. This lush tropical island paradise is two hours by air from Miami, four hours from New York City and eight hours from most European cities.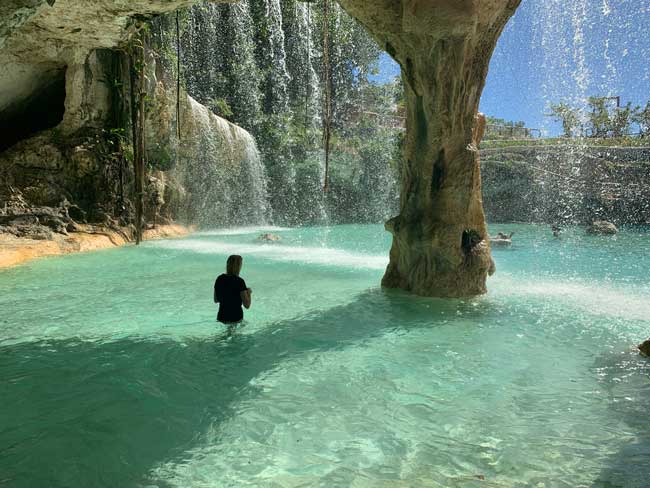 Scape Park

The Dominican Republic has a lush, diverse landscape, from mountains to tropical forests to beaches. Scape Park makes the most of that environment, turning natural land features into adventures.
At Scape Park at Cap Cana, my friends and I have swum in ancient pool-filled caverns and cenotes, hiked along a cultural trail and stood under waterfalls in the Saltos Azules. The $149 park fee includes transportation from your hotel, along with a buffet lunch and a full day at the park.
Admission also includes access to Scape Park's private beach club. There, we have the pristine shore almost to ourselves. We spend the afternoon relaxing in the water and sipping cool drinks from our beach chairs. It's a perfect escape from winter.
Dominican Republic Resorts

Many Dominican Republic resorts are all-inclusive, which means that meals, most drinks and some activities are included in the room price, making for an affordable vacation. We've chosen to stay at the Occidental Punta Cana, a lovely all-inclusive resort on Bavaro Beach, less than 19 miles from the airport.
Continued on next page