Hong Kong is like one giant foodie amusement park. Every area you visit seems to be filled with an endless array of culinary attractions to try, from street food to multi-Michelin star dining. But when it comes to the best, according to the trusted Michelin guide, there are only six restaurants that each hold three coveted Michelin stars. For traditional Cantonese food, T'ang Court at the Langham Hong Kong is the best Chinese restaurant in the city and probably the best in the world.
On a recent trip to Hong Kong, I had the opportunity to enjoy a wonderful tasting dinner at T'ang Court. Compared to the other five three-Michelin-star restaurants in Hong Kong, the style and design is very traditional. The room is ornate, with typical Chinese detailing. The focus here is on the food and service, more so than the "dining experience." And I mean that as a compliment, I enjoyed the old-school dining experience, which is what you want for traditional Chinese food. I found the service very professional and attentive, with great knowledge of each dish. Same for the wine and the sommelier, these are seasoned professionals who really know their stuff.
Our first delight (after a refreshing glass of Diebolt-Vallois Blanc de Blancs champagne) was an amuse bouche that featured some tremella snow fungus with white jelly and a lightly fried pork and crabmeat puff.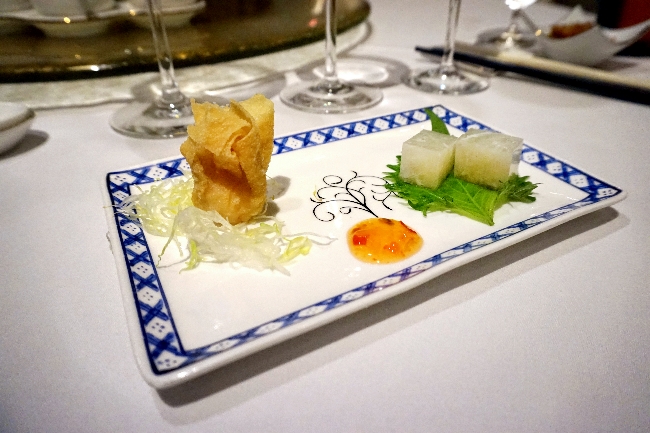 The appetizers were next, two small Cantonese-style barbecued pork spare ribs and two pan-fried rice flour rolls. The pork ribs were awesome, great barbecue glaze and the rice flour rolls were like little spring rolls, perfect with the housemade spicy X.O. sauce.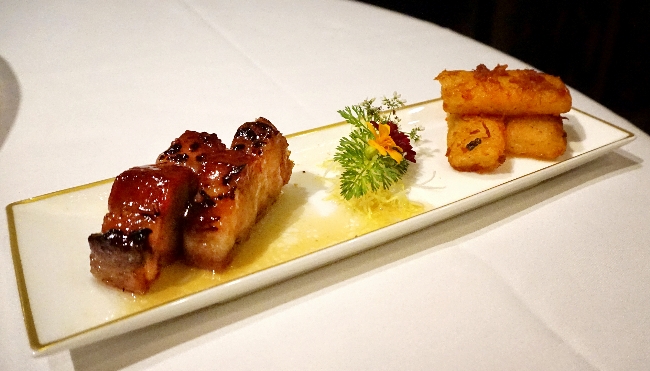 The next dish was as visually interesting as it was delicious to eat. As with other Chinese dishes, it played to the food's textures in addition to its taste. There was a bowl of pumpkin soup and in the middle was a cooked tomato half, stuffed with stir-fried mushrooms and fungus, with black truffle paste.
After the soup was a double serving of cod. First there was a sauteed cod filet cooked simply in soy sauce, and on the side were little cod fish taro puffs. The cod was joined with a wonderful 2012 Pinot Gris from Famille Hugel in Alsace. I drank a lot of wine during my foodie week in Hong Kong and this was my favorite. Very light and sweet, yet strong and fruity at the same time.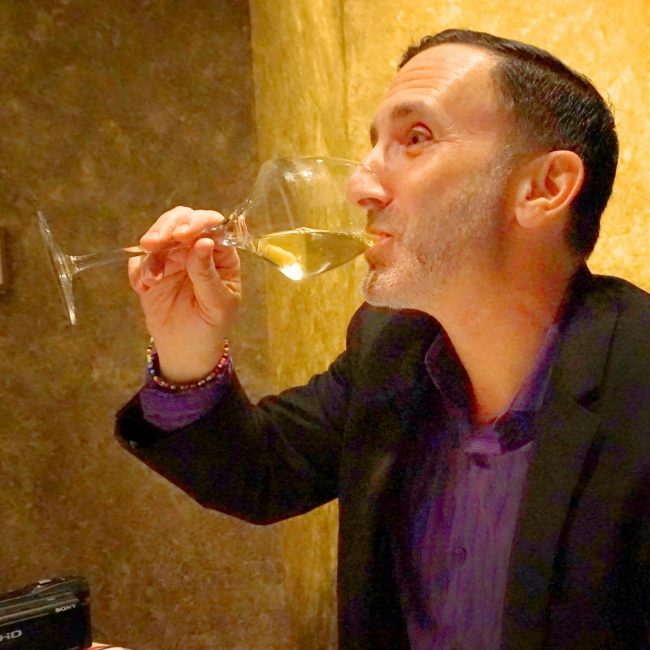 Next it was time for some Wagyu. As with truffles, having Wagyu beef with your dinner is a status symbol in Hong Kong. If you are hosting guests, it looks impressive for you to serve them Wagyu. Same thing for truffles and I found every almost every menu I encountered at Michelin-starred restaurants featured both Wagyu and truffles. Here at T'ang Court, the Wagyu was diced and stir-fried, served with spring onion and hot wasabi. I loved it and was sad it was such a small portion. The beef came with a bold Bordeaux, a 2009 from Chateau Tour Bigorre in the Cotes de Castillon region. The hearty red paired perfectly with the buttery soft steak.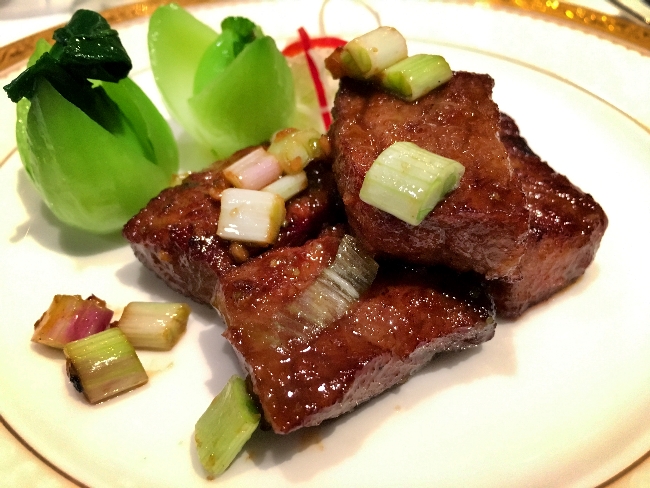 The last course before desert was some traditional fried rice. In Hong Kong, rice is not served with the meal, it's served as a separate, usually final course of a multi-course dinner. I was in Japan right before I went to Hong Kong and found the same thing there. This fried rice had scallops, avocado, yummy Yunnan ham and corn. The fried rice was paired with an Australian Pinot Noir from Coldstream Hills in the Yarra Valley. This complex red was a great finisher to the meal and matched well with the fried rice.
For dessert, it was two baked fresh egg tarts, a traditional Cantonese dessert. There was also a nice selection of fresh fruit. The fruit and tarts were joined with a lovely sparkling dessert wine, a 2016 Piedmontese Moscato d'Asti from La Morandina. Aside from that Pinot Gris with the cod, this was my second favorite wine I had during my whole time in Hong Kong. Just the right amount of sweetness with a wonderful palate of fruit and flowery flavors.
T'ang Court is located inside the beautiful Langham Hong Kong in Kowloon.
Read more of Freddy Sherman's take on travel on his Go World Travel Blog. You can also follow more of his adventures at luxuryfred.com blog and on his YouTube channel.