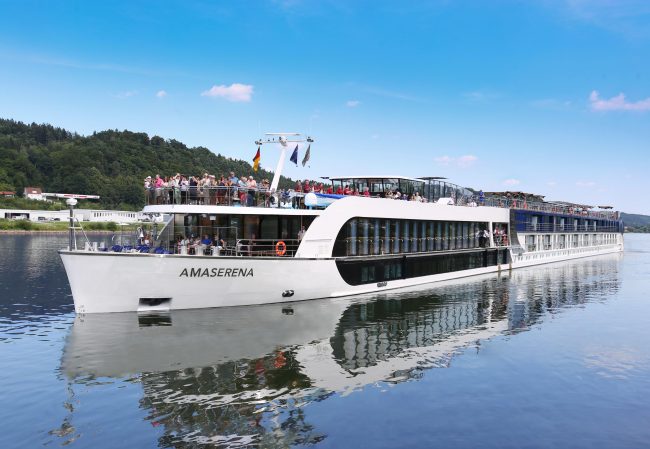 I have sailed along the Danube before, but only the upper part, not the lesser-cruised Lower Danube, which offers generous portions of history giving a different vision of Europe. This AmaWaterways river cruise on the Danube visits lesser-known ports once behind the former Iron Curtain.
A motorcoach whisks me from Budapest airport to join the 164-passenger AmaSerena where my twin balcony cabin awaits. One balcony is furnished with a table and two chairs, the other, a French balcony, has floor-to-ceiling glass doors.
An evening cocktail party is followed by the mandatory safety briefing and welcome dinner.  I am invited to eat in the 28-guest Chef's Table Restaurant which offers a full splendored tasting menu comprising regional specialties and local wines.
AmaWaterways River Cruise on the Danube
Then it's time to set sail so that everyone can see Budapest's evening illuminations before returning to the berth. It isn't until the following morning that the cruise proper starts with the first of a daily program of excursions; sightseeing, cycling and walking – the latter graded according to ability – all included in the fare. Before every excursion, you're reminded not to forget your Quietvox, a device through which commentary is offered.
Wine and Phantoms in Croatia

At Vukovar in Croatia, excursions offered include a Yugoslav Civil War tour and a visit to Ilok, where I tour 15th century wine cellars and enjoy tastings.
The next stop is Novi Sad, Serbia's second city, where AmaSerena moors. We set off on a walking tour where our guide explains that the 1999 war devastated the city, though in recent years much of it has been pleasantly rebuilt.
That evening, there is an optional visit to Petrovaradin Fortress. It has an interesting clock tower with a 'Reversed Clock'; the small hand shows minutes, the big hand shows hours. This enabled Danube fishermen to see the time from a distance.
In the fortress, we get torches to explore a maze of supposedly haunted underground corridors. It looks creepy enough to house the odd phantom, but no-one comes across anything ghostly so maybe it's just a story.
A Visit to Belgrade, Serbia
Overnight the engines rumble and we're off again, this time to Serbia's capital Belgrade, a city with a mix of architectural styles from Ottoman to Art Nouveau. Sadly, we still find evidence of bomb damage from the 1990s war.
Continued on next page