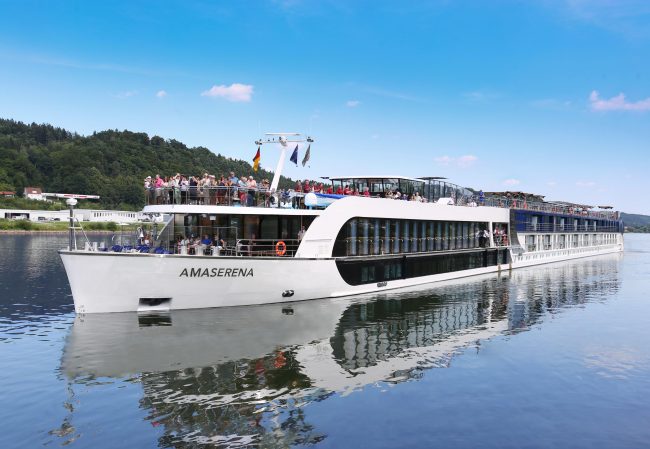 I have sailed along the Danube before, but only the upper part, not the lesser-cruised Lower Danube, which offers generous portions of history giving a different vision of Europe.
This AmaWaterways river cruise on the Danube visits lesser-known ports once behind the former Iron Curtain.
A motorcoach whisks me from Budapest airport to join the 164-passenger AmaSerena where my twin balcony cabin awaits.
One balcony is furnished with a table and two chairs, the other, a French balcony, has floor-to-ceiling glass doors.
An evening cocktail party is followed by the mandatory safety briefing and welcome dinner.
I am invited to eat in the 28-guest Chef's Table Restaurant which offers a full splendored tasting menu comprising regional specialties and local wines.
AmaWaterways River Cruise on the Danube
Then it's time to set sail so that everyone can see Budapest's evening illuminations before returning to the berth.
It isn't until the following morning that the cruise proper starts with the first of a daily program of excursions; sightseeing, cycling and walking – the latter graded according to ability – all included in the fare.
Before every excursion, you're reminded not to forget your Quietvox, a device through which commentary is offered.
Wine and Phantoms in Croatia

At Vukovar in Croatia, excursions offered include a Yugoslav Civil War tour and a visit to Ilok, where I tour 15th century wine cellars and enjoy tastings.
The next stop is Novi Sad, Serbia's second city, where AmaSerena moors.
We set off on a walking tour where our guide explains that the 1999 war devastated the city, though in recent years much of it has been pleasantly rebuilt.
That evening, there is an optional visit to Petrovaradin Fortress. It has an interesting clock tower with a 'Reversed Clock'.
The small hand shows minutes, the big hand shows hours. This enabled Danube fishermen to see the time from a distance.
In the fortress, we get torches to explore a maze of supposedly haunted underground corridors.
It looks creepy enough to house the odd phantom, but no-one comes across anything ghostly so maybe it's just a story.
A Visit to Belgrade, Serbia
Overnight the engines rumble and we're off again, this time to Serbia's capital Belgrade, a city with a mix of architectural styles from Ottoman to Art Nouveau.
Sadly, we still find evidence of bomb damage from the 1990s war.
Visitor attractions include the white walled Church of St Sava, the world's second biggest Orthodox church.
The religion demands that only human voices are allowed here – no organ music.
Worshippers must stand during services, and because the church follows the Julian calendar, Christmas day is on January 7.
We go to Mount Avala, too, topped by the 204m Avala Communications Tower. The lift whizzes us up to the viewing platform so that we can see sweeping views of Belgrade.
The Iron Gates and King Decebalus

The next day is a full day sailing, commonplace on ocean cruises but unusual on river cruises. We pass through the Iron Gates, a gorge between Serbia and Romania.
We sail past a convent, which is confusingly referred to as a 'monastery' – our guide tells us that in this region, all buildings which are workplaces and living quarters of monastics are called monasteries, though in this instance, it's nuns who live here.
Then it's all eyes on the gigantic head which is hewn in the rock face. It belongs to Rome's enemy King Decebalus, carved for eternity into the limestone cliffs.
At one point, he battled the Romans for freedom for Romania. The locks capture passengers' attention too, this massive lock complex is the river's largest.
The good thing about spending a whole day on the AmaSerena is the chance to enjoy the facilities.
A heated pool on the top deck with swim up bar, small fitness centre and in room internet, films and music.
Sailing through Bulgaria's Back-of-Beyond

But our journey isn't over yet. The next morning, I am welcomed by sunshine and birdsong in Vidin, an off the beaten track Bulgarian town.
After breakfast, it's time for the Belogradchik excursion. This village with an ancient fortress clings to the slopes of the Balkan Mountains.
A steep walk over rocky ground takes us past amphitheatres of UNESCO listed rock formations with quirky names – the Madonna, the horseman, Adam and Eve, the cuckoo – incredible to think they are around 230 million years old.
Later that day we visit Rousse, sometimes written 'Ruse', a pretty town with fountains, flower-filled parks, pedestrianised shopping area and loving couples entwined on benches.
Sailing the Danube to Giurgiu, Romania
On the final day, the AmaSerena berths at Giurgiu in Romania. Those guests who have chosen a post-cruise stay are whisked to Bucharest with the option of a full-day excursion in Romania's capital.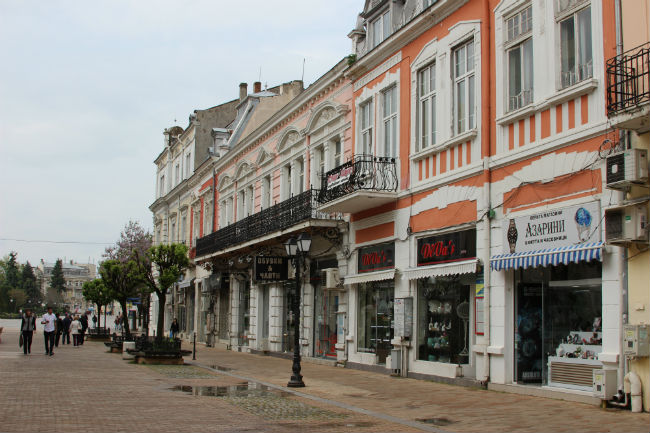 However, it's time for me to head for the airport, so I only glimpse the city from the windows of my cab.
The outskirts littered with Soviet-era apartment blocks give way to a somewhat faded grandeur, tree-lined avenues and a nod to French panache with a faux Arc de Triomphe. It's pleasing to the eye.
And of course, no time to explore gives me a reason to return to this wilder, underrated part of the Danube, best seen from the comfort of a river cruise ship.
If You Go
AMA Waterways offer river cruises worldwide including several Danube itineraries. More information at www.amawaterways.com 1-800-626-0126
Author Bio: Gilly Pickup is an established freelance journalist, travel writer, photographer and author of six books. Gilly writes about destinations worldwide, specializing in city breaks, cruise, food and wine, arts & culture, heritage, wildlife, health/wellbeing and history. Her articles are published in national newspapers and magazines. She is a member of the British Guild of Travel Writers. Follow her on twitter @Gilly_Pickup or @TravellingLady_ Websites www.gillypickup.co.uk and www.travellinglady.co.uk
;