A waiter serves champagne cocktails as the vintage 1914 paddlewheel steamer Savoie gets under way. The ship's dining room is bright and cheery, with picture windows for viewing the stunning mountain scenery. The evening meal, created by a Michelin star chef, includes lobster ceviche, risotto with mussels and clams, and filet steaks in mushroom sauce with asparagus and potato puree. All accompanied by fine wines. Hours later, after dessert and espressos, the sun has set.
On a cruise ship, my wife and I might retire to our stateroom. But the Savoie has no overnight accommodations. This has been simply a dinner excursion on pristine Lake Geneva. Back at the quay, we return to our Geneva city hotel.
Day Trips in Switzerland
We are touring Switzerland a special way, by taking a series of delightful day trips on its long and lovely Alpine lakes, where elegant old steamboats and modern diesel ferries come and go frequently. They carry passengers to historic towns, postcard-perfect villages, lush islands and impressive castles. We can head out with one sailing and return on a choice of later boats. Using the pre-paid Swiss Travel Pass, which also covers train travel, we just hop on and off as we like. It could not be more convenient. Ours is a deluxe trip, but many fellow travelers go second class quite comfortably and bring along picnic-style food and drink.
Dinner Cruise in Geneva
Our dinner cruise from Geneva showcases one part of Switzerland's French-speaking western region. We see Lake Geneva's opposite end on a lunch cruise departing from Vevey, where Charlie Chaplin spent his later years. A lakeside bronze statue pays him homage. Good fortune has us there on the day of the annual naval parade. Six classic steamboats, several over a century old, slip past each other, saluting with their whistles, against a backdrop of glacier-clad peaks in one direction and sloping vineyards in the other. Our sailing takes us to painstakingly restored 12th century Chillon Castle, which we explore on a shore excursion.
In German-speaking central Switzerland, we spend an afternoon on Lake Lucerne. The Stadt Luzern, another stylish steamer, has hosted such notables as Queen Elizabeth. The ship is large and steady, its engines quiet and smooth. Passengers can look down into the spotless engine room, with polished brass instruments, as the pistons thrust in and out. Huge red paddlewheels toss off sparkles of spray, driving us forward at 14 knots. We are traversing the entire lake. Others board for much shorter distances, from one boat landing to the next. They bring bikes, backpacks and baby carriages.
Places to See on the Switzerland Alpine Lakes 
Some of the stops are at iconic places in Swiss history.
Ruetli, is where a legendary oath was taken in 1291, establishing the Swiss Confederation. A plaque on board explains that in 1940 Stadt Luzern carried the top Swiss commander, General Henri Guisan, and his staff to Ruetli for a landmark speech. The country was surrounded by Nazi German and Fascist Italian forces. "The survival of Switzerland is at stake," Guisan told his fellow officers, outlining a carefully prepared "redoubt" strategy in case of an invasion. It called for retreating into heavily armed, well-stocked mountain fortresses, and defending the narrow passes, rather than surrendering.
We pull in briefly at an elaborately decorated chalet-style building, the House of Treib, where delegates from the original five cantons of the Swiss Confederation met 72 times over the centuries. The present building dates to 1658. Now a tavern and restaurant, it is also a national historic site with the old meeting room open for viewing.
Our cruise ends in Lucerne, one of Europe's most beautiful cities. We stroll across the 14th century covered wooden bridge, trek the massive old city walls and watch dusk settle over the lake.
Our final two lake outings are in the Italian-speaking canton of Ticino, south of the Alps, a balmy region of vineyards, red tile roofs, sultry breezes and palm trees.
Ascona is a charming former fishing village on sinuous Lake Maggiore. The old town is a warren of cobblestone alleyways and art galleries. The pedestrian-only lakefront is lined with lively cafes.
A day boat takes us out to the Brissago Islands, where a manicured botanical garden features over 1000 varieties of subtropical trees, shrubs and flowering plants from around the world. All set among pools, sculptures and tranquil trails.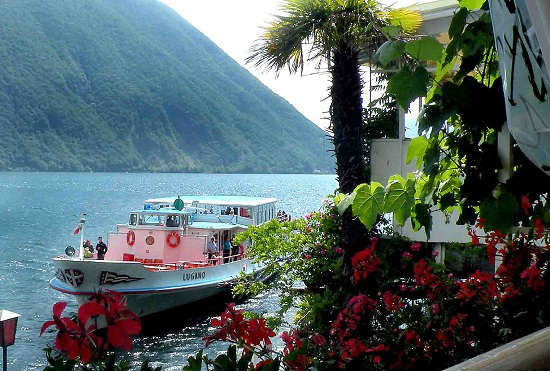 In nearby Lugano, on Lake Lugano, dappled sunlight filters through lindens and horse chestnuts along the waterside promenade. A resort area called Paradiso has Victorian-era grand hotels, carousels, fountains and parks displaying public art. Residents fish, swim and sunbathe. A gravity-defying funicular climbs 3000 feet to a chapel atop Mt. San Salvatore, affording fabulous views over the lake.
Our boat from the Paradiso dock follows a shoreline studded with stately homes. We disembark at tiny Gandria, a quaint vertical village without streets or cars. Steep stairs and footpaths lead up between ancient stone houses with intimate courtyards. From a high restaurant patio, over cold beer and snacks, we watch a skillful wind surfer swoop through the whitecaps below.
Afterwards, there is a tough choice. We can hike back to Lugano along the scenic Olive Path, skirting a hillside of centuries-old olive trees. Or we can be lazy and catch the next boat back to Paradiso.
The name says it all. Yes, we tell ourselves. Paradise is spending long, lingering days on the glorious Swiss lakes.
If You Go

MySwitzerland.com provides information about Switzerland's regions, accommodations, and travel using the Swiss Travel Pass.
Author and Photographer Bios: Tom Koppel is a veteran Canadian journalist, author and travel writer whose latest book, Mystery Islands: Discovering the Ancient Pacific, can be obtained by writing to [email protected]. Annie Palovcik's photos have been published in the US, Canada, Britain, Germany and Australia.