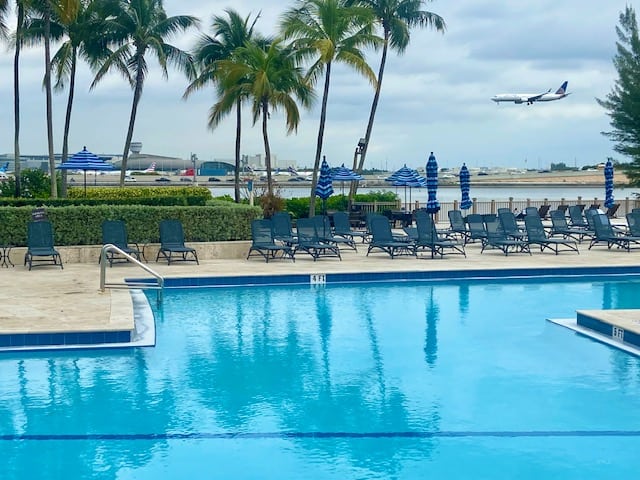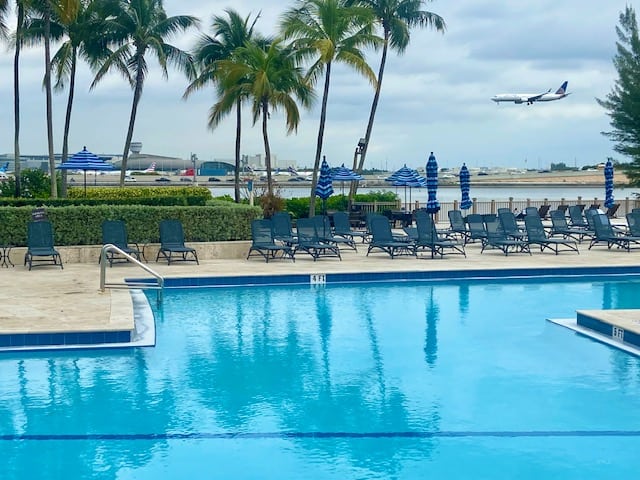 "That looks like a resort," said travel writer Dennis Lennox upon seeing my social media post of the Hilton Miami Airport Blue Lagoon
Convenience, presumably, is the number one reason for travelers to choose an airport hotel. But Michael Hooper, general manager of the Hilton Miami Airport Blue Lagoon, offers a spoonful of sugar with the travel medicine. Experienced road warriors are discerning, sometimes worn out, are doing business while they travel, and usually don't have much time.
"Airport hotel guests need a comfortable bed, good food and beverage, a good shuttle service, and they need to feel welcomed by the team," said Hooper. "But we also bring some tranquility to our guest's stays. Being in Miami they want sunshine and a pool and some outdoor activities."
When I posted a photo of an airplane landing beside a swimming pool and a lagoon with kayakers on it, a colleague of mine posted a comment saying: "That looks like a resort."
Hilton Miami Airport Blue Lagoon feels like a resort. And it's named Blue Lagoon for a reason: the hotel is on a peninsula virtually surrounded by one.
Tranquility Base
There is a tranquility, also, to knowing you are adjacent to the airport if you should need to get back and forth there quickly, as I did a number of times during my stay.
"There are many corporate offices near here for Latin America and the United States. Sometimes people want to fly in and have quick meetings and get back on the plane. We have meeting rooms for that reason," Hooper explained.
But it's also nice to be in an "out of the system" oasis – even for just a few hours – if you have a long layover or are embarking on a cruise. The feeling of being processed and herded through the airline system, particularly if there are still mask regulations, can make one feel like a lab rat. Jumping over from the terminal to the Hilton Miami Airport Blue Lagoon feels like a jailbreak.
Home on the Way to Home
Hooper's list of priorities for airport hotel travelers is fully realized as the Hilton checks all the boxes:
For those who arrive by car there is ample on-site parking and the ability to leave your car for as little as four-dollars per-day when traveling.
Guests arriving by air at Miami International Airport are met outside the "arrivals area" by a large shuttle that runs every 30 minutes from 6 a.m. until midnight without having to call.
The business crowd can get right to work as the atrium lobby has a sunken area with a conference table and four printer-attached computers. Those workstations, by the way, are not hidden away in some windowless back office – they are virtually within reach of the bustling Cove Bar with sports on television and have a view of the pool area and the Blue Lagoon Saloon for poolside hydration.
In terms of convenience options, the lobby also has a quick-stop but upmarket Herb n' Kitchen store with quality products such as Tate's Bake Shop Cookies, scones, salty snacks, vitamin water, Florida-brewed craft beers such as Havana Lager and Jai Low and a deli counter for quality sandwiches, wraps, salads and more made on order.
The open-concept lobby Coral Cafe restaurant, adjacent to the meeting areas, serves better-than-expected airport hotel food, as evidenced by the burger and the Bolognese I sampled on consecutive nights – once dining and once in my room.
Room with a View
Speaking of my room, my particular two-room suite was spacious and functional. The desk was situated to look over the pool area, incoming flights, the Marlins baseball park, and the downtown Miami skyline, which were also visible from bed or the sitting area in the other room with the couches, chairs, end tables and mini fridge.
But my favorite feature was the large, screened balcony. There was something soothing about, day or night, sitting and looking down from the sixth floor across the lagoon to see the flights coming in off the Atlantic and gliding along the Dolphin Expressway into MIA.
From down at the swimming pool and hot tub area it was also cool to play ping-pong and see the juxtaposition of those flights floating in over the floating kayakers on the lagoon below.
Land, Divert and Connect
Some guests are content to not leave the Hilton's campus, and they are made to feel at home by the hotel staffers such as Richard and Trasa, who, even at 6 a.m., were enthusiastic and friendly. Trasa, who said she is also known by the name 'Sunshine,' showed me her closed fist and opened it with a fling. "I'm just throwing some joy your way," she said with a smile!
But there are accessible diversions in nearby Coral Gables and elsewhere.
"We are close to shopping, the baseball stadium, and even close to the beach if you just want to stay at a hotel that's a little more affordable," said Hooper.
It's not out of the question that someone visiting Miami would use the centrally located, freeway accessible Hilton as a hub to sightsee in Miami's many different diverse districts, from Coconut Grove to South Beach and Wynwood Walls, Key Biscayne or the Everglades.
Little Havana's colorful "Calle Ocho" district is about six miles away for another iconic, cultural Miami experience with live Cuban music, food, cigars, and a decidedly international escape. Walk the streets and see the murals and monuments and dine at the upscale Café La Trova featuring James Beard award-winning chef Michelle Bernstein's menu and sip mojitos and more by Miami mixologist Julio Cabrera.
The streetside veranda at Guantanamera is fun for people watching with a stogie from their humidor or rolled on the spot. You'll hear and inevitably dance to live music there and across the street at Olds Havana, which offers a sun-splashed back courtyard and pressed Cuban sandwiches plus other authentic cuisine, too.
MIA in Action
I am remiss if I have made Miami International Airport sound like a grim gulag. It is not. While MIA is rather industrially unremarkable to view from the outside (as opposed to, say, DIA in Denver), George Neery, a Miami-based custom cultural tour guide with ToursRUs.Miami, told me to keep my eyes open for fanciful, artsy touches on my way between Miami's gates, baggage claim, and even the parking deck.
I was pleased I did.
"Going through an airport can be stressful," admitted Greg Chin, communications director for the Miami-Dade Aviation Department, "so we have an award-winning, world-renowned art program. There is art in public places, numerous pieces throughout the airport, and some of it is permanent."
And some of it you step on.
"Even in the terrazzo in the busiest part of the airport is called 'A Walk by the Shore,' which represents South Florida. There are symbols of seashells and seaweed as you walk through there."
Or run through there, I suggested to Chin.
"It's a nice diversion as you're hustling through the airport to take your mind off things and enjoy a taste of South Florida," he said.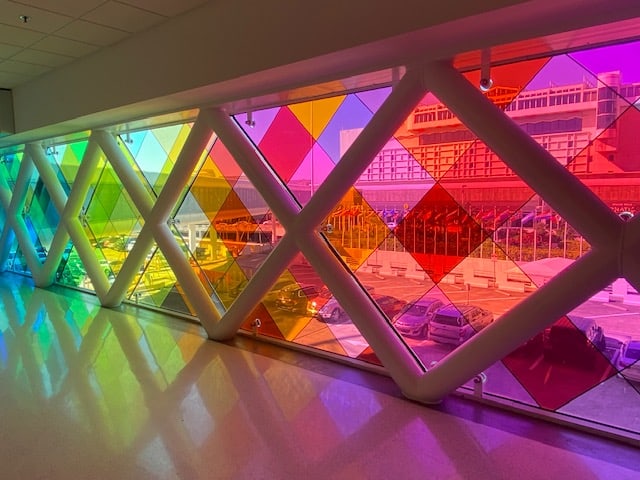 Rapid Testing On-Site at All Hours
I also availed myself of one of the 24-hour rapid Covid test centers the airport offered outside of arrivals in order to get a result within 40 minutes. Some international flights insist on a negative test within 72 hours of travel, which can be complicated and stressful – but not at Miami Airport.
"It's been convenient and popular. Hundreds of passengers are tested daily. If you're in a rush it's right outside, 24 hours a day, with rapid PCR results," said Chin.
I happened to use the Central Terminal Facility operated by Communitel and Family Rehab, Inc. located at ground level just outside Concourse E in front of door 11. I was told it's least busy at 7 p.m. and that proved to be true. The cost was $175 for the RT PCR result. A colleague of mine flew in at midnight for an 8 a.m. flight and had a seamless experience.
Read more on Michael Patrick Shiels' travel blog, The Travel Tattler. Contact Travel Writer Michael Patrick Shiels at [email protected]
Latest posts by Michael Patrick Shiels
(see all)