"We didn't just buy 245-acres…we bought a million miles of sky, too!" – Lilian Sandburg
Carl Sandburg Home National Historic Site
One of the sweetest spots in the south is a naturally pristine parcel of land once occupied by Carl Sandburg, the Pulitzer Prize-winning poet and author who bought the 245 mountainous acres in Western North Carolina to feed his soul while his wife fed goats.
More on the goats, in a moment – but first it's worth noting that some feel Sandburg himself was a "g.o.a.t." – the greatest of all time when it came to being the "Voice of America" in his life-long struggle to extend the frontiers of social justice.
The man who covered the 1919 Chicago race riots and studied labor laws to immerse himself in the plight of the American worker and fight exploitation sought solitude and serenity during the last phase of his life.
Sandburg found it – and hundreds of goats – at a place called Connemara 30 miles southeast of Asheville, North Carolina. A place that is now the Carl Sandburg Home National Historic Site.
Getting Steps in the Footsteps of Fame
Asheville, North Carolina is known for literary giants. F. Scott Fitzgerald hung out at the Grove Park Inn; it was home to Thomas Wolfe, who wrote You Can't Go Home Again; and O. Henry is buried there.
While Sandburg isn't exactly in their shadow, his property is almost literally in the shadow of the Asheville's Biltmore House, the historic, 178,000 square-foot American castle built on the 8,000-acre Vanderbilt Estate in 1895.
As a tourist destination, it's a big-time commercial operation. By contrast, the Carl Sandburg Home and grounds are a completely different experience.
The grounds are operated by the National Park Service. There is no fee and visitors can pull right up, park the car, jump out and spend five minutes gawking up at the charming home or all day wandering the forest trails and meadows.
While the Biltmore chateau's broad estate grounds are lined with manicured topiaries and walls, the Sandburg property is lushly natural.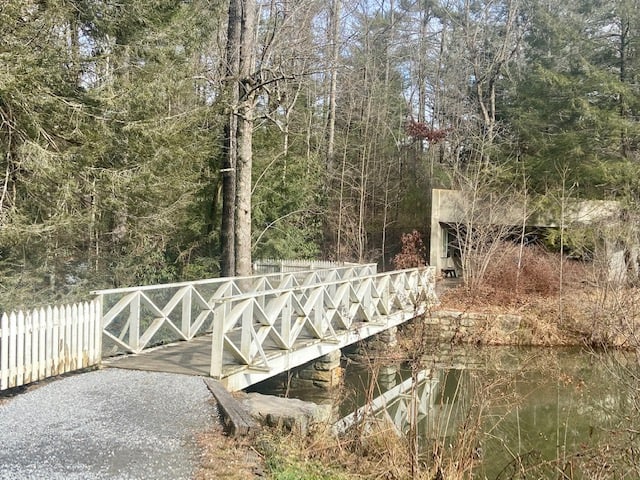 Rather than busloads of tourists, you're more likely to meet Flat Rock locals walking their dogs, pushing strollers, toting backpacks, and snapping high school pictures.
One gets the sense they're not all that concerned about the Sandburg legacy as much as they are charmed by the property and using it whatever way suits them, which I think Sandburg would not have minded at all.
Even the small visitor center, with its storyboard panels, lies so subtly in the terrain it doesn't take away from the placid pond, small waterfall and trees which surround it.
As National Historic Sites go it's not Kitty Hawk or Mount Rushmore, but there's an everyman energy, beauty and timelessness to the property that is rough-hewn and whimsically welcoming.
Finding Carl
For such a precious place one might drive obliviously right past the small sign leading to the entrance next to the little lower parking lot. The Sandburg property is behind the Flat Rock Post Office and round the corner from the Wrinkled Egg – a quaint curiosity shop nobody fails to notice in a one stop-light village. Modern-day notables living in the area include golf course architect Tom Fazio and CBS golf broadcaster Ben Wright – both artists in their own right.
Chimney Rock, another local tourist site, gets a lot of attention, but an elevator takes camera clutching passersby to panorama on top…Sandburg's property requires a one-mile trail hike uphill for the payoff of a view from the top of Big Glassy Mountain where the Sandburg family picnicked and sang along while he played guitar.
"We didn't just buy 245-acres…we bought a million miles of sky, too!" Lilian exclaimed at the time.
The stately Sandburg home, built in 1838, is visible from the parking lot for those who prefer not to make the 0.3-mile, 10-story walk up to it to peer in the windows or to take a guided tour of the home which is presented as "lived in" by the Sandburg family.
Just behind the home on a sloped, rocky outcropping where Sandburg was known to sit after lunch with a tablet of paper and a pencil to craft poems in the quiet.
"It is necessary now and then for a man to go away by himself and experience loneliness; to sit on a rock in the forest and ask of himself 'Who am I, and where have I been, and where am I going?'" Sandburg wrote (and apparently did.) You can, too, at the Sandburg home and grounds.
Goaded to Leave Michigan for Goats
President LBJ described Sandburg as "America's voice," but it was the quiet that drew Sandburg, in 1945, away from life in Southwest Michigan after almost 20 years. Sandburg, who'd moved to Michigan from Chicago, this time traveled, at age 67 to a new home on a property known as Connemara between Asheville and Greenville, SC.
It was his wife Lilian, who'd been born in Michigan but preferred the Carolina climate for raising her prize-winning goat herd, who goaded him to go. "I love it here," Sandburg said upon leaving the Lake Michigan home where he was known to skip stones. "I am going to miss it all."
The floppy-eared, white, and tan varieties of goats the guests now encounter at the Connemara Farms Goat Dairy on the National Historic Site grounds are descended from Lilian's original herd of 200 champion milk-producers.
While his wife produced mountains of milk, Sandburg kept busy there, too. The Lincoln biographer often worked all night and ended up writing more than one-third of his literary works during the 22 years in Carolina before passing away there in 1967.
He'd found, during the last years of his life, what he described as a "the creative hush" in the mountain air of his 245-acre estate.
You can be as active as you wish during a visit in any of the seasons – there are five miles of short, long, easy, or vigorous trails beyond the small visitor center through those forest acres, along the ponds, and past the farm buildings, gardens, woodsheds, icehouse, an amphitheater, and horse barn.
"The water never stops running in the stream at the foot of the mountain…young sheep bleat, birds chirp learning to fly," Sandburg wrote.
Read more of Michael Patrick's work at The Travel Tattler, or contact him at [email protected]