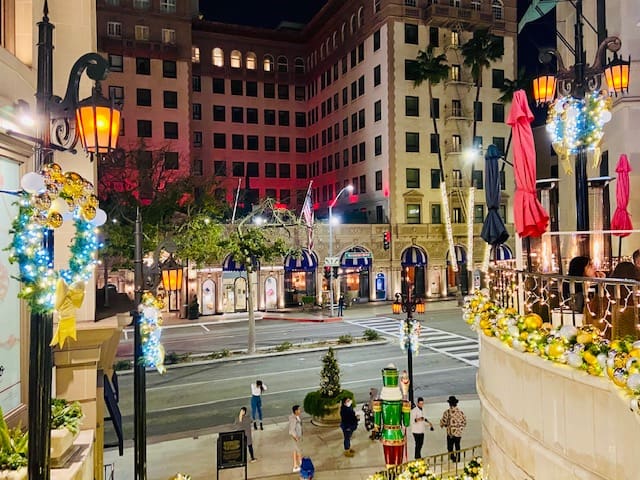 The very best place to start a walk in Beverly Hills is the Four Seasons Beverly Wilshire Hotel – the historic property perched atop ritzy Rodeo Drive.
If someone tells you to "take a hike," instead of taking offense, I say smile, turn tail, and then choose an interesting place to get your steps in. You might wind up thanking them in the end. I suggest glamorous Beverly Hills, California, for intriguing exercise via a wonderful walk.
Four Seasons Beverly Wilshire Hotel
Once, in Tralee, Ireland, I asked a shopkeeper for driving directions to Dingle. He looked at me and responded, "Dingle, eh? Well…I wouldn't start from here."
The very best place to start a walk in Beverly Hills is the Four Seasons Beverly Wilshire Hotel, the historic property perched atop ritzy Rodeo Drive. That's where I began my day on foot but believe me, it wasn't easy to leave the hotel in the first place because Beverly Wilshire is like an embassy of luxury. My arrival there was special, too.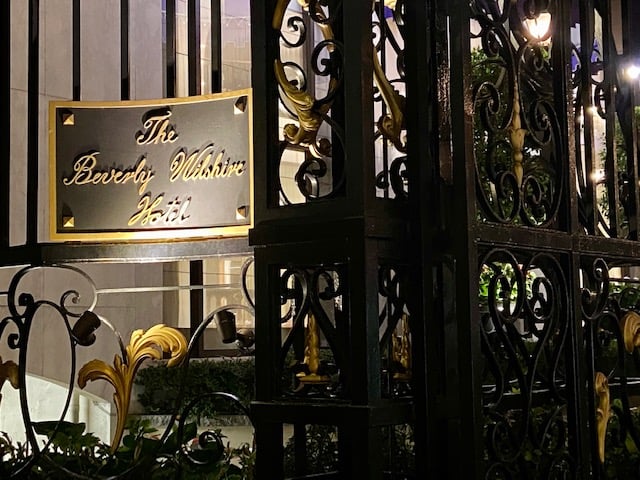 Maserati Suite Package
It seemed appropriate that the driveway cobblestones at the secluded entrance to the Wilshire were laid by Italian artisans since I drove up in an Italian luxury vehicle: a Maserati Levante SUV.
I picked up the snazzy ride upon landing at LAX as part of the Wilshire's "Maserati Suite Package" in which guests get behind the wheel of the luxury vehicle for 24 hours and get 20-percent off the price of a suite. The rental car attendant at the airport, who escorted me to the front of the line and then onto the special luxury car garage, was impressed with the elegant white Maserati.
"I saw you'd originally booked yourself a Chevy Spark," she noticed with a chuckle. "You're going to Beverly Hills, though. They wouldn't even have let you into town in that car!"
Once I put it in gear, the Maserati was purring, my heart was pumping…and my stomach was growling after a cross-country, meal-less flight.
It took all my willpower not to steer into the In-N-Out Burger just outside the entrance of LAX. I certainly wasn't going to eat in the Maserati, but I also thought it might be beneath the fashionable stature of the gourmet vehicle to have it pulled up at fast food restaurant drive-thru window.
Although I hear managers at In-N-Out earn up to $150,000 per year, I also heard, in my head the voice of Fox News auto analyst Mike Caudill and his reaction when I told him about the "Maserati Suite Package" before my trip.
"A Maserati on Rodeo Drive in Beverly Hills…there is no other driving experience that rivals that.," he exclaimed.
Eager to follow his advice I pressed the pedal and merged onto the famed and feared Los Angeles freeways to get to Beverly Hills as fast as I could, where Peter Humig, Four Seasons' Regional Vice-President and General Manager of the Beverly Wilshire Hotel greeted me.
"L.A. is all about the cars. Instead of sending a limo, we give you a Maserati in which to explore Beverly Hills, Santa Monica and Hollywood," Humig explained. "The L.A. traffic is not as bad as people say."
The glamorous Beverly Wilshire Hotel was built in 1928 on the site that was once the Beverly Hills Speedway. Rodeo Drive now is like an auto show every day with Lamborghini, Ferrari, Rolls Royce and Bentley motor cars rumbling and purring past glittering emporiums.
Shopping Spree
Perhaps only Hotel Paris in Monaco and the Hassler Hotel atop Rome's Spanish Steps are equal to the Beverly Wilshire in the way their windows literally look down over a canyon of chic couture. The hotel has a fashionable rooftop outdoor space called The Secret Rose Garden for panoramic gatherings.
"We are truly at the beginning of Rodeo Drive with every famous shop…Chanel, Gucci, Prada… you name it," said Humig of his hotel, which is perched like an intricate, up-lit, 14-story jewel box at the top of the Rodeo on Wilshire Blvd.
Moviegoers remember the Julia Roberts shopping spree in the romantic comedy Pretty Woman, the film also starring Richard Gere which was set at the Beverly Wilshire. Real life Hollywood types turn up for real at the hotel, as do US Presidents, other heads of state, and royalty.
Embassy or Palace?
If you watch the television series The Crown on Netflix and fantasize about what it's like to be a royal, the Beverly Wilshire can just about make it happen. Presidents of the United States, the Emperor of Japan, and other monarchs have rested their crowned heads on the Wilshire's soft pillows.
And aside from the royal treatment I received from every member of the team, something about my sense of arrival and my strolling through the hall made the property seem more like a palace than a hotel.
It turns out my instinct was accurate: the Beverly Wilshire's porte-cochere is lined with gas lanterns imported from a castle in Edinburgh and the stately, ornate style of its gilded gates are inspired by those at Britain's Buckingham Palace.
The King of Rock and Roll, Elvis Presley made his arrival on occasion at the Beverly Wilshire, but not every member of Hollywood royalty wanted to create palace intrigue by having consorts come through those palace gates. Warren Beatty, a showbiz prince and legendary lothario, lived in the hotel for a decade, according to Humig.
"Rumor has it there was a secret staircase where he would have his guests come up so nobody could see who was visiting him. We all know he had a fairly high number of visitors."
Splashy Scene
I was not incognito in my visit to the Beverly Wilshire and I always kept my eyes open to see who might be bopping around beside me at any moment.
A historic hallway displayed celebrity photos, artifacts and plenty of nostalgia, including the fact that the hotel's warm swimming pool and cabana area is a replica of the one at international superstar Sophia Loren's 16th-century Roman villa.
After an evening of stargazing over the Hollywood Hills from my guest suite balcony, I began my morning at the pool swimming gentle laps in the stately, artsy pool area and feeling haute in the hot tub. Lo and Elsi, two friendly pool attendants, looked after me as if I were Sophia Loren or Lawrence of Arabia.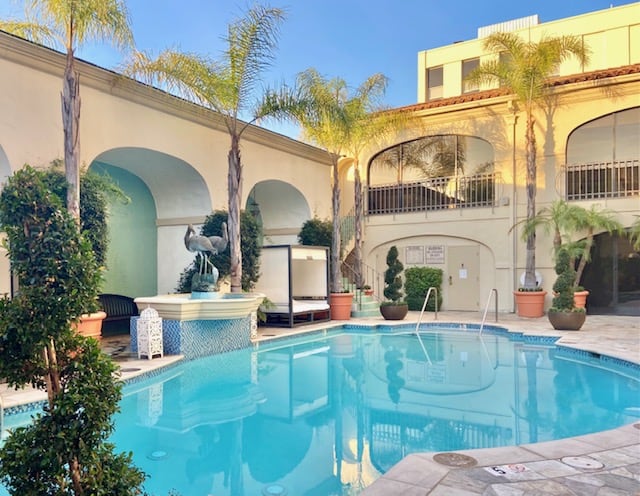 When I'd emerged from the pool, Elsi had placed a pair of slippers for me near the ladder and handed me a small glass of green juice – a health drink – suggesting I try it. Naturally, I accepted her prescription with appreciation. It was a shot of the pool menu's "Morning Glory:" a blend of apple cider vinegar, spinach, celery, apple, cucumber, ginger and lemon.
"It will give you energy," Elsi said.
I was using the energy to recharge by relaxing in the jacuzzi and became a human object at rest tending to remain at rest when eventually I heard Elsi's soft voice.
"Excuse me, Mr. Shiels. I thought you'd like to know your breakfast will be delivered in about 10 minutes."
It felt so nice to be looked after and I felt like I was a British monarch, so I went with it, answering her with an upper crust, English-style "Thing you" that sounded like it was pushed out of the pursed lips of Queen Elizabeth herself.
I'd ordered my breakfast with Elsi earlier and had it timed, at her suggestion, to be served after my swim on the panoramic balcony of my guest suite.
I knew I was in for some sunshine and an order of smashed avocado toast with marinated tomato, Persian feta, Moroccan spices, parsley salsa, and pomegranate dressing. After the green juice, it also seemed like quintessential California cuisine.
As I ate in my robe and let the sun bake me like George Hamilton, I wondered what my next Beverly Hills authentic experience should be?
Clop and Clip
While sitting in the sun a light bulb went off. I was in the land of beautiful people, so why not join the crowd and get a celebrity haircut? A quick online search and booking at "Rodante on Rodeo" would place me right in the heart of the action during the middle of my planned daylong walk. (My 24 hours with the Maserati Levante were over, so my coach had turned into a pumpkin in the form of a pair of shoes.)
Rodante Smith left the Philippines to become a flight attendant for Qatar Airlines before ending up styling celebrity haircuts in Beverly Hills for the likes of Arnold Schwarzenegger, and, from what I could tell, an Olympic Gold Medal speed skater; an actor named Devon Sawa who'd appeared in Casper and Final Destination; and a professional hoofer from Dancing with the Stars.
"Close enough," I told myself since his salon was just a few blocks from the hotel. Smith himself didn't cut my hair, one of his contemporaries did, but he was there in his very small shop and made small talk about an upcoming trip he was taking to Las Vegas.
The experience was fun, the haircut was hip, and it didn't cost as much as the $200 dollar clip President Bill Clinton got aboard Air Force One in 2003 that shut down four runways at LAX for an hour or the $400 styling John Edwards got on Rodeo Drive while running for President in 2007.
Saving Face
I emerged back out onto Rodeo and was looking, with my new look, into the windows of beautiful shops like Gucci, Dolce & Gabbana, and Bijan (which had a school bus yellow Rolls Royce with a Bijan license plate on display out front). George H.W. Bush and other world leaders, based on the framed, signed photos, apparently wore their wares.
I was reminded that beauty may really be only skin deep when a beautiful woman named Jordan greeted me as I passed the front of a subterranean cosmetics shop.
She complimented me on my tan and the next thing I knew, gullible rube that I am, I was sitting in a chair in the salon while she applied samples of something called Stemtox (a plant and stem cell-based very cold cream) under my eyes to take away wrinkles and make my face more radiant.
At some point, I began to realize I'd fallen for the old sales technique called "the ladder of yes" (the same one used by people who sell time-share condos to people already half-full of margaritas in Mexico).
Jordan's black leather outfit and the way she stared deeply into my eyes as she applied dabs of the cream under them probably contributed to the fact that I didn't stop her performance, which was, in retrospect, deserving of at least a People's Choice Award.
I was beginning to feel guilty for the time and effort she'd put in, even though I knew that sentiment was probably part of the technique, so I began to prepare to pay for my sin of gullibility until she laid out the price for the cream: $3,000! (A price which she continued to lower down my "ladder of no" while I backed out of the shop the way one would when escaping a black widow.)
Scenes and Steps
Once I made tracks from the cosmetic shop feeling like a Connecticut Yankee in King Arthur's Court, I decided to power walk through the power crowd and see my planned points of interest and be open to surprises along the way.
In the surprise category was a head-turning look at the artsiest-looking 76 gas station in service station history, which I saw on my walk to the Four Seasons Los Angeles at Beverly Hills. It is eye candy in the way the most intriguing Parisian boutique hotels can be understated yet grand.
I wanted to get plenty of steps in, so I chose two homes in the adjacent neighborhood as destinations, the first of which was the former Playboy Mansion, situated on the exclusive Los Angeles County Club (which the world will finally get to see when it hosts the 2023 U.S. Open Golf Championship.)
Only the exclusive celebrity crowd, those that didn't cover their eyes, that is, ever got to see into the now late Hugh Hefner's party pad and its infamous grotto, and it's pretty much the same now for anyone who arrives uninvited.
The property is reportedly being redeveloped by new its new owners, who apparently also enjoy their privacy because after a couple of miles of walking I came across its Charing Cross Road address but didn't see much other than security cameras, floodlights, a security vehicle backed up to the opaque gate with "notice" signs on it over which white Roman statues were visible.
There were some empty pizza boxes on the ground and I could hear the sounds of cackling birds. I have to admit I felt a little self-conscious walking by on the hedge-lined public road (and taking pictures) though I am not sure why other than I don't like being billed as a gawking tourist. Was some reverence needed and respect for privacy at a home in which people were often, shall we say, exceedingly transparent?
Will Rogers and Robert Duvall
Will Rogers is quoted as saying "Good fences make good neighbors." After walking back from the Playboy Mansion past Will Rogers Park (after cutting through the Beverly Hills Hotel driveway just for fun), the fence I found at my next stop was most disappointing.
I wanted to get a peek at the palace of a $130-million-dollar manor called the Beverly House. It was originally owned by newspaper king William Randolph Hearst and was seen in The Godfather as the house of movie producer Jack Woltz (who ended up with a horse's head in his bed after consigliere Tom Hagen's visit.) In more romantic instances Jack and Jaqueline Kennedy honeymooned at the estate; Kevin Costner and Whitney Houston filmed scenes in The Bodyguard right there too.
It took less than 10 minutes for me to walk from Will Rogers Park through the neighborhood of comparatively quaint homes to the Beverly House's Beverly Drive address. Not much to see there, either: hedges and another opaque gate next to a small, pink entry house about the size of the one I grew up in hid the 3.5 acres that contain, among other features, the 19 bedrooms and a covered ballroom that can accommodate 1,000 guests.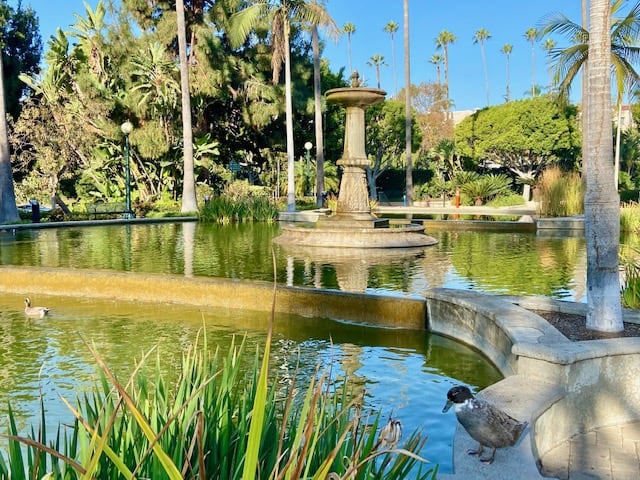 Shine and Dine
One can work up a hunger walking, and there are plenty of popular, posh places to stop for a bite or a sip.
I walked past La Scala, a time-honored haunt with Hollywood history that has moved about a bit but settled in Beverly Hills on Canon Drive. Though the best of its stories occurred in the golden age, you may have heard the name La Scala mentioned on "Real Housewives of Beverly Hills" or "Keeping Up with the Kardashians."
For a small snack, across Canon Drive and a block or so away, I stopped into Mulberry Street Pizza, a New York-style parlor. After ordering a plastic plate of lasagna at the counter and eating it with a disposable fork at one of their sidewalk tables, I went back inside to thank the cashier and cook.
"Thank you so much," I exclaimed. "I have always wanted to dine here at La Scala! It's everything I have always heard about and more!"
The two men looked puzzled and then reticent to disappoint me.
"Sorry but this isn't La Scala, sir. La Scala is down the street," the cook finally said.
"Then what is this place?" I joked.
When he told me it was Mulberry Pizza, I teased, "Nah it can't be. I heard that place is terrible."
We all had a good laugh and I went on my way.
Nate 'n Al's, the Beverly Hills delicatessen at which Larry King ate breakfast each day was on my list to see as was Spago, where I had dinner reservations to meet my son Harrison Shiels who is living in Santa Monica and studying at Southwestern Law School.
Spago has been dubbed the most iconic restaurant in the LA area and its place in history as the home of the most popular post-Academy Award party means it gets both superstars and Michelin stars thanks to its celebrity chef Wolfgang Puck who himself has become a household name in every kitchen and a wildly successful entrepreneur.
Puck is Austrian so I was relieved that I'd ordered the Austrian Veal Weiner Schnitzel with marinated fingerling potatoes, cucumbers and caraway, and Styrian pumpkin seed oil when the Puck himself dropped by our table to say "hello." After some small talk and granting a quick photograph with my son and I, Puck sized up the situation with Harrison.
"So, you're living here in Los Angeles for law school…and your father is visiting?"
Harrison answered, "Yes sir."
As soon as the answer hit Puck's ears, he told Harrison, "Since he's leaving your father should set up a house account for you."
I told Puck I could now see why he was such a successful businessman.
"You don't miss a thing, chef!"
The Beverly Wilshire, just a block or so from Spago, also houses a Wolfgang Puck restaurant called "Cut" at which Puck frequently makes friendly appearances on weekend evenings.
Read more of Michael Patrick's work at The Travel Tattler, or contact him at [email protected]