Thanksgiving is an American staple, and no matter where you spend the holiday, it's always best spent with loved ones.
From tropical beaches to snowy ski slopes, the U.S. has a little bit of everything. Whether you visit historical New England or the southern heart of Texas, you can experience the magic of Thanksgiving with those you love in a place you'll enjoy. Meals, parades, Black Friday sales and winter events will be in abundance starting in late November.
Where to Spend Thanksgiving
Thanksgiving will be here before you know it, so get busy planning your perfect vacation. Here are five destinations that are perfect for a Thanksgiving holiday with family or friends. And remember: there is no such thing as too much pie on Thanksgiving.
Plymouth, Massachusetts
In 1620, pilgrims sailed from England to North America in search of religious freedom and a better life. They landed in Plymouth, MA, where the first Thanksgiving took place. History still stands at Plymouth Rock, which is known as the "Landing Place of the Pilgrims."
Many tourists also enjoy seeing the statue of Massasoit — who is remembered for aiding the English colonists in 1620 — visiting the beaches, going whale watching, deep sea fishing or taking a harbor cruise. Plymouth is a short distance from Boston, Cape Cod, Nantucket and Martha's Vineyard, making it a prime stop for a New England road trip.
However, the best-known attraction is Plimoth Plantation, home of the Mayflower II. Visitors can board a replica of the ship and talk with reenactors and staff members who know the history of the voyage, as well as learn about the history and origins of the passengers. The two smaller vessels that accompanied the first Mayflower to the New World sit on the seaward side of the ship.
Plimoth Plantation also offers volunteer opportunities and history on the Wampanoag Indians. Celebrate Thanksgiving with one of the Plantation's annual Thanksgiving feasts, the Thanksgiving Homestyle Buffet or The Story of Thanksgiving Dinner. Both feasts take place at different times at the museum, and tickets sell out quickly, so make sure you get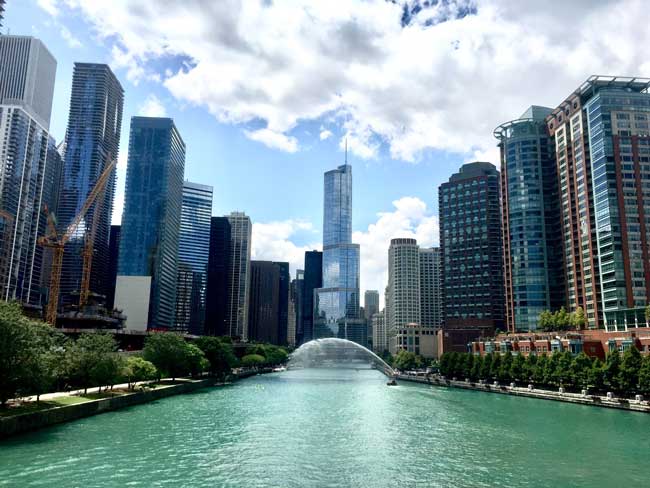 Chicago, Illinois
Winters in Illinois can be rough, and you don't want to end up like Steve Martin in the classic Thanksgiving movie, "Planes, Trains and Automobiles." Had Neal Page made it home on time, he could have enjoyed Chicago's many Thanksgiving festivities with his wife and children, but bad luck and bad weather had other plans for him.
So if you plan on flying into Chicago, make sure to fly on a weekday when there won't be much traffic, get to the airport early and check the status of your flight. Or, you could always take a train, a bus or rent a car with that weird, too-in-your-face shower curtain ring salesman you met in a taxi.
Chicago's biggest Thanksgiving event is the Chicago Thanksgiving Parade, which lines State Street from Congress to Randolf. The parade features some of the nation's best marching bands, giant balloons and floats.
After the parade and Thanksgiving dinner in the center of the city, Chicago kicks off winter on Black Friday with a Christkindlmarket in Daley Plaza. The German-style market features mulled wine, sausages, roasted nuts, traditional German handcrafts and ice skating on the McCormick Tribune Ice Rink. It's free to skate on the rink, but there is a charge for skate rentals.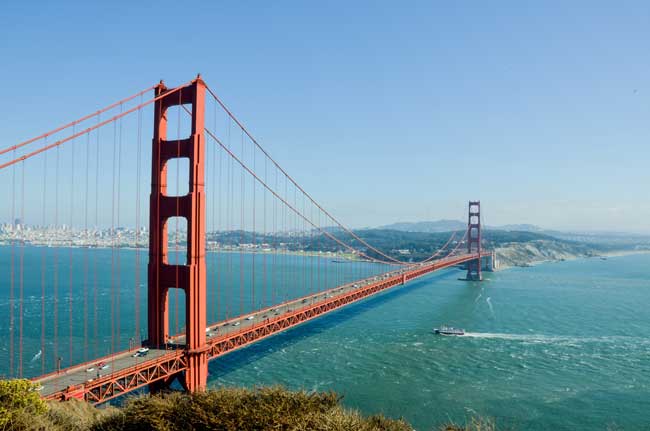 San Francisco, California
Picture the Golden Gate Bridge twinkling behind you as you sit down with your loved ones for a Thanksgiving feast. Apart from strolling across the bridge and through Chinatown, San Francisco has a lot of magic to offer, especially during the holidays.
You can take a cruise on San Francisco Bay on Thanksgiving Day. Options include a three-hour cruise with a buffet dinner which departs at 2:30 pm, or a four-course seated dinner cruise which departs at 2:15 pm.
San Francisco also puts on a Turkey Trot in Golden Gate Park. The event is only open to about 1,400 participants, and registration is required with a $40 fee. A kids' race will take place at 8:00 am and the Trot will begin at 8:40 am. The mostly flat course will cover 5 miles of San Francisco's grassy off-road terrain.
The city offers an opportunity to commemorate our Native American ancestors with the Indigenous People's Sunrise Gathering at Alcatraz, also known as Unthanksgiving Day. The event is in remembrance of the 1969-1971 occupation of Alcatraz by the "Indians of All Tribes." Dancing, singing, chanting and other performances will take place during the celebration. Boats will take participants out to Alcatraz from Pier 33 every 15 minutes, and tickets are $14 per adult. Children under age five are free.
Finally, get ready for winter and the holiday season with a tree lighting ceremony in Union Square on Friday, November 23. The ceremony will last from 6:00-6:40 pm, and Macy's will be putting on various performances underneath an 83-foot tall tree with more than 30,000 lights and 1,100 decorations. The tree will stay lit every night until January 1.
Park City, Utah
Thanksgiving weekend is known among ski junkies as the opening weekend of the ski season, and Park City has some of the best slopes in the Western United States to break in those new skis. Park City Mountain and Canyons Village will both be opening their gates on Thanksgiving Day at 8:00 am with hot chocolate celebrations. Park City Mountain Resort will continue the celebration after the ski day ends at 4:00 pm with concert from a live DJ.
Olympic Park will also be full of professional skiers and fun in the snow. Take a few runs yourself or watch the Olympians train in the park as you take in the views of snowy Park City.
On Saturday, November 24, Park City will celebrate the beginning of the Christmas season with the Main Street Electric Parade. No matter the weather, the city will be decorated with thousands of lights as vehicles and dancers make their way down Main Street, starting at Miner's Hospital.
Santa Claus will also be making his first appearance of the year from 4:00-6:00 pm and will be available to visit with the kids and take photos. At 5:30 pm, the Christmas tree will be lit in Miner's Park, officially marking the beginning of the holidays.
And if you still haven't gotten enough of the winter wonderland feeling, horse-drawn sleigh rides depart from the Park City Mountain Base Area and can accommodate 10-12 passengers. You can make a reservation to have dinner at the top of the mountain in the lodge, or simply take a ride without dinner.
Reservations are available at parkcitymountain.com through the Snowed Inn Sleigh Company. Children under age two are free, and passengers without dinner ride for $20 each, while passengers with dinner ride for $100 each.
Austin, Texas
If you're looking for a classic, modern American Thanksgiving, Texas is the place to be. Specifically, Austin offers a variety of festivities each year. Kick off the holiday on November 22 with the Thundercloud Subs Turkey Trot at Long Center for the Performing Arts on Riverside Drive.
Registration ranges from $10-40, with a 1-mile kids' run beginning at 8:15 am and a 5-mile trot beginning at 9:00 and 9:10 am. A slower 1-mile walk or run will begin at 9:20 am. All proceeds will go to Caritas of Austin, a nonprofit which fights poverty, homelessness and hunger in Austin.
Those over 21 looking for a relaxing holiday with their friends should enjoy Austin's Friendsgiving Cocktail Workshop on November 16. Participants will learn recipes and tips on how to mix, measure and prepare two classic Thanksgiving cocktails and a punch. Tickets range from $60-100, and the event will take place from 6:30-8:30 pm.
The whole family will enjoy Chuy's Children Giving to Children Parade on November 24 on Congress Ave. The parade features giant inflatable balloons, famous children's TV characters, marching bands, and classic cars.
There will also be a float for Santa Claus, who will also be available to visit with children and take photos on Black Friday on the City Terrace at Long Center for the Performing Arts. The parade benefits Operation Blue Santa, an organization which will be donating toys all along the parade route.
Children will enjoy the beginning of the Christmas season by learning how to decorate a gingerbread house on November 24 at 10:00 am at Central Market. The event is open to children ages 5-17, and snacks will be provided along with authentic Swiss lebkuchen gingerbread, icing and candy decorations.
On Sunday evening, the 155-foot tall Zilker Holiday Tree will be lit in Zilker Park. Starting at 6:00 pm, locals and guests can welcome the Christmas holiday by watching more than 3,300 light bulbs lit by the winners of the Zilker Tree art contest.
Latest posts by Go World Travel Magazine
(see all)