In parts of the Caribbean Island of Aruba, stretches of pebbly soil interspersed with towering cactus comprise a desert-like terrain. Not far away, gleaming white sand beaches shaded by towering palm trees overlook the azure sea.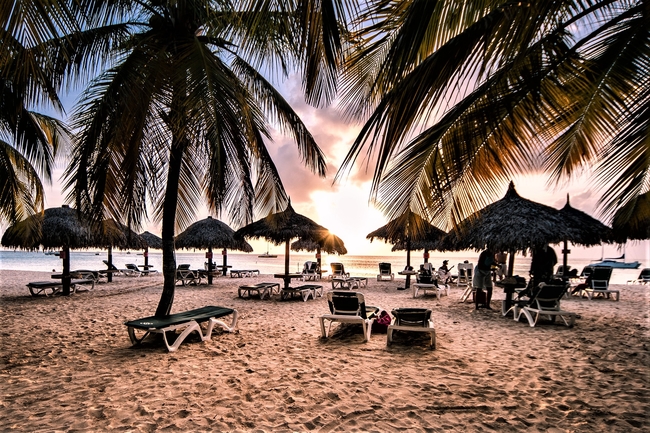 This dramatic variety of landscapes is echoed by the equal diversity of the island's attractions. Those seeking to work on their tan at a relaxing sun-and-sand getaway have a choice of some of the most beautiful beaches in the Caribbean Sea. Others interested in a taste of European flair discover a number of intriguing touches of that.
No surprise there, because both Spain and Great Britain held sway over Aruba early on, then the Dutch took over the island in 1636. Reminders of its strong Dutch heritage are evident around every corner.
For example, the capital of Oranjestad was named for Dutch King William van Oranje-Nassau. Many buildings sport pastel colored facades and whimsical architectural touches, which have been described as Spanish Mediterranean style with Dutch influences. Streets with tongue-twisting names like Nieuweweg and Arendstraat would not be out of place in Amsterdam.
Those who visit Aruba primarily to enjoy its soft sand beaches overlooking crystal clear multi-hued water are in luck. One of the most popular sunning and swimming spots is the magnificent seven-mile stretch of sand that backs up to the high-rise hotels which rim the sheltered southwestern and western coastlines. The windswept northern and eastern coasts, which are battered by the sea, are less developed.
Rugged limestone cliffs along much of the northeastern coast mark one boundary of Arikok National Park. Interesting chapters of Aruba's history come alive in this setting. Shallow caves recall a time when a branch of Arawak Indians inhabited the island, and their drawings still ornament cave walls and ceilings.
History also comes alive at several small but interesting museums. Exhibits in the Archaeological Museum showcase the history of Indians on Aruba. The displays range from an ancient long house and native hut to artifacts dating back to 2500 BC.
The little Historical Museum is tucked away in Fort Zoutman. That fortification was built in 1796-1798 to protect the island from pirates, and the town grew around it. The exhibits describe farming, fishing and other aspects of island life, including interesting tidbits about the small villages that some locals today refer to as "the real Aruba."
The tiny town of Noord began as an Indian community, and the hamlet of Rancho was established around 1855 as a fishing village. San Nicolas is the second largest town after Oranjestad, but is world's away in atmosphere. A small promenade along the main street is lined by several shops and restaurants, but the biggest draw is Charlie's Bar.
Beginning in the early 1940s, scuba divers attached their underwater finds to the walls and ceiling of that establishment, creating what eventually evolved into a bric-a-brac heaven. Today, virtually every inch of available space is adorned by automobile license plates, paper money from around the world, and other memorabilia.
Very different is the main claim to fame of Paradera village. That is its location close to two natural sites that were sacred places to the Indians. The Ayo and Casibari rock formations consist of huge boulders that rise up from the sandy desert terrain. Over time, prevailing winds carved the rocks into unusual shapes which, with a little imagination on the part of the viewer, resemble birds, dragons and other identifiable figures.
Steps have been carved into the rock at the Casibari site, and those who climb to the top are rewarded with a panoramic view over the island. Some of the stones at Ayo still bear petroglyphs that were scratched and painted onto their surface by Indian artists.
Those boulders rising from a flat, stark landscape provide a setting very different from the white sand beaches of Aruba. The small, silent caves in Arikok National Park present an environment that contrasts sharply with the clamor and commotion of downtown Oranjestad. These scenes and many more are among the something-for-everyone variety that makes Aruba an inviting destination to explore and enjoy.
If you go. For more information about Aruba log onto www.aruba.com
Authors: Fyllis Hockman and Victor Block are a husband-wife team of experienced travel journalists who have gallivanted throughout the United States, and to nearly 80 countries around the world, and written about what they have seen, done and learned. Their articles have appeared in newspapers across the country and on websites across the Internet, and they each have won numerous writing awards. They love to explore new destinations and cultures and uncover off-the-beaten-path attractions. Read more of their work at The Rambling Writers