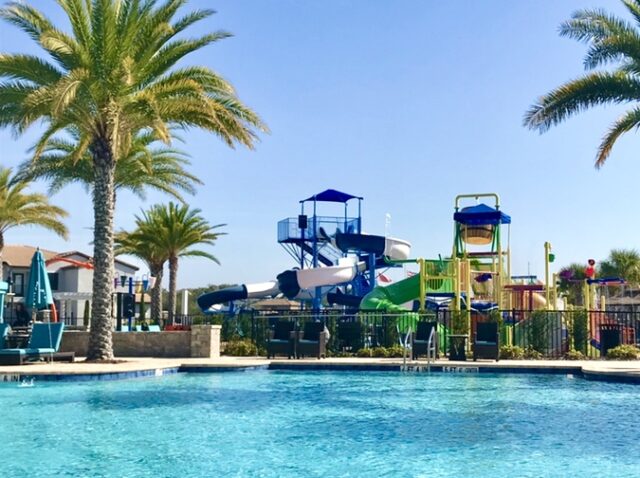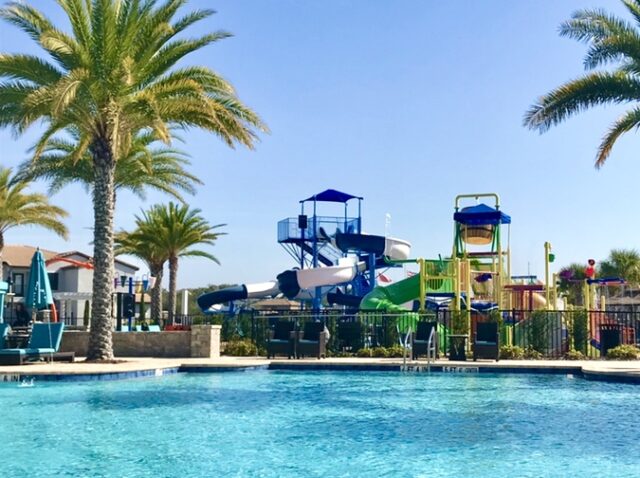 Are Prince Harry and Meghan Markle welcome at Queen Elizabeth's Balmoral Castle? But whether or not the realm is warm to the former highnesses, are they, and even common subjects, welcome at Balmoral Resort near the Magic Kingdom in Central Florida?
"What do you think? Anytime they want to come they'd be welcome here," said Garrett Kenny, the Irish entrepreneur who moved to the Orlando area two decades ago and founded Balmoral Resort. Since the former prince and his duchess bride are no longer funded by the crown jewels, they surely would appreciate the amazingly affordable rates to rent up to a four-bedroom home at Balmoral. "There are times you can rent the homes for as little as $90 per-night, but the average price is between $175 and $200 per- night. Divide that by eight people and that's less than $30 a night per-person. There is good value in renting a vacation home."
A turn into the stately entrance of Balmoral, an estate of rental homes in Haines City 25-minutes from Disney's castle, would have the Duke and Duchess of Sussex feeling right at home – some of the resort's features are named Kensington Gardens, Hyde Park, Lake Windsor, Lake Trafalgar, Monarch Garden, and Lake Berkley. And further, traditional English breakfast, including British bangers and bacon is served in Balmoral's poolside bar and grill. And while the Union Jack flies alongside the Stars and Stripes at Balmoral, so does the Tri-Color.
Irish Eyes Smiling
Balmoral Resort rolling out the royal red carpet is the result of the Irish ingenuity of Kenny, the Dubliner who continues to expand the resort's options beyond the splashy swimming pools, fun water park slides, fishing, games and sporting fields the resort offers. Outdoor billiards, anyone? Balmoral has it. Jacuzzi time? Jump in. Karaoke and live bands at the pool deck bar? Sing along to your heart's content. A workout facility, arcade, and natural grounds for walking and lingering are part of the experience. And there is excitement.
"One man went fishing off the dock and he kept getting fish on his line but every time he did an alligator would eat half of his fish before he could reel it in. The man kept finding just a half of a fish on his hook. He was having a ball," said the waitress tending the bar overlooking the lake. She swore it was no fish tale. The Balmoral front desk provides complimentary fishing gear – but no kayaks, thank you very much, for obvious reasons.
"Our front desk has been a big plus. We run Balmoral like a horizontal hotel. People feel comfortable having a desk just like a hotel lobby," said Kenny of the resort neighborhood's staffed clubhouse. "But if guests don't want to see anybody they don't have to because they get a code for the door of your rental home. They don't even have to check in."
The Details
Kenny says the popular vacation home model they rent is a four-bedroom (all master suites) with four bathrooms. "We have even considered if Granny and Granddad are coming along, we have one master suite bedroom downstairs, so the older person doesn't have to climb the stairs and you have ample room upstairs," he explained. "We go up to five and six beds so it is very economical to rent our homes, think about if you had two families traveling you may otherwise have to end up with three hotel rooms."
With a Publix grocery store in virtual walking distance families or golf groups can stock up their kitchens…and yet they can order room service for meals and snacks or dine in the clubhouse grill or at the pool.
"You drive in and it looks like a neighborhood community, but it is all vacation rentals, so you and your family have more room to spread out," said Balmoral's Chris Follenus, another Dubliner. "You have your own garage, so you don't have to worry about paying for parking. Here you can relax and live a little bit of the Florida lifestyle. You can have a cookout or swim in your own pool."
Not Far from the Shallows
One can only imagine how many times parents, grandparents, aunts and uncles have shelled out cartloads of cash for their families to gain access to Orlando's theme parks and spend a sweltering day waiting in long lines and find the captive price of refreshments drain the life from them. The kids then come to life again once joyfully swimming in the screened-in pool of their rental home at back at Balmoral – with everyone under one roof (or more.) Grandpa pulls an ice-cold beer from the fridge and settles onto the living room couch in to watch a game while others gather on the pool deck with cheese and crackers to watch the kids and maybe jump in themselves. Someone's tossing their drenched clothes into the wash machine and a couple others walked over to the resort clubhouse to watch the band from the hot tub. A more maniacal member of the family has gone to the gym.
Home Sweet Resort
Some families and groups spend the day enjoying the sun all day at Balmoral Resort while some spilt the day at nearby Legoland, Disney, a Major League Baseball spring training game, or on the golf course. Guests begin and end their day at Balmoral, but a case can be made either way for how vacationers choose to split the day.
Getting an early start to the theme parks is sometimes the only way to get to the most popular attractions first without spending the entire day in line. I've experienced the dawn "rope drop" at the Disney World's Animal Kingdom and Hollywood Studios when the parks open with people, who were waiting since before sunrise, stream into the park to get to their most-desired ride. Theme park experts advise if you do this to go immediately to the back of the park and work your way back forward through the attractions.
Some Disney parks allow Disney resort guests to enter the park before the general public and stay later, but most park-goers are eager to get in early and spend the entire day getting the most for their money.
Since the theme parks are also high-tech shopping experiences, midday is less hectic since many park-goers will leave their souvenir shopping to the last moments of the parks, so they needn't carry packages around all day. Hunting for treasures at midday avoids that madness and allows guests to return their booty to Balmoral and then return to Disney in the evening for a second shift of screams on Space Mountain or Expedition Everest.
Early morning golfers are often dubbed "dew sweepers" as they hit the links first in order to spend the day playing as many holes as possible or to beat the Florida midday heat. But golf groups who enjoy nightlife or play poker until the wee small hours might find their swings to be a little stiff with a pre-dawn wake up call.
Whether it's a rides and lines at a theme park or a swing and miss at a golf course, families and friends retreat and return to the gated, clean, Stepford-style subdivision of Balmoral to put their feet up and "debrief" the day.
Hanging Back at Home
Alternatively, Balmoral's guest homes and townhomes have full kitchens, so maybe the idea of sleeping in, lingering over coffee, and making a leisurely breakfast for everyone to fuel them up for the day is an appealing approach. A refreshing morning swim, time in the gym or gazing at Good Morning America before getting active is an understandable option. When the theme park throngs break for lunch or hide in their hotels to beat the heat, Balmoral guests can storm the castle and attain the attractions they desire without a deadline to get there. After a full, inexpensive poolside lunch at Balmoral's grill your children will have a much better chance of lasting until the late-night fireworks over that same castle. You may still see their faces light up during Epcot's park-closing laser show.
And golfers who have not begun their rounds in late afternoon and finish in the twilight under the Florida sky's palette of pink, purple and orange are truly missing an experience. It's in the cool, late-afternoon light the colors and shadows of a golf course are at their greenest and most dramatic. Driving the ball at dusk is divine.
Balmoral's Best Golf Access
Southern Dunes Golf and Country Club is the closest to Balmoral at less than 10 minutes away. Designed by Steve Smyers, Southern Dunes has topography unique to Florida sending golfers over undulating fairways with 100-feet of elevation change. The tumbling dunes course is artistic eye candy and fun to play.
The three Scottish-style links courses of Streamsong, created by designer golf architects Tom Doak; Bill Coore with Ben Crenshaw; and Gil Haines get a lot of attention among golf purists and are an hours' drive from Balmoral.
Baseball is Very, Very Good to Balmoral Resort Guests
The timing of most Major League Baseball spring training games is perfect. First pitch for the Grapefruit League games is typically 1 p.m., which means a leisurely morning at Balmoral and back in time for a dip before sunset. The Detroit Tigers train and play their games 30-minutes from the resort in charming Lakeland; and the New York Yankees are within easy striking distance in Tampa. Other MLB teams nearest to Balmoral play in Sarasota, Bradenton, and Dunedin.
"We've had people from the Tigers and the Tiger organization staying here at Balmoral," Follenus said. Zack Burek, who oversees the Tiger Town complex, is one of them.
"Balmoral Resort is only 30 minutes from the Tiger's Publix Joker Marchant Stadium. What a tremendous facility is it for us we have right in our backyard there in Haines City to be able to accommodate our guests and players and executives coming here to Central Florida."
Michael Patrick Shiels is a radio host and travel blogger. Follow his adventures at GoWorldTravel.com/TravelTattler. Contact Travel Writer Michael Patrick Shiels at [email protected]
Latest posts by Michael Patrick Shiels
(see all)