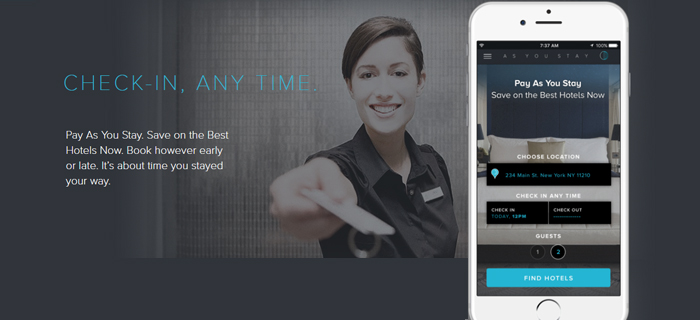 Occasionally something comes along that changes the way we look at travel. As You Stay is just one example. The new hotel booking app gives travelers the flexibility to book hotel rooms by the hour, rather than the typical overnight stay.
This is especially helpful when you have a long layover, are stuck by a missed connection or powering through a cross-country drive, when you only want to stop for a few hours of rest.
Instead of having to book a traditional room with a 3 pm check in and 10 am check out, you can now book and pay for just the hours you use. You can arrive at the hotel at 1 am and check out at 3 pm, if you'd like. It's all up to you.
This kind of flexibility is sure to change the industry, giving travelers more options and hotels another opportunity to sell available rooms.
I saw the need for this kind of hotel flexibility on a recent trip from Denver to the Maldives. My flight itinerary included an 8-hour layover in Boston, and I didn't relish the idea of spending that time in the Boston airport. Instead of booking a regular hotel room, I searched for and found a room for eight hours. The cost? Just $133, which was about $60 cheaper than the hotel's normal room rate.
There is no set check in or check out time with rooms booked with As You Stay. You simply enter the destination and hours that you need a room into the search criteria. Available hotel rooms are listed – often at a good discount from normal rates. On their website, As You Stay says they hand-pick each hotel partner and review their pricing constantly to make sure you get the fairest deal.
The caveat is that you can only book hotel rooms at the last minute (up to five days before your stay). As You Stay is still a young company, but has already partnered with large hotel chains like Hilton, Marriott, Choice and Carlson, as well as many smaller boutique properties. They are currently available in many large cities and airport locations in the USA (including many in New York City), and new locations are being added.
The free travel app is available for both iOS and Android devices. Users can collect credit toward free hours with every use. You can even give these credits to a friend.
To receive $25 off your first reservation, type in promo code GOWORLDTRAVEL.
For more information, see asyoustay.com.
Latest posts by Janna Graber
(see all)