Finding a place to stay for the night is important for any adventurer.
Even if you don't want to pay for room at a hotel or inn, you can still find a comfortable place to stay, sometimes in exchange for work, a few dollars or even just your company.
All you'll need is your smart phone and a little time to search online. There are a wide variety of sites that can help you find a place to stay. Here are five of our favorites:
Couchsurfing.com is one of the largest hosting communities with over 400,000 hosts and 4 million surfers using their services every year.
Users create profiles for hosts to view and leave personal character endorsements to increase your chances of being hosted. Users can meet other travelers in their home city through different couchsurfing endorsed events.
For a small fee, users can complete a verification process that increases the chances of finding a host. Feedback from couchsurfers experiences help to keep the community safe.
Warmshowers.org specializes in providing accommodations for touring cyclists and boasts a community built on 100 percent reciprocal hospitality.
A world-wide network offers a variety of offerings that varies with each user. Hosts create a profile that includes the services they are willing to offer, such as a couch, a place to camp, kitchen, shower and sometimes road-side assistance.
The community mainly consists of cyclists who have been on their own tour, and they are empathetic to the needs and wants of individuals who are living life on the road.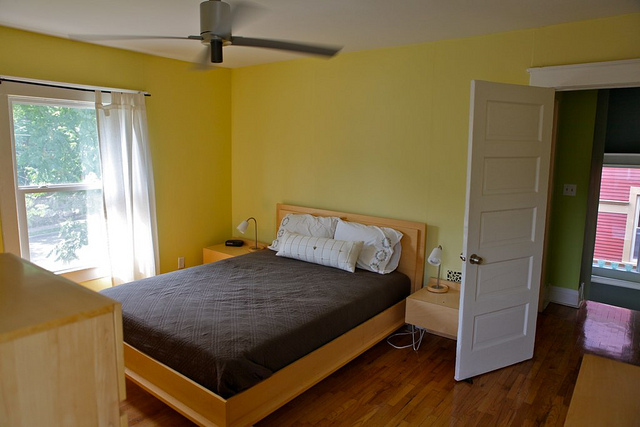 The more advance notice you can provide hosts, the greater chances of finding a host will be. Many people are also willing to put-up last minute guests, though, due to the unpredictable nature of bicycle travel.
Users are encouraged to host others in the community when they are not on tour. Guests are encouraged to respond to the hospitality with good stories, cooking a shared meal, or bringing some beer.
These unique situations provide a fun way to meet people while on the road.
Staydu.com offers a variety of different options for hosts and travelers to work out an agreement.
Hosts offer different levels of hospitality and have three options to request in return for their hospitality.
Hosts can offer Stay for Free, Stay and Pay or Stay and Help.
Travelers who find a host listed as Stay and Pay can expect to pay a fee for accommodations, though these fees are often much less than a hotel and also provide a more personal interaction with the community.
Hosts who offer their accommodations as Stay and Help will expect the traveler to help them with different tasks, such as cleaning a garage, house work, or other jobs in exchange for their accommodations.
Hosts who offer their accommodations as a Stay for Free welcome you in to their life to enjoy the company and share stories with others. The variety on this site offers something for everyone.
Workaway.info provides travelers a chance to have a place to stay while also participating in a cultural exchange and learning opportunity.
Hosts request help for a few hours a day in exchange for their lodgings. Travelers are encouraged to use skills they already have or learn a new one while helping their hosts.
Accommodations can range from a few days' stay to a few months for long-term travelers who are looking to immerse themselves in the community and really provide a helping hand.
The concept behind talktalkbnb.com is to connect travelers with hosts who are looking to learn other languages. Travelers are paired with hosts who are working to learn other languages and need someone to practice with.
This concept creates a mutually-beneficial relationship between the travelers and the hosts. The travelers are provided with a free place to stay, home-cooked meals and a connection with the locals.
And hosts are given the opportunity to learn a new language from the traveler.
As a traveler you can select the destination that you are planning on traveling to and select what your native language is.
This will bring up a list of host in the country you are traveling to who want to have someone to practice your language with.
You can further refine the search by specifying other criteria such as the host's gender, age, city, number of guests allowed, the host's native language, and other languages spoken.
The search criteria and the feedback from other travelers will help you find the host that is right for you.
Author Bio: Sterling Stowe is a 26-year-old Colorado native and journalist with a passion for the wild. Follow his solo bicycle trip across the United States in his blog: America at 10 MPH