Biking along the Rhone River, cruising the canals of Amsterdam and riding a taboggan through the Black Forest – these are just a few things that families can experience on an Adventures by Disney river cruise with AmaWaterways.
River cruising has long been an excellent way to explore Europe. You simply unpack once, and then visit a different destination on the river each day. Instead of spending time traveling to your next destination or finding a hotel, you have leisurely hours to explore towns and villages along the way.
River Cruising with Adventures by Disney
Adventures by Disney brings that unique river cruising experience to families on kid-friendly sailings with AmaWaterways along the Danube, Seine and Rhine Rivers. Combining the luxury and convenience of a river cruise with the magic of Disney creates a memorable family vacation.
Children ages four and up are welcome onboard, although Adventures by Disney recommends children be at least eight years old at time of travel. This is based on several factors, including jet lag, time zone differences, extended hours and the level of physical activity often required on excursions.
You don't even have to travel with children to sail with Adventures by Disney. Several adults-only river cruises are available for guests who want to experience wine tastings or Oktoberfest-inspired activities.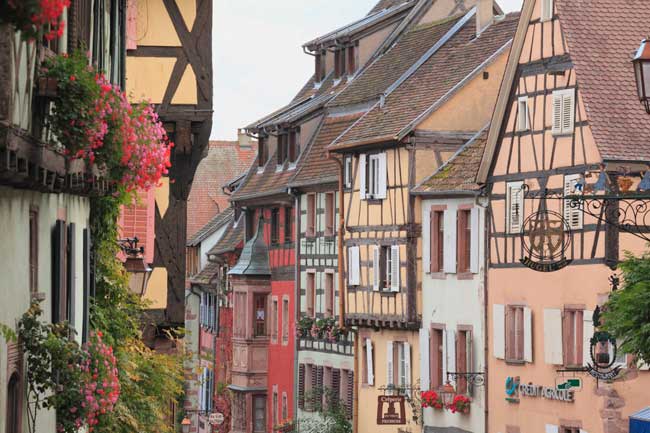 While most Adventures by Disney river cruises take place in the summer, they also offer an ever-popular Christmas markets cruise in December. The holidays are a magical time in small towns and cities along the Danube, and you'll have a front row seat to the holiday lights from your balcony. With the ship all decked out for the holidays, you can visit classic Christmas markets in Germany, Austria and Hungary, including a stop in Salzburg, the town many know from the beloved film, The Sound of Music.
New in 2020: Rhone River Cruises with Adventures by Disney
Starting in 2020, Adventures by Disney will offer river cruises on the Rhone River through southern France, including the scenic region of Provence. Stops include Lyon, Tournon, Avignon and Arles, with authentic experiences at every destination.
Also starting in 2020, families that want to see more of Europe can add three-day, two-night stays in Paris, Amsterdam and Budapest before or after their river cruise. These guided group itineraries led by two Adventure Guides highlight each destination's top attractions, as well as some unexpected gems.
Adventures by Disney Excursions
Adventures by Disney river cruises are an excellent way to introduce kids to the world, from new cultures and traditions to rich history and classic art. At each stop, you can choose the excursion that is right for you and your family. On the Rhone River cruise, active sightseeing adventures include kayaking beneath a 2,000-year-old Roman aqueduct or exploring medieval towns and villages by bike.
Kids who like to create things in the kitchen can go on a private truffle hunt or try their hand at making cheese and jam at a goat farm. Families can even learn all about olive oil at a family-owned local farm.
Those with an artistic flair might want to take the walking tour of Roussillon's colorful Ochre Trail followed by a painting class, or they can watch a demonstration of the art of silk-weaving in Lyon.
History comes to life through signature Disney storytelling during immersive historical tours to the Roman ruins of Lyon and Nimes, the beautiful Palais des Papes, and the 12th-century Abbaye de Senanque. These are just a few exciting ways that children – and their parents – can experience European destinations in an authentic way.
All-Inclusive River Cruises
Adventures by Disney river cruises are all-inclusive, with meals, drinks and excursions included. Every cruise has up to eight Adventure Guides who serve as hosts in each destination and on board. English-speaking adventure guides at each port provide a variety of experiences for the whole family, allowing you to engage with the people, cultures and traditions you'll encounter along the way. All entrance fees to locations you visit are included.
Adventures by Disney with AmaWaterways
Adventures by Disney river cruises sail with AmaWaterways, a premier river cruise line in Europe. Known for their luxury ships, personalized service and excellent cuisine, AmaWaterways has partnered with Adventures by Disney to provide memorable family river cruises.
While some large cruise ships can feel like floating cities, river cruise ships feel more like a floating hotel. The small passenger numbers mean that guests often get to know each other. This is especially fun for children, who often make new friends on the cruise.
Onboard, AmaWaterways staterooms work well for families of all sizes. Many of their newer ships have connecting staterooms, offering triple and even quadruple occupancy.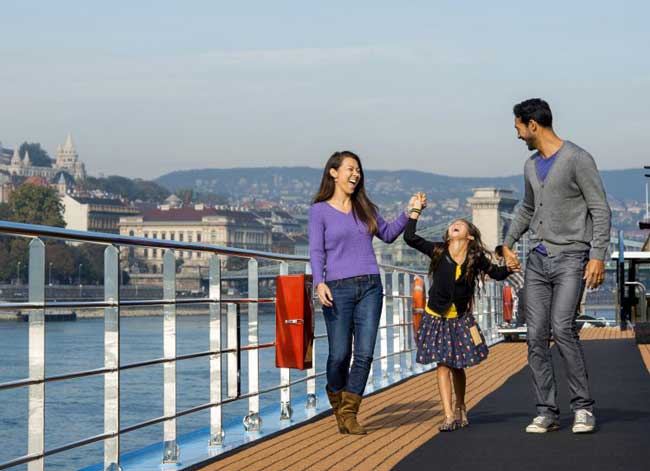 Debuting this year, two brand new ships – AmaMora on the Rhine and AmaMagna on the Danube –also feature connecting staterooms. The AmaMagna is twice the width of a traditional river cruise ship. Most of the staterooms are suites, measuring up to 710 sq. ft., with outside balconies. The ship also has additional space for dining and onboard activities.
"We're seeing an increase in the number of multi-generational families on board," says Kristin Karst, executive vice president and co-owner of AmaWaterways. "Guests really appreciate the wide choice of tours offered that meet the needs of all three generations – from gentle, regular and active walkers to more challenging hiking and biking tours. Teens seem to appreciate our late riser tours, freedom to explore on their own and of course, free WIFI onboard."
AmaWaterways hosts activity nights onboard for teens, including karaoke, movies, video games, as well as themed nights created specifically for them during Christmas market sailings and some summer itineraries. Dining together is an important part of any family vacation, and AmaWaterways provides their award-winning cuisine, as well as kid-friendly staples like burgers, fries, and pastas.
River cruising is one of the most relaxing ways to explore Europe – and that's especially true when it comes to cruising with kids. Adventures by Disney has removed many of the hassles of family travel, leaving time to create precious memories that can be treasured for years to come.