Indian Train System Institution
The world's largest employer, with more than 1.5 million employees, is the Indian Train System Institution.
Part of their services include air-conditioned tourist rooms reserved especially for foreigners, a place such travelers can receive special help.
Where I was, in Varanasi, the holiest city of the Hindus in northeast-central India, the room was more like an office where ticket agents were supposed to sit at desks with potential passengers.
Four foreigners waited as the two agents chatted loudly, ignoring those expecting service. The quieter of the two left and the other finally served an Israeli guy patiently sitting.
An Awkward Situation in the Ticket Booth
"What?" the vendor curtly solicited, lifting his chin sharply and pointing.
"I want a ticket to Calcutta."
"For when?"
"When can I go?"
"When do you want to go? Listen, if you don't know what you want then don't come here to waste my time. Go away and come back when you know what you are talking about."
I instantly felt intimidated waiting for my turn.
"Can I go tomorrow?" the Israeli guy asked.
"You can go tomorrow," the vendor snarled, checking his computer. Snapping all the way, he continued. "It will cost you 167 rupees (US$ 3.84), 2nd class sleeper.
One Must Know the Rules
It leaves at 4:30 in the afternoon. Show me your passport and bank receipts for traveler's checks."
"Oh, no," I thought. The law states foreigners must prove they changed money in an official establishment, but no one ever keeps account. I mean, I never did.
"I don't have my receipts…" the Israeli guy said.
"You cannot have the tickets without producing the receipts," he barked, pointing at a sign on the wall.
"Yes, I know, but it would be better for me if you gave me the ticket…"
"Not without the bank receipts! It's the law in India!"
My heart sank. The clerk back at the guesthouse where I stayed hadn't provided any receipts when he and I had cashed traveler's checks a day or two ago.
He knew that mentioning the regulation would spook a newly arrived rookie like me. It was late and I couldn't recall seeing any banks in that zoo of traffic and mayhem on the streets I was trying so hard to avoid.
In my haste and panic, I thought perhaps I could change some money at a bank to obtain a receipt to keep this ticket-selling man at bay.
"Yes, I know," the Israeli continued, "I have the receipts at my hotel so it would be better for me if you could give me the ticket and I will come back with receipts."
"I'm sorry, no, you must have the receipts!"
I would have given up by now, but our hero, unphased, continued on in a clear, even voice.
"But it would be better for me if you give me the ticket so I know…"
"No, impossible!"
At last, He Got the Ticket
The other foreigners, enjoying the spectacle, silently led the cheer. Back and forth the Israeli-Indian verbal cockfight went until, suddenly grinning, the ticket agent gave up by printing the ticket.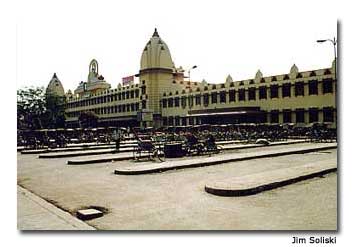 Then almost daring the Israeli to snatch the dangling voucher from his hand, the man said, in no uncertain terms,
"I will give you the ticket, BUT you must come back this evening or I will CANCEL the ticket!"
The Israeli's head nodded once on a slant, his eyes closing in synchromesh with grace.
"No problem, I will come back." Calmly, he took his time folding and stowing away the papers while all eyes watched his every move. The ticket agent looked both at a loss and impressed.
Buying A Ticket For Myself
Now it was my turn.
"I would like a ticket for Agra." The Taj Mahal is in Agra.
"Fine, the next spot available is four days from now."
"Oh," I said, trying to muster courage from the previous guy's example, "How about a ticket to Darjeeling?" I had heard that Darjeeling in the lower Himalaya mountains was a go-to-place.
I heard him spit out something along the lines of: "to Darjeeling you take a train three days from now (to some place I didn't understand) then transfer to (another place I didn't get) and then take a bus to (another place I didn't understand). From there, take a taxi."
"Huh?" I responded intelligently and astutely.
He lifted his eyebrows and tilted his head, like a boxer or a guy at closing time, saying, "Take your best punch."
I was too afraid to ask for clarification of the body language or the directions. My head reeled from the dialogue.
Feigning composure, I shifted gears. "I see. Are there any more tickets to Calcutta tomorrow?"
He blew a gasket. Throwing his pen down, sitting back in his chair, crossing his arms, and with his head bobbing up and down in time with his words.
He cried, "Where do you want to go, man? How am I supposed to know what to do for you unless you tell me?"
I flushed.
"Okay, okay, can you give me a 2nd class sleeper for Calcutta tomorrow?"
"167 rupees. Show me your passport and bank receipts."
"I didn't bring … receipts, they are back in my hotel and I can…"
Ears perked.
"You guys think you can get away with this not having receipts. It is the law of India to show where you have changed your money because of problems of the black market.
When you come to our country you must follow the rules. I will give you the ticket but both of you must bring in the receipts or I promise I will cancel the spaces," he ranted, scowling and then just as quickly, just as convincingly, suddenly smiling.
Israel was staying at the same hotel as me. Later that evening, I asked him what he was planning to do about the long lost receipts.
"The train guy can go to hell," he snorted through his accent.
I arrived at the train station shortly after four the next day. Consistent with Indian railroad timetabling, the train was indefinitely delayed.
A few of the train-lorn foreigners scavenged for air-conditioning in the tourist room.
"Are you here waiting for your trains? No, No, NO! GET OUT! This office is for only selling of tickets! Leave now!!" screeched Mr. McMonster.
I walked to the platform and the posted passenger list. There it was, J. Soliski. Behind me, I sensed someone close. It was Israel.
His expressionless face and James Dean cool nodded and closed his eyes, once, when I asked if he saw his name.
In the end, Israel showed me how to call a bluff and life got easier for me in India.
If You Go
India Ministry of Tourism
www.tourismofindia.com