If you're anything like me, there are days when you want to chuck it all and move to a quiet island far, far away. There, you surmise, life would be stress-free and filled with beauty.
While many of us dream of running away to paradise, American Alex Sheshunoff actually did it. At the tender age of 25, he gave up a tech career in New York, and bought a one-way ticket to the remote island of Yap. During his search for paradise and meaning, he spent months kicking about the tiny islands of the Pacific.
The result is "A Beginner's Guide to Paradise: 9 Steps to Giving Up Everything," a hilarious and insightful account of life in the Pacific. In the book, Alex shares his awkward yet heartwarming encounters with the locals, details how to build an island home with the (free) labor of friends, and shows how adopting a baby monkey can enrich (and complicate) your life. The book is also a love story of sorts, since he met the woman who would become his wife on that tiny island in the Pacific.
"A Beginner's Guide to Paradise" is a lighthearted must-read that grabs your attention from the get-go. After sailing through its pages, I was curious about Alex (and that baby monkey). I caught up with him recently, and asked him more about the book and his life in the Pacific.
Interview with Alex Sheshunoff
Why did you decide to look for the meaning of life on an island?
The short answer is lack of imagination. The three most common "escape from it all" fantasies are to move to a South Pacific Island, open a beach bar somewhere and run a B&B in Vermont. I didn't want to become an alcoholic and I didn't have an interest in quilting and jamming, which left me with the island.
Why did you head to Yap?
This is embarrassing, but late one night at my desk, I googled "nice Pacific Island" and it turned out there are 29,000 islands in the Pacific, many of which are probably nice. I honed my search and typed "really nice Pacific Island" and the first result was this island called Yap. Someone named junblebuff27 said the island still had their traditions and they spoke English. What I didn't know is that on Yap they have a growing leprosy problem and no beaches. I would find that out later.
How many islands did you visit before deciding on Palau?
I was on a Goldilocks quest looking for paradise, and that search took me to five or six islands. An ideal life isn't one that you back into, it's one that you create from scratch. For me at the time, an ideal life involved palm trees and turquoise waters and time to read the hundred books I wished I had read.
Was Palau, where you eventually settled, everything you thought it would be?
Palau is like paradise except for the ways that it isn't. It is impossibly beautiful in Palau, but it's also extremely hot and far away. It's hard to communicate just how hot Palau is. Day to night, month to month, it's always hot. Palau has over 300 islands, but only seven are inhabited. The rest are protected.
Culturally, it's a very complicated and interesting place. At local ceremonies, for example, it was important which direction your knees were pointed. I'm sure mine were always pointed in the wrong direction.
Why do you think travel is a good solution to finding yourself?
The French writer Alain de Botton said that journey is the midwife to thought. My experience is that when you're on a plane or in a train or on a boat, your horizon is both literally and figuratively expanded. I think that's why people fall in love while traveling, because they are out of their usual circumstances in a way that is unsettling and open to new possibilities.
The writer Spalding Gray said that we travel in search of perfect moments, and the poet Wadsworth said the same thing – we are search of spots in time. And I think it's something for those moments of sublime that we seek, to both feel small and to get a better sense of ourselves in a larger world.
Don't you think it's ironic that you found the love of your life on a tiny island in the Pacific?
On an island with no streetlights, it was inevitable that I would meet someone. As my grandmother used to say, if you put two goats in a corral, eventually they will fall in love.
Sarah and I have thought about this a lot. What was important to our relationship at the beginning was that we had no friends in common. There was no one asking for updates, asking "where is this going?" As a result, our relationship could develop organically and at its own pace. Of course, being on a small island, we were forced and able to spend a lot of time together in a way that people don't usually get to do.
We met on a full moon kayak ride and it was completely dark – kind of like meeting someone in a confession booth. For the first three hours of our time together, we were just voices in the dark. It was words that drew us to each other. And turns out she was beautiful too.
Have you two gone back to Palau?
We go back on occasion. We ended up building a house on an outer island in Palau with the help of a dozen friends. It has since been battered by a typhoon and it's not in the same place we left it. We'll be going back out sometime to rebuild.
What ever happened to that baby monkey?
We left Gomez in the care of a local family, and last we heard he was still in their care. I have to be honest, though. Monkeys are not really good pets; they get big teeth. Still, we really enjoyed him. He used to sleep between us in bed, so cute.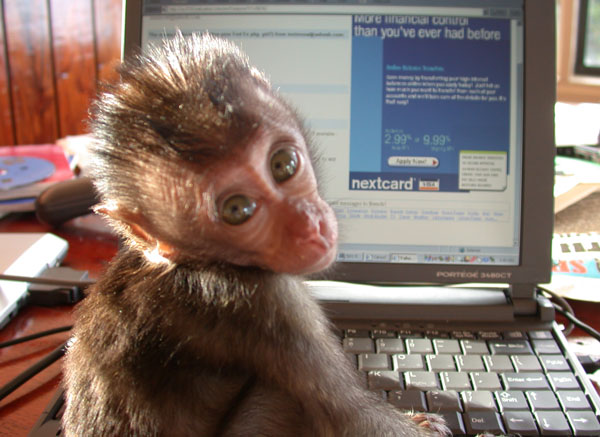 What are you up to now?
Now we're in California with our two little boys. In an age of 300k YouTube videos posted each day, I'd love to keep writing. I'm working on several projects. We'll see where it leads.
What did you learn from your time in paradise?
I try to keep three things in mind:
To be wary of the time-sucking illusion that loyalty to bad choices will somehow make them better.
To stay focused on the things I actually care about. It sounds simple, but a lot of us spend a lot of time working on other people's goals, for things that are not very meaningful to us.
If you have a dream, if there is something you really want to do, don't get too tangled up in your own underpants trying to decide if it's the right thing to do. Don't listen to the experts, because when it comes to the big choices, we're all just beginners.
"A Beginner's Guide to Paradise" can be found on Amazon, Barnes & Noble and other resellers.