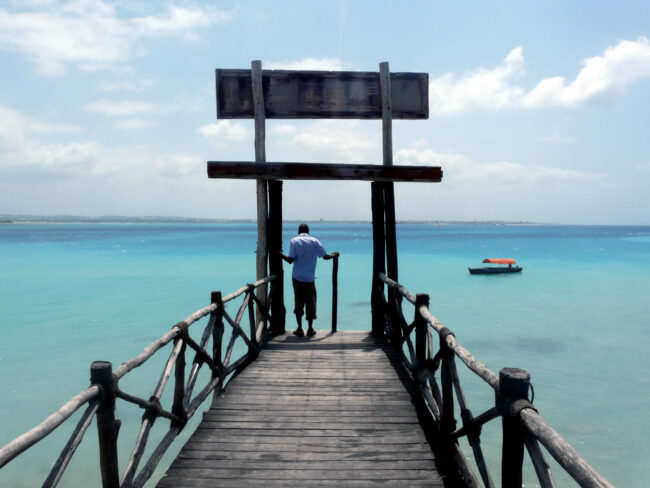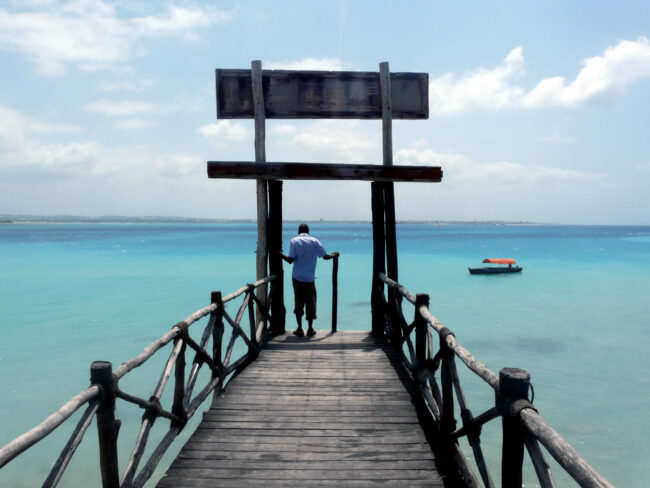 If you're looking for an island paradise vacation, complete with white sand beaches and over-water bungalow accommodations, think about a trip to Zanzibar. The African island is a great (and cheaper) alternative to island paradise destinations like the Maldives or Tahiti. It's a very popular tourist destination (think the Hawaii of Europe) and has many direct flights to ZNZ from European capitals. If you're flying in from North America or Asia, you can fly into Tanzania's DAR main airport in Dar es Salaam (Zanzibar is a territory of Tanzania) and then take a quick (about two hours) ferry to Zanzibar.
Zanzibar has a lot of all-inclusive luxury resorts. While these provide a great package vacation, with almost everything included, some travelers may seek a more quiet, intmate experience. The island has some great boutique hotels, some of which are all-inclusive. Here are five great boutique hotels in Zanzibar.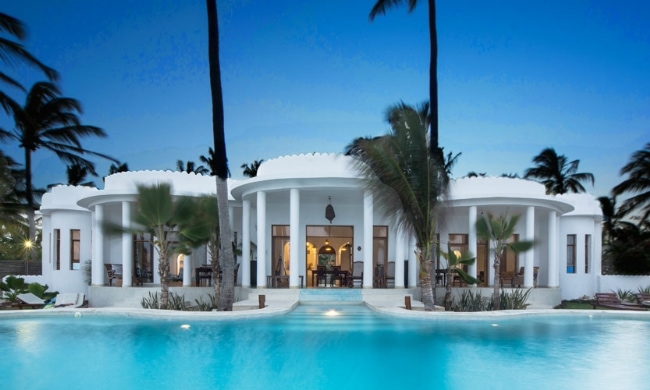 Boutique Hotel Matlai
This highly-rated boutique hotel is made up of two luxurious villas in Michamwe on the southeast coast. One has four self-contained bedrooms, the other has two. Guests can book any one of the six accommodations individually, or can rent out either or both of the villas. This makes the resort a great place to stay for weddings and for honeymoons.
The beach is a strip of white sand with turquoise water mottled with dark underwater reefs. At low tide, there's a powdery white sandbar that appears in front of the hotel.
Each villa is like a mini-resort complex with its own infinity-edge pool, sun terrace with loungers and interior amenities like a library, game room, living room and dining room. Your accommodation comes with butler service, available from 7 am to 10 pm. Guests are given a local mobile device for instant contact with the staff, anytime.
Both villas share a large garden sprinkled with conversation areas, hammocks and a green recreation area with sports courts. The resort even has an outdoor cinema in the garden with a selection of DVDs to watch. They supply all the watersports toys you want, including small details like reef shoes. There is also a small spa where Asian and European massage techniques are done with locally-sourced spices, herbs and oils.
The boutique hotel is full-board, all-inclusive and meals are served where-ever and whenever you want. There are windows of time for each meal and you can eat in your room, on the terrace, in the dining room or by the pool. Zatiny is the Matlai's beachside restaurant and has a local and international menu served all day.
hotelmatlai.com
Next Paradise Boutique Resort
This boutique resort hotel is on the northeast coast of the island, between Kiwengwa and Matemwe. It's about 45 minutes from Stone Town and the island's airport (ZNZ).
There are 25 rooms, suites and bungalows; bungalows are free-standing units. Sizes vary and some of the larger units are great for families as they can accommodate up to five people. The bungalow units are great for couples as they are quite private. It's a great place to stay for a honeymoon and Next Paradise offers a complete honeymoon package. Accommodations are large with luxurious furnishings and big, spa-like bathrooms.
Food is served at the resort restaurant or en-suite. Breakfast is included in the room rate. The lunch and dinner menus are Mediterranean with some Swahili influences. You always have an international menu (steaks, burgers, chicken, pasta) available as well. Romantic dinners can be set up on the beach, in the garden and at other secluded locations throughout the property.
The Next Paradise is right on the sand and offers the usual array of watersports activities. The water is calm and perfect for snorkeling as it's protected by a coral reef located offshore. Off the beach, Next Paradise has four swimming pools and a tennis court for your enjoyment.
next-paradise.com
Baladin Zanzibar Beach Hotel
A beachfront resort located in the Pingwe area, the Baladin Zanzibar Beach Hotel gives guests a more laid-back, relaxed vibe than some of Zanzibar's other resorts. It's the best resort for kids and for pets as the Baladin is both pet- and kid-friendly. Although it's one of the best resorts in Zanzibar, the prices for food and extras are a lot more reasonable than some of its competitors.
Staying at the Baladin means you can sleep upstairs in one of the eight bi-level, A-frame bungalows. The sleeping area has windows on both sides so you get a wonderful sea breeze blowing through. Downstairs, there are two single beds. There's also a larger, main house with four en-suite bedrooms, each with a single and a double bed. You can rent out single rooms, adjoining rooms or the whole house, which is a great place to stay in Zanzibar for families or large groups.
The Baladin has a small spa with a menu of holistic beauty and massage treatments. There is also a popular seaside restaurant with a Peruvian chef. That Peruvian chef, with a seasonal menu, locally-sourced ingredients and Zanzibarian spices, works some magic and the restaurant is popular with non-guests as well. The open air restaurant features musical performances, also making it a popular place for people to eat and hang out. This is a great place to stay if you like people and want an active social scene at your resort. If you're seeking privacy, one of the island's more intimate resorts would probably be a better choice.
baladin.it
Michamvi Sunset Bay Resort
This boutique hotel is on Chwaka Bay on the southeast coast, positioning it perfectly for sunset views. There are 20 rooms and the mid-range pricing means it's a great place to stay in Zanzibar for travelers on a budget. It's a great place to stay for couples and they offer both honeymoon and wedding packages.
Half the rooms are upstairs with private balconies, the other half are downstairs, with compact private gardens. Some accommodations have ocean views. The air conditioned rooms are large, bright and airy with modern bathrooms.
You can stay at the resort on a bed and breakfast plan, half or full-board (all-inclusive). Breakfast and lunch are served beachside at the Sea Breeze restaurant and dinner is served in the Garden restaurant and at various locations throughout the resort (sometimes poolside and sometimes on the beach).
The Michamvi Sunset Bay has a compact spa with a few massage and beauty treatments available. Watersports are available on the beach in front of the resort and they also offer a range of excursions to explore the local area.
michamvi.com
The Island Pongwe Lodge
This intimate, adults-only, all-villa boutique hotel is on its own tiny island offering some serious privacy. It's on the eastern side of Zanzibar, off the coast of Pongwe. Connected to the mainland with a sandbar, you'll need a boat to get off during high tide.
Known for its food, the resort restaurant is a popular place to dine out for non-guests too. With its incredible location and postcard-like views, the island resort is a popular day-trip spot for visitors to come for lunch or dinner.
Resort guests do get a lot of privacy and the the lodge strives for those guests to have a detoxifying, peaceful stay. There are no TVs and no music is allowed from electronic devices. The whole point is to be immersed in the natural beauty that surrounds you, with all your senses.
Accommodations all overlook the water and are a few steps from the island's private beach. They have modern amenities and stylish bathrooms with traditional artwork and thatched-roofs.
theislandpongwe.com
Read more of Freddy Sherman's take on travel on his Go World Travel Blog. You can also follow more of his adventures on his blog at luxuryfred.com, on his @luxuryfred Instagram feed and on his popular YouTube channel.
Latest posts by Freddy Sherman
(see all)