45 Park Lane is so cool, it doesn't even have a name, just an address. The Art Deco luxury hotel sits elegantly on London's Park Row, across from Hyde Park and across the street from its sister hotel, the iconic Dorchester. The luxury almost-boutique hotel has the feel of a British gentlemen's social club, appropriate since the building started out as one in the early part of the 20th century. Now one of London's best hotels and best kept secrets, 45 Park Lane is a great place to stay in the British capital.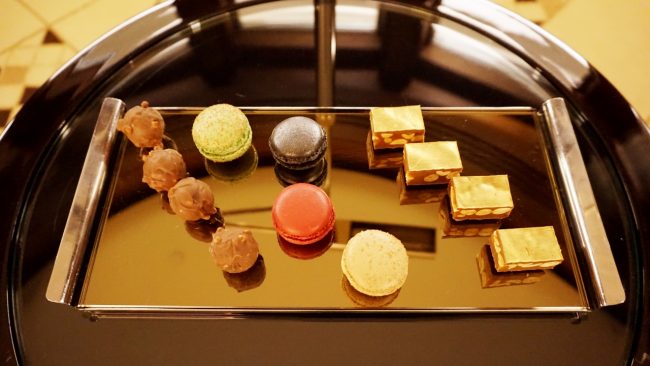 I've been fortunate enough to stay at the hotel twice and both times was blown away by the overall guest experience. With only 45 rooms and suites, the staff quickly gets to know you and it's a very personal form of service. You're assigned a butler who handles all the hotel functions, from check-in to booking meals, as well as serving as a guide and personal concierge. Reachable 24/7 via a direct mobile phone, the butler helps make a stay at 45 Park Lane a truly bespoke experience. Whether you're in London to shop, work, see shows, visit monuments and / or dine at the finest restaurants, they can help create an agenda that delivers.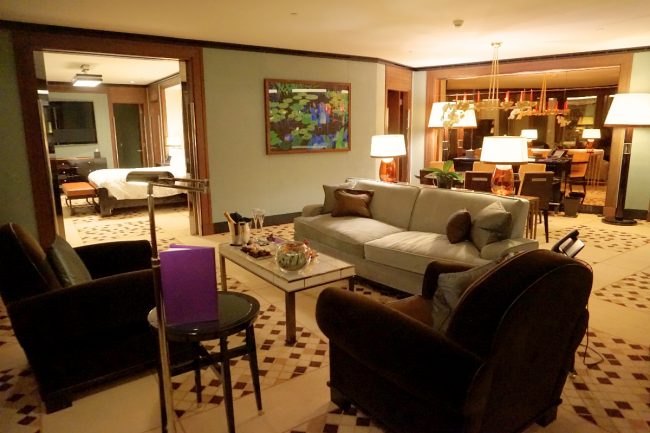 Rooms and Suites
All of the hotel's luxurious rooms and suites overlook Hyde Park. I stayed in a stunning Park Lane Suite, with sweeping views up and down Park Lane and Hyde Park beyond. The huge suite had that wonderful, Art Deco clubby feel, with beautiful wood tones and the hotel's signature purple accents. There was a dining area, a spacious living room and a beautiful bedroom. A long hallway led to the entrance and a powder room, with a connecting door into the dressing area. This also led to the large, spa-like bathroom, awash in luxury with generous servings of marble, mirrors and chrome.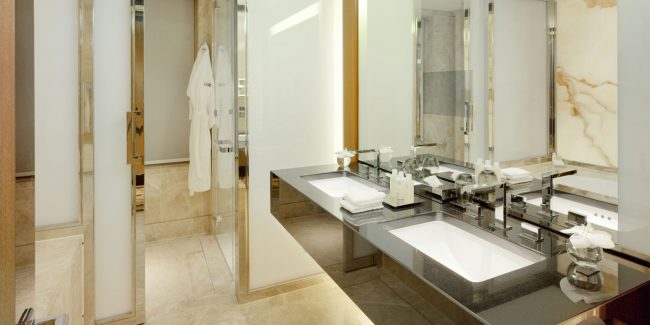 Dining
45 Park Lane offers guests and visitors London's best steaks as the home of CUT at 45 Park Lane by Wolfgang Puck. Chef Puck also oversees the rest of the food at the luxury hotel, including room service. The intimate and stylish CLUB 45 serves cocktails in a sophisticated setting and boasts the city's largest selection of American wine. Rough CUT serves a limited bar menu from Wolfgang Puck's CUT. The hotel's Media Room offers private dining with food from CUT as well as a 103-inch Bang & Olufsen BeoVision TV with surround sound.
Dorchester Connections
As the sister hotel to The Dorchester across the street (and also part of the Dorchester Collection) 45 Park Lane offers guests charging privileges at The Dorchester and use of their spa and other facilities.
Location
45 Park Lane is right on Park Lane in trendy Mayfair. It's only a short walk to Oxford Street shopping and of course, you're in the heart of Mayfair. I love to visit Shepherd Market, a quaint square behind the hotel with cool shops and restaurants. The Hyde Park Corner Tube stop is only a few steps away.
Read more of Freddy Sherman's take on travel on his Go World Travel Blog. You can also follow more of his adventures at luxuryfred.com blog and on his YouTube channel.