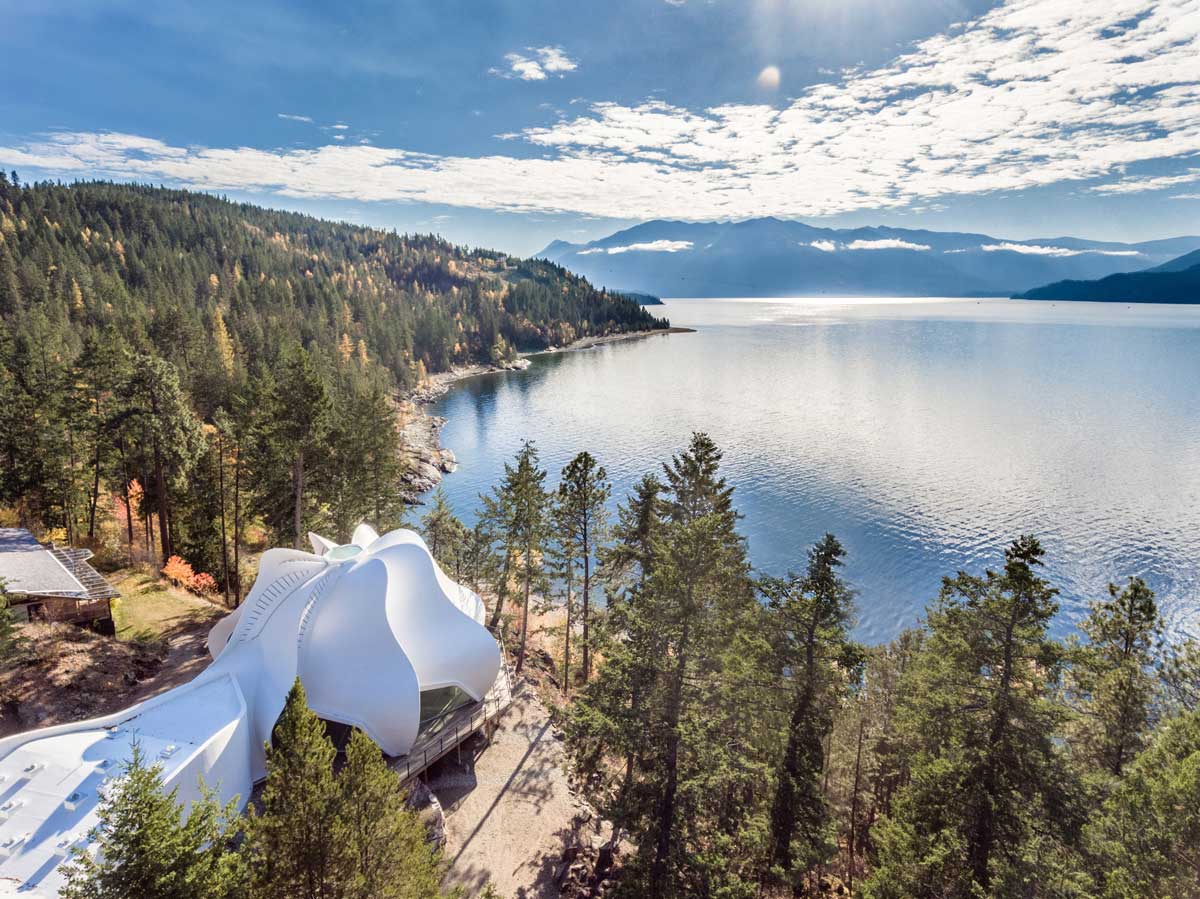 "The mountains will give you strength and energy, the water will calm the mind, and the trees will offer you protection."
Yasodhara Ashram
These words spoken by a famous yoga guru in India inspired the founding of Yasodhara Ashram on the shores of Kootenay Bay in British Columbia in 1963.
Following her yoga master's wisdom, Swami Radha was already a unique force as a Western woman training in India during the 1950s, when she was encouraged to bring the ancient yogic teachings to North America, to seek a serene locale with mountains and water, and to teach in a way that could be understood and applied by Westerners.
A place of natural beauty and a hub for wellness and recreation, the Kootenay Rockies turned out to be the perfect backdrop for building the Ashram, a yoga retreat and learning center where Swami Radha's teachings and yoga philosophy have been shared for more than 50 years.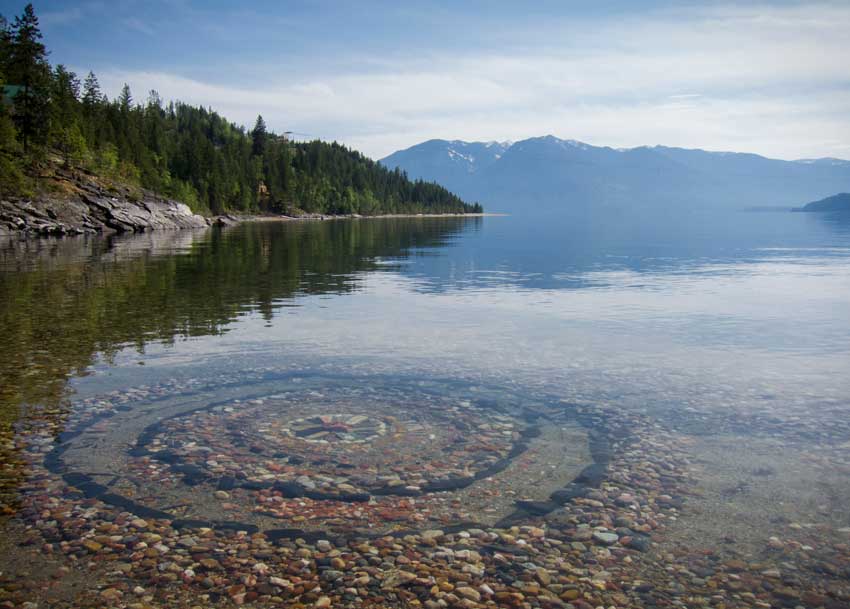 Yasodhara Ashram Yoga Retreats and Types of Practice
Are you a person who enjoys taking time for self-discovery? Want to learn how to sharpen your awareness or achieve balance in your life?
These are some of the reasons one may choose to attend a retreat or workshop at Yasodhara Ashram. The word "ashram" means spiritual home, and Yasodhara draws on spiritual traditions from across the world to offer programs that emphasize the mind-body-spirit connection.
Gentle and meditative yoga are taught in a variety of weekend renewal retreats with themes such as Healing, Relaxation and Awakening Wonder, and in longer courses that delve deeper into yoga training and personal development.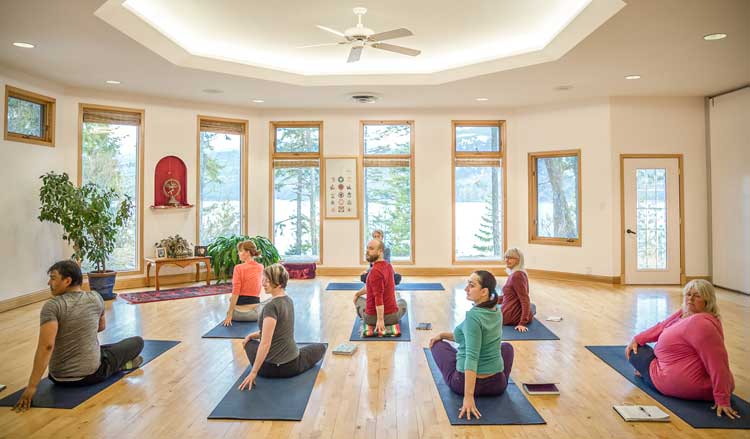 Participants will find an introspective learning experience and holistic practice using integrated yoga techniques including visualization, concentration, breathing, movement and mindfulness. Yasodhara workshops are also offered internationally via a global network of teachers and organizations.
Your day starts with early morning Hatha or Hidden Language Yoga followed by guided workshops that incorporate chanting, reflection time and group work. Integrated practices may include Kundalini Yoga, Mantra Yoga, Dream Yoga and Karma Yoga, (the practice of service).
You are invited to attend Evening Satsang, a nightly community gathering of mantra, devotional song and inspirational talks.  Breakfast, lunch and dinner are served buffet style and taken in silence, offering another opportunity for reflective thought.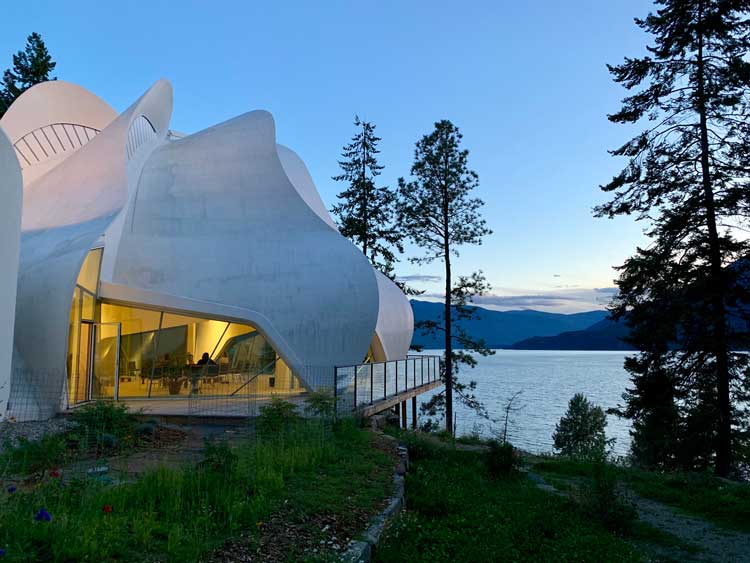 The Temple of Light
The centerpiece of Yasodhara Ashram is the Temple of Light, an architectural masterpiece where community gatherings and workshops are held. Referred to as the "new" temple, which replaced the original structure that was destroyed by fire in 2014, the cosmic looking building incorporates green technologies with glass walls, open spaces, and a soaring ceiling.
Designed in the shape of an opening lotus flower, the space represents light, unity and hope in an atmosphere that feels communal and personal at the same time. In addition to The Temple, the 136-acre Ashram property contains a main building where the majority of workshops, classes and dining takes place, as well as lodging and a large vegetable garden and fruit orchards tended by yogis as part of the Karma Yoga program.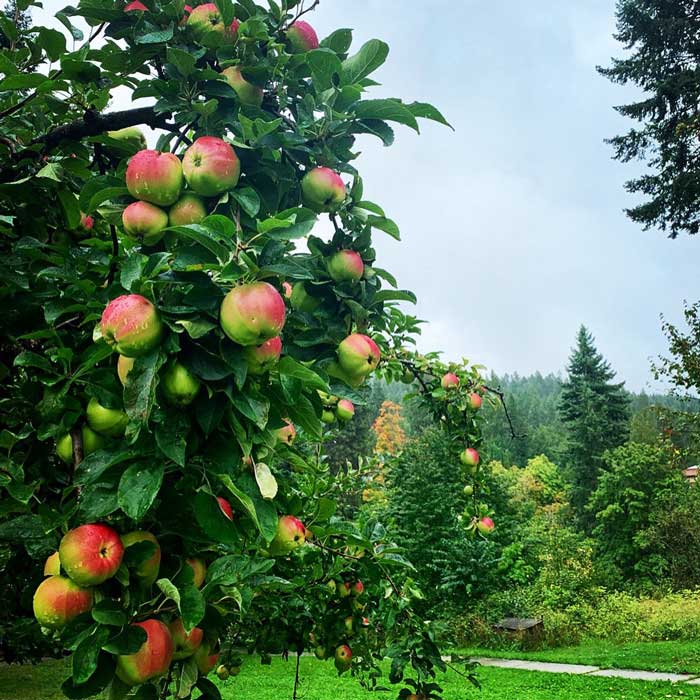 The Kootenays' Hyper-local Foods and Sustainability
Come for the yoga, stay for the cuisine! The Kootenays (fondly referred to as "the Koots" by locals) offer a foodie paradise with emphasis on organic, wholesome foods. Yasodhara exemplifies the trend as guests rave about the Ashram's amazing, colorful selection of healthy and hearty fare, mainly vegetarian selections with occasional fish and chicken and provisions for special diets.
Fresh produce is harvested from the organic gardens and orchards, including some that is frozen or dried and preserved for winter.  What isn't grown on site is purchased from local farms, and only about 30% of the Ashram's food comes from outside the province.
Sustainability is a common theme at Yasodhara and in the Kootenay communities. In recent years, the Ashram has made considerable effort to reduce its carbon footprint, from engaging in organic and biodynamic growing to becoming a carbon neutral community through local foods procurement, using renewables, and installing geothermal heating systems in newer buildings.
Kootenay Lake Region
The mountains and Kootenay Lake (one of the largest lakes in British Columbia) provide a veritable playground for outdoor recreation, from alpine skiing and mountain biking to lake sports and wellness retreats.
Yasodhara Ashram is one of several lakeside wellness destinations, and the region is home to Ainsworth Hot Springs, one of Canada's most unique natural hot springs for cave-swimming and a soak in mineral-rich waters.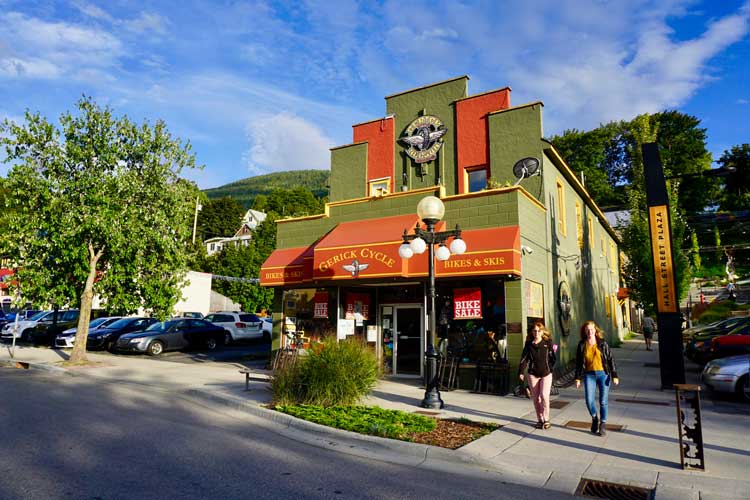 The Kootenay Lake Region boasts quaint artisan communities with a funky flair and vibrant mountain towns including Nelson and Kaslo. Eclectic Nelson, with its lively arts and heritage scene, makes a wonderful base for exploring the region. It is known for its diverse restaurants with award-winning chefs and has charming boutique hotels including The Savoy and The Adventure Hotel.
Kaslo has been called "picture-perfect" and houses the world's largest intact passenger sternwheeler at the lakeshore, the SS Moyie, which is open seasonally for tours. Across the lake and not far from Yasodhara Ashram is Crawford Bay Artisan Way, worth a visit to watch passionate studio artists at work in weaving, pottery, jewelry, ironworks and broom making.
Getting There:  It's said that the Kootenay Lake Region is a corner of southeastern British Columbia that is hard to get to and hard to leave.  West Kootenay Regional Airport (YCG) in Castelgar is one of the closest airports (served by Air Canada from Vancouver and Calgary), about 40 kilometers from Nelson. Yasodhara Ashram is 40 kilometers northeast of Nelson by way of Kootenay Bay ferry. https://www.yasodhara.org/
Author Bio: Ann N. Yungmeyer lives in Tennessee and is a member of Society of American Travel Writers. She contributes to regional print and online travel publications. Hiking, biking, and cultural quests are usually on her agenda, and always in search of postcard vistas, her mantra is, "On a clear day, get to the top!"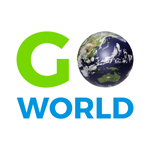 Latest posts by Go World Travel Magazine
(see all)