The Irish have been described as having the "gift of Blarney" but that massively understates the talent they have for conversation, speech-making, and storytelling.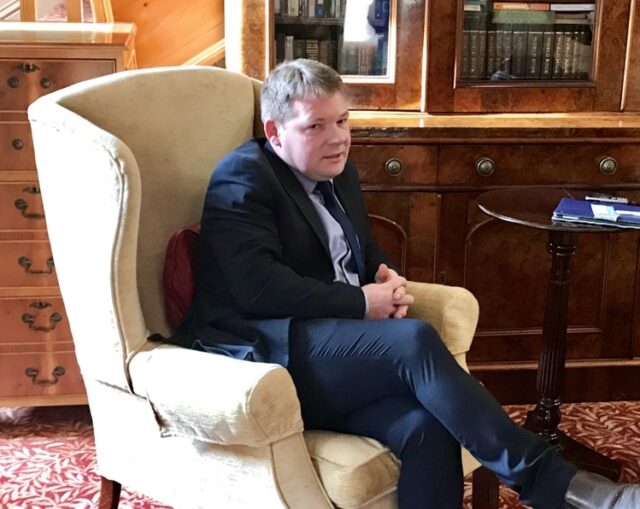 The headstone was mounted on a small, wood cross planted into the grass next to an old, stone church. It and was black and engraved with white words: Mgr. Padraig O'Fiannachta Deag 15-7-2016 R.I.P.
I stood above the flowers which had been placed on the mound of soil atop the grave and, while I tried to ignore the cold March rain blowing in the breeze, I recalled warm thoughts of my departed friend. Fr. O'Fiannachta's grave was a few kilometers outside his beloved, tiny fishing village of Dingle, County Kerry, Ireland, where he'd served as the pastor of the soaring, gorgeous St. Mary's Catholic Church – across the street from Dick Mack's Pub, which, itself, also receives many pilgrimages from locals and tourists.
O'Fiannachta, who some people referred to as "Father Fenton," was a monsignor, a nationally recognized Irish scholar, and a teaching steward of the Irish language. He'd made it his mission to preserve and promote Irish language versions of the Bible.
Fr. O'Fiannachta performed my noon wedding at St. Mary's on a sunny Saturday in 2001 and joined the small bridal party after the ceremony as we strolled up the street to celebrate with champagne and strawberries in beautiful Benner's Hotel. During two decades of subsequent visits to Dingle and Mrs. Benner's Bar I always visited Fr. O'Fiannachta in his office for conversation and a blessing or to hear him say Mass in his native tongue.
O'Fiannachta's cousin Mary Griffin and her husband Robbie for many years owned a B&B in Dingle where she had her own "Irish method" for greeting guests from anywhere with enthusiastic conversation. "I work the weather on them!" she explained.
The Land of Letters and Poets
Natives of the Emerald Isle have been described as having the "gift of Blarney" but that massively understates the God-given talent the Irish have for loquacious conversation, speech-making, and storytelling – not excluding limericks and toasts at weddings and wakes. For instance, at one of their famed wakes an Irishman might describe someone who passed away in their sleep by saying: "He woke up dead."
Within a span of a few weeks in January of 2020 Ireland lost two of its most vibrant voices – Noel Cronin and Marian Finucane – both of whom I'd had the pleasure to meet on several occasions – as had many who mourn them now.
Noel Cronin
The colorful Cronin was the manager of Waterville Golf Links, in peaceful southwest County Kerry, for 32 years. Waterville's claims to fame, other than its world top-100-ranked golf course, are that Charlie Chaplain loved the village – as evidenced by life-sized statue of him on its seaside promenade; and that the first trans-Atlantic cables were connected next to one of the golf holes – as evidenced at the course.
"We have two samples of the cable on display in the clubhouse," Cronin showed me during one of my visits. "And I remember the cable being pulled in with the boats because two of my uncles worked on it."
Cronin, who was 75 when he passed away while promoting Irish golf and tourism at an annual trade show in Orlando, would not have been able to remember Charles Lindbergh flying over Waterville on his historic first solo crossing of the Atlantic, but Waterville is where "Lucky" first saw land.
"Newfoundland is beyond the horizon," Cronin told me as we stood on the club's balcony looking over the golf course's luscious landscape and on to the ocean. It was another example of classically romanticized Irish poetic license since Labrador is over 3,000 km from where we stood. And if could have, Cronin would have fished every kilometer of it.
The Little Leprechaun of a Man was Actually a Colossus
"Noel Cronin was more than a man – he was a colossus. He inspired us all," said Pat Ruddy, another Irish legend of golf tourism. Ruddy is a golf writer-turned golf course architect. Though he's crafted courses such as Ballyliffin, Druid's Glen, Rosapenna, Portsalon, Dongeal, Wicklow and Connemara Isles, his masterwork lies on the Irish Sea south of Dublin: The European Club, his 20-hole, seaside design which remains his home to this day. "When I went down to Waterville in the 1970's Noel came into my life. He knocked on the door in the twilight at the house we were renting with five small children and said, 'I thought you might like a piece of salmon.' He handed me salmon for our supper. And so, it went on through from there."
That type of hospitality in Ireland is legendary, but with Cronin it didn't stop with just a welcome, according to Ruddy.
"When I was organizing golf tournaments at Waterville, while I was hosting the dinner after the round, Noel would be disassembling the wee tents we had, putting them on his truck, and going over the mountains to deliver them in Killarney where I'd start another tournament the next day. And he wouldn't take payment. He just wanted to help. It goes back to the times when people just lived people and it wasn't all about money. He just loved people…and everyone loved him."
Ruddy, who has also authored several books, extemporaneously and with sincerity, waxed on about Cronin.
"He will be sadly missed…but he won't be gone from where we live because he is a part of us. He's joining the big hoard of people who've gone before," Ruddy insisted. "Every day I look out onto the fairways and I see golfers, but I also see spirits of golfers gone who just refuse to stay in heaven. They come down and wander around the fairways having a laugh at the guys who are suffering now. And Noel is in that bunch now. He'll always be with us but sadly missed because we can't say 'hello' and touch him."
Marian Finucane
Ireland's most famous radio presenter Marian Finucane, who interviewed subjects on the republic wide RTE Radio 1 for two decades, died in January of 2000 at the age of 69. Her plain-spoken, direct style of questioning put her high-profile guests at ease but also kept them on their toes. Finucane interviewed me on a couple of occasions, and though I would have been the most unimportant of her many vital guests, she didn't treat me as such.
Leo Varadkar, Ireland's prime minister at the time of her passing, described her as thorough, courteous and professional. "I'm very sad to think we won't hear her voice again on the radio," Varadkar admitted before professing, "Weekend mornings will never be quite the same again."
But it was Finucane's husband John Clarke who said it best when he summoned his "Irish gift" to speak to the gathered at his wife's funeral. Wearing a black suit with a pink tie and standing behind a podium but in front of a bouquet of white roses, Clarke, in his grief and without notes, wore his heart on his sleeve for two-minutes and thirty seconds:
"It's been a hard day and a terrible week, but I am glad you're all here. I'm not in great form today.
I loved her for 40 years: a woman who, for me, always made the colors brighter and the world a bit easier to live in.
Last December she decided to retire. We were so excited. We were going to have more time, more space, more books to read, more places to see. Sadly, that's not going to happen.
Somebody said we were two 15-year-old adolescents who were addicted to her and forgot to grow up. I don't deny that.
I find myself so powerless. I truly don't know what to do.
Some weeks ago, we were in a township in Africa with a very old woman. She said to us, 'The only thing I can give you are my tears.'
And that's all I think I can do today."
Irish Wakes
"'Keening' is the Irish word for mourning, but it means more than crying. It is, rather, praise and lament for the deceased," according to Cathy Jo Smith, from Dublin, Ohio, who has studied Irish funerals and written about it in "Wake Me When It's Over." Smith and her husband Steve present an "Irish Wake Tent" to share the custom with the curious at Irish festivals in America. "Clocks should be stopped at the time of death as a sign of respect, and mirrors should be covered since the three-day funeral was a time for more important reflections."
Reflecting on life, with the living, and remembering the loved, is maybe best done with a pint and a peat fire anywhere in Ireland.
Contact Travel Writer Michael Patrick Shiels at [email protected]